Some people say that Rio de Janeiro is a place where you can do just about everything without ever leaving the city. Whether it is on water, land or in the air, the possibilities are almost endless, and hang gliding is just one of many offbeat things you can do…
Driving down the coastline of Rio de Janeiro in the direction of Barra de Tijuca (Zona Oeste – west side), you will pass São Conrado, one of Rio's "noble", and more privileged neighborhoods, which is surrounded by coastal mountains, creating perfect circumstances for hang gliding.
If you're not too distracted by the bikini's on the beach, on a good day, you will probably see a bunch of paragliders (portuguese: parapente) and hanggliders (portuguese: asa delta) circling around in the air…
The Pedra Bonita take-off ramp is located inside the famous Tijuca National Park, at an altitude of 520 m.
It should only be a 20 minute drive from Copacabana, but depending on the time of day, traffic tends to cause significant delays, so always leave half an hour (or even an hour) earlier than you planned initially.
There are several tour operators offering tandem flights, and some of them can arrange to pick you up at your hotel (for the right price of course).
Depending on wind conditions, flights take from 15 to 20 minutes. After the flight you land on the beach of São Conrado. The price should be around 300 R$ (+/-150 Usd)
Here are a few more pictures I took when I visited the ramp (and came close to flying myself).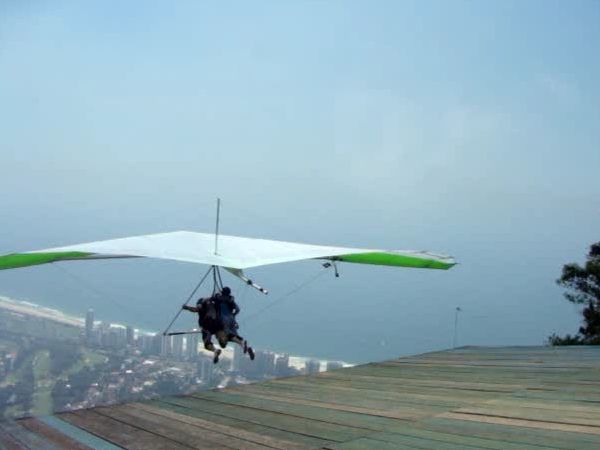 And last but not least, here's a link to a hang gliding video of  travel writer and photojournalist Mark Eveleigh when he took the plunge himself…
Have you been para – or hang gliding yet? How was it? 
Comments
comments