Hetty is an adventurous hedgehog. Long may she thrive!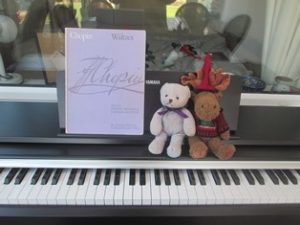 "Happy Hetty!"
D  E  A  R      H  E  D  G  E  H  O  G      D  A  Y  S
Hetty, riding on a bike?
Rufus shouting: "What y'er like?"
"Do you know the Highway Code?"
Hedgehog on an open road
Skateboard down a Cyprus hill
Hetty likes all things to thrill!
Sipping at a Leon Beer
Hedgehogs boozing… rather queer?
Troodos Mountains, Hett' on skis
"I don't have those aching knees….
Like that naughty Moosey Boy..
Always play it shy and coy!"
On a tandem, H' and B'
One-way-street, hear "He! He! He!"
"Cypriots don't indicate
Driving there, accept your fate!"
Now, they're on a zip-line, HELP!
Listen to Old Moosey yelp
Landing by the "Olive Tree"   (Polemi)
"Not much chance of beer for free?
Paragliding, 'can't be true!
High above the Paphos Zoo
Moosey clinging on to Hett'
'Need a Brandy soon, I bet?
Later, donning roller-boots
From the locals…. howls and hoots
"Don't disturb Dear Tala Square….
Who's that watching…. Rufus Bear?
Chaos, landing in a heap
Koili Hill, it's "Lovers' Leap"!
"Take it steady, Hetty Girl!"
Moosey's brain is in a whirl
Roses with engagement ring
"Goodness Gracious, loves takes wing!"
Moosey on his keyboard plays
Dreaming of "Dear Hedgehog Days"!    Help! xx
Comments
comments