We met a lovely couple from East Yorkshire in Costa Rica. My mother was also called Joyce.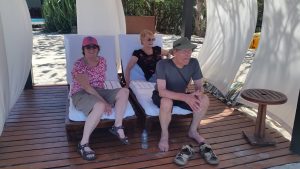 J  u  i  c  y      J  o  y  c  e  !
Not another Juicy Joyce!
I can hear her dulcet voice
Playing cards upon her phone
Listen to the "poet" groan!
Living Kingston-upon-Hull
Life out there is rarely dull
Culture City, Prescott Lord
Fifteen Jags he can afford!
Running over Humber Bridge
Warming up from "Winter's Fridge"!
Cottingham, great place to dwell
Many students there as well
Roger Millward, Hull K.R.
Sullivan was too a star
Rivalry with Hull F.C.
High atop the "Super Tree"
Strolling 'long Pacific coast
Tamarindo is the most
Seated on a comfy log
Far away from Humber's fog!
Geoffrey with his classy hat
'Loves his Joycie "pussy cat"
So relaxed they need a drink
Lemonade, of course, we think!  (I bet!)
Doughty sailor on a boat
Heavy rain sounds wat'ry note
Watching birds and crocodiles
Always manages a smile!
Juicy Joyce, we raise a glass
To this lovely Yorkshire lass
'Hope to see you really soon
Underneath a North Sea moon.   Hugs from Lancashire xxxx
Comments
comments