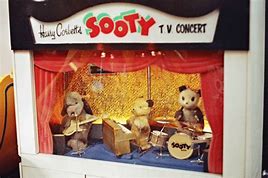 "Where is Moosey Boy?"
Whatever next? What is Moosey Boy sporting on his head?  (Antlers?)
P  R  O  T  E  C  T       Y  O  U  R      "B  E  A  R  S"
What is that upon your head?
Is it p'rhaps from "heaven-fed"?
An antenna linked to Sky?  (T.V.)
Seagull's droppings in my eye?
Moosey giggles: "Naughty gull!"
Life in Cleveleys… rarely dull
Bears in shop for Easterleigh  (Charity shop)
"Aunty Jean to set us free!"   (Our manager)
Hetty views "abandoned bears"
Doggie at a penguin tears
Het' and Moose devise a pact
Call it "Bear Protection Act"
Parliament discuss their "bill"
Cruelty to bears is NIL
Rufus leads the "Cry For Care"
Only hugs for ev'ry bear!
Moosey forms a new brass band
Finest here in Lalaland (Brexitland)
Sooty, Sweep and Sue's there too
On the oboe… it's Baloo!
Invitation from "Stage One"  (Emba)
Moosey's band brings lots of fun
'Stead of boring piano man  (Guess who?)
Music from that Sooty fan (Moosey)
Great ovation, Moosey bows
Even see some singing cows
B.T. ukulele plays   (Another bear)
"Better than those panto days!"
Back in Blighty, band on tour
Ev'ry audience shouts for more
Moosey's antlers glowing hot
"Just charisma… what I've got!"  xxxx    I have finally lost the plot! xxxx
Comments
comments