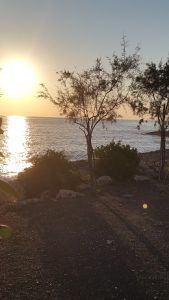 I am still firmly attached to Cyprus despite having a home in the U.K.
D   e   a   r          C   y   p   r   u   s   !
I have a cord, "an umbi' cord" (*)
Attached to Paphos shore
'Wont go away, a fine accord
Grows stronger… more and more!
My thoughts soon turn to Tala Square
In Mario's… a beer
And in my sack… Dear Rufus Bear
He's grinning ear-to-ear!
Quite soon ascending Koili Hill
Such memories return
So many walks my mind will fill….
Another Leon earn?  (For a change?)
Vatouthkia view, another walk  (A favourite taverna)
We scale another slope
Much laughter, friends all like to talk
My heart is full of hope!
"The Spring Of Life".. tavern' supreme
Halloumi-P to cheer  (pitta)
Reality or just a dream?
At last.. a Leon Beer!
A clear blue sky, no sign of snow
Fine line of walkers 'lead
A speedy climb, we "don't do slow!"
We are a doughty breed!
Kamares Club, a Christmas dance
Dear Sue and Brian smile
A Status wine our lives enhance
Put all of this on file
From Blackpool Tower.. a friendly wave
To all our friends "out there"
Another visit 'always crave
With Dear "Old" Rufus Bear! xxxx   For Karin and Heinz… Happy memories xxxx
Comments
comments