I love going shopping but it can be a very expensive activity. Luckily, there a lot of brands and stores who choose to sell their older collections on outlets to outrageous prices. Whereas consumers in other countries like USA are accustomed to outlet shopping and even have big outlet malls, outlet shopping is a relatively new concept in Denmark. Not for long, though! More and more outlets – permanent stores as well as weekend events – are opening across the country. Here you can see some of my faves: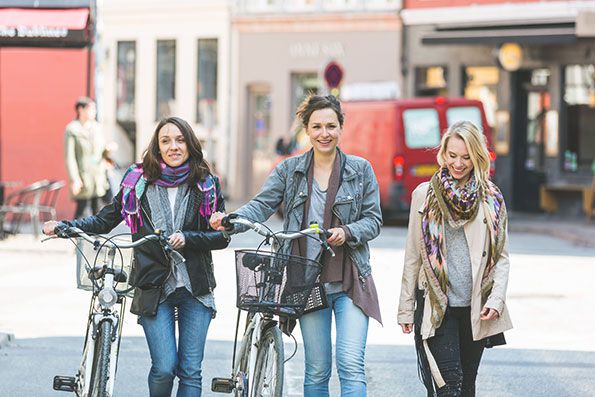 My three favorite permanent outlets:
Trøjborg Lagersalg, Tordenskjoldsgade 25, Aarhus
In this permanent outlet store you'll find fashionable clothes for men and women. They guarantee a minimum discount of 50 %, so you can be sure on saving a great amount of money.  Trøjborg Lagersalg offers brands such as Karen by Simonsen, SUIT, St. Martins and many, many more. The store has a nice overview, as it is furnished after clothing sizes. It's open all days a week.
Acne Archive, Elmegade 19, Copenhagen
Acne is an exclusive Swedish brand that unfortunately is very expensive. However, if you are in Copenhagen, there is good news for you! Acne has a little outlet store on Elmegade, where they offer clothes from previous collections as well as show pieces at very low prices. In other words: Get the chic Scandinavian minimalism, which Acne is known for, for less than half the price! The store is closed on Sundays.
Dansk outlet, Hjertingvej 74, Esbjerg
At this outlet store you will find something for the whole family. They offer clothes and shoes for babies, toddlers, tweens, and adults. In addition to this they also have a sports wear section. This means that you can pretty much find anything you need, regardless of age or occasion. If you don't live close by Esbjerg, you can try visiting their webshop. 
My three favorite outlet events:
Designer Forum, Julius Thomsens Plads 1, Copenhagen
Once every spring and fall Designer Forum is open for a weekend. For this event you will have to buy a ticket but it is worth it, because you can save up to 80 % on well-known brands (both Danish and international) such as Adidas, Ilse Jacobsen, Levi's, Samsøe & Samsøe, and Tommy Hilfiger. The next Designer Forum will take place during the 1st-3rd of April.
Shopping Bazar, Vestre Ringvej 101, Fredericia
This outlet event offers a wide range of various shopping experiences. Here you will find everything in clothing and accessories for all ages but you will also find different gastronomic products such as wine, chocolate, sushi, and Italian specialties. Good to know: There are free samples as well as goodie bags to the first 500 visitors! The ticket only costs 30 kr. for the entire weekend (children under the age of 12 can visit for free). The next Shopping Bazar is on the 16th and 17th of April. 
Outlet Messe, Margrethepladsen 2, Aarhus
This outlet event takes place in the middle of Aarhus in Scandinavian Congress Center. The dates have not been released yet, but if I were you, I would keep an eye on it, because this is not something you want to miss! This outlet offers clothing, shoes, accessories, and home décor items. Unlike many other outlet events this one has free entrance. Not bad!
Learn more about outlet shopping
If you are interested in going outlet shopping, I recommend this site. Here you can find all the different Danish outlets and search after the ones that are nearby your location. It's a great tool for optimizing your outlet shopping, oh, and a way to shop more clothes for less money. Who doesn't love that?
Happy shopping!
Comments
comments