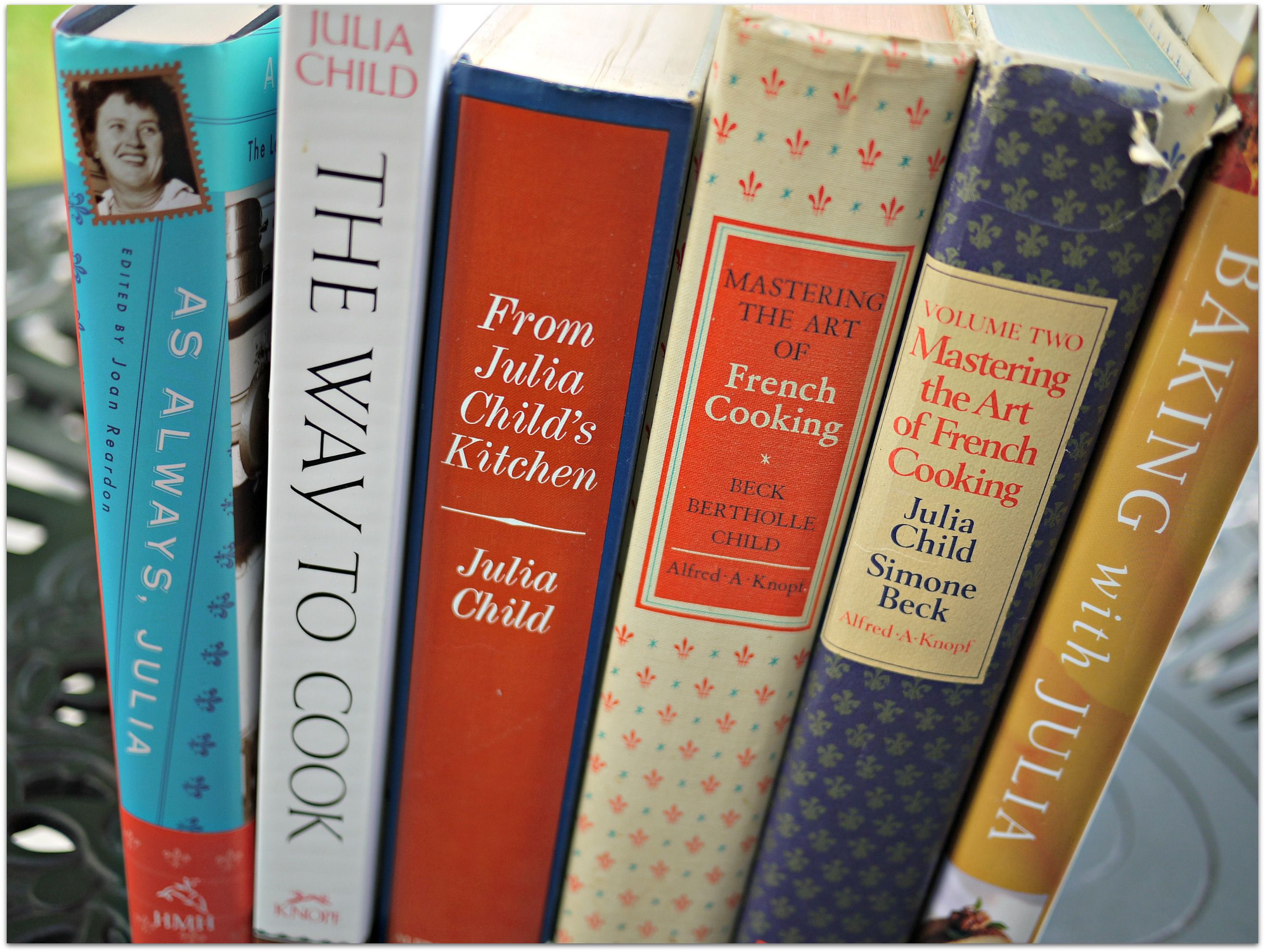 Five years ago on a rainy Saturday in May, I went to an estate sale in the west end of Ottawa.
After setting aside a few goodies I'd found on the main floor, mostly cake stands and glassware, I ventured down to the basement for a look see.  
While I was poking around a forlorn looking bookshelf,  I spotted a copy of Volume One of Julia Child's Mastering the Art of French Cooking.  How was this possible?  Surely someone would have noticed it by now and scooped it up.  After all, the sale was into its third hour.  How lucky was I?  Hmm… maybe it was a trap…
With my obsession for anything having to do with both cooking, and vintage, I'd always been a fan of Julia Child's classic TV show, The French Chef.  I baked frequently from her collaborative cookbook, Baking with Julia so acquiring The Art of French Cooking was a summer mission of mine.
I carefully pulled the book from the shelf.  It was in pristine condition, as though it had never seen a kitchen.  I leafed through it for a few minutes and when I realized that it was printed in 1963 my heart started racing.  It was a fourth printing, first edition copy. 
I sought out the estate sale's host and asked him how much the book was.  He replied, "how about $5?"
My expression must have come across to him as sticker shock because then he followed with, "OK, how about $3?"  I gave him $5, snuggled the book to my chest and ran, forgetting all about the other goodies I'd set aside on the first floor!
Later that summer, I was at the Stittsville Flea Market and as luck would have it, I spotted a first edition copy of Volume 2.  That cost me $5 too.  So a meagre ten dollars later, I had a pristine copy of volume one and two and my mission to explore them was afoot! 
Over the summer, I spent hours reading both books.  By August I had mastered Vichy Carrots, Spinach Quiche, Souflée and Pâte à Choux while slowly gaining an understanding of what an enormous effort it must have been to take French recipes and translate them not only literally but culturally, for, in Mrs Child's words, "…the servantless American cook."  I can't begin to imagine the logistics of completing such an enormous project during the 1950s and 1960s, by snail mail, back and forth, from country to country, to and from her collaborators.
Thank you Mrs Child for your determination and your courageous, unparalleled and inspiring work.
I just hope that when I pass away and if someone disposes of my worldly goods in an estate sale, they charge more for my copies of Mastering the Art of French Cooking.
Just to be sure, I'd better go put notes in them.
Comments
comments