I must say, after the Mairie de Monaco revitalized the covered market in Place d'Armes, the place has come alive again like nobody's business.
If you remember back to the pre-renovated days, inside the covered market just past the poissonnerie at the entrance, there used to be a little stall where you'd drop off your purchases for delivery.  Post renovations, the delivery booth has been moved to the back left of the market.  If you venture past the coterie of old Monegasques eating Socca, drinking rosé  and smoking, then bolt through the door on the right, past the washrooms on your left (yes, there are washrooms in the market) and then turn right you'll find the new delivery drop off.  Confusing?  Yes, but the vendors will gladly bring it there for you if you ask.
Anyhow, I digress..  In the booth that used to be occupied by the delivery service, you'll now find Stéphane Miens and Jean Julien, the charming owners of Lapitxuri.  It's good that they both have the personality to man the pole position in the covered market since their smiling faces are the first ones you'll see when you enter the building.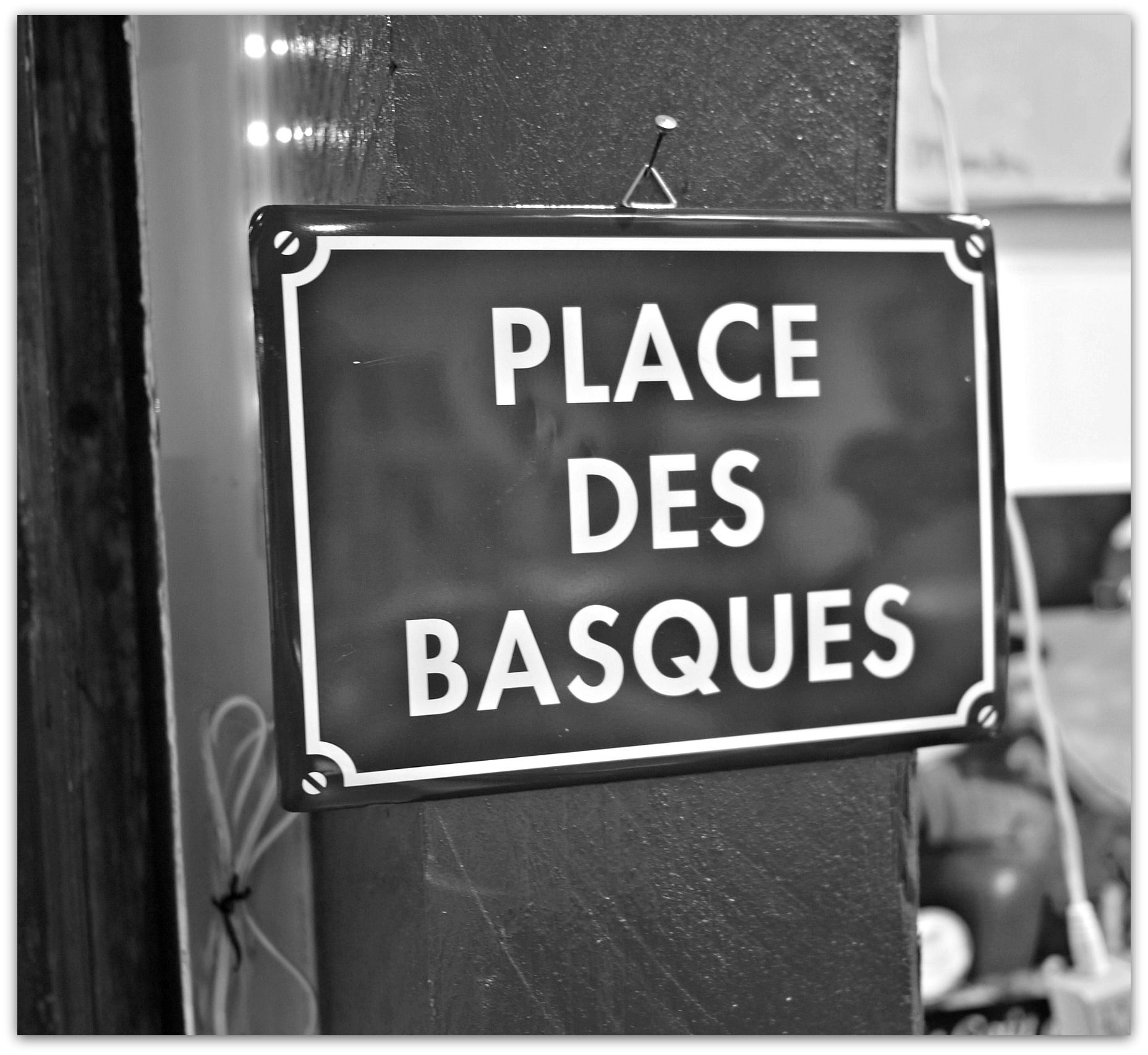 They've filled Lapitxuri with fine foods from the Basque but they take special pride in their  Jambon Pata Negra Iberico from Spain where the hogs used to make it are fed bellota or acorns and allowed to graze and happily fatten up out of doors in pastures.  Mr Miens and Mr Julien explained to me proudly that this, in combination with the long curing process of 1 to 4 years, gives the ham its unique texture and flavour.   Of course since I'm a vegetarian I can't vouch for the quality of the ham myself but the fact that it's  Denominación de Origen certified and people now queue to buy it, I'm guessing that must be good.
I can however, personally endorse their raw sheeps' milk cheese which was crumbly,  buttery, and not too salty which is something I look for in cheese.  It's traditionally eaten with black cherry preserves, also on sale.
You can buy their products to eat in the market sur place or take them home with you.  Maybe you can pull up a chair in the coin monegasques!
Lapitxuri   LAPITXURI@monaco.mc  –  Marché Municipal, Place d'Armes, Monaco 98000  +33 06 81 51 42 77
Pierre Marcolini Chocolatier
Being a fan of bean to bar chocolate, when I read that Belgian Chocolatier Peirre Marcolini opened a boutique on Boulevard des Moulin, I zipped right over to take a look and a taste.
Inside their pretty shop I found some special Christmas offerings and a varied and interesting selection of macarons and ganache-filled and flavoured chocolates all of which can be assembled as you choose and boxed as gifts.
I bought their 16 Saveurs du Monde box which I think is a good starting point to get better acquainted with the chocolates.
It was a good choice. 
Inside the box are 16 small squares of chocolate, each made from cocoa beans sourced from a different country, and with a different flavour.  My favourite was from Ecuador with a lovely intensity and fruity finish. 
Definitely worth a visit!
Pierre Marcolini    26, Boulevard des Moulins, Monaco 98000
Zen Shop Japan
I  wrote about the Zen Shop Japan in my blog post earlier this week as a place to find interesting, high quality Christmas gifts.  Well, now I'm going to tell you about the food they carry.  
Here is where you'll find ingredients for Japanese cuisine that are of better quality than you'll find in local ethnic food shops, or the foreign food section in your  supermarché and it's bright and spotlessly clean.   They carry fresh tofu, different kinds of seaweed, shoyu, sesame oil, rice, frozen foods such as black sesame and matcha ice cream, gyoza wrappers, and on and on.  They also have a good selection of Japanese beer, sake, and high quality tea – and I mean high quality.
One of the teas they stock is from Paris-based tea company called Tamayura and it's some of the best and freshest I've ever tasted.  Their Gyokuro for example is from Kyushu, one of Japan's best but lesser known tea growing regions.  I met Tamayura's Parisien tea master, Mr Olivia Leclerc who was showcasing Tamayura's teas in the Zen Shop Japon booth at the Monaco Gastronomy Fair in early December where I sampled and bought some sublime Gyokuru.  Their teas aren't cheap but they are definitely worth it.
This is now my "go to" shop for fresh tofu, tea, and other Japanese ingredients.  When I was there last week I met Shane MacNeil, one of the chefs from the Cipriani here in Monaco.  He and I were doing the same thing, scooping up goodies to fill our pantries.
The Zen Shop can also organise sake tasting, sushi demonstrations and tea ceremony so you can learn all about how to best use what they have on their shelves.
 The Shop is located in Beausoleil, just behind the main entrance to the Monaco train station and it's open non-stop, Monday to Saturday.

Zen Shop Japon   5 av d'Alsace, Beausoleil  04 93 52 15 03

Comments
comments