For years now there's been a buzz in the Place d'Armes market or Marché de la Condamine as it's also known,  with everyone speculating if the forthcoming changes will improve the market and save it from extinction.  It's always seemed odd to me somehow that Farmers' Markets are experiencing a renaissance everywhere else in the world and the one in Monaco is floundering.
A few years back when the renovations were first announced some commerçants were convinced that the Mairie would be changing the covered market into a clothing outlet!
One thing's for sure, the market needs to be revitalized if it's to stay vibrant and relevant to Monaco's residents and citizens.  Sadly, most people I know never go to the Place d'Armes Market but prefer to do their shopping at Carrefour.  Strange but true!
Thankfully all the noisy construction tasks are scheduled for the afternoon so it's still possible to shop in peace, at least in the mornings when the vendors outside are there.
As the renovations progress, the coming changes are being revealed and so far things look quite promising.  The market's free home delivery service continues although now it's a bit difficult to find – you need to enter the door of the covered market nearest the street, go all the way to the back, and turn right at the old Monegasques drinking espresso.
The inexorable Epicerie/Boucherie F. Mattucca, long time resident inside the covered market is open during the renovations and has expanded to twice its size.  They now have more cheeses, pasta, and other basics for us on their new shelves.  A hopeful sign.
The biggest surprise to date is the pending arrival of French supermarket chain, SPAR.  Posters covering their construction site under the arcade between the cafés are promising us two floors of dry goods, fruits, vegetables, foreign foods and home delivery.  It'll be interesting to see if they attract new customers who wouldn't normally shop at the market.
I really hope so.  I'd certainly miss the market experience.  I'd rather stop for a pleasant chat with the engaging market vendors than shop under florescent lights any day!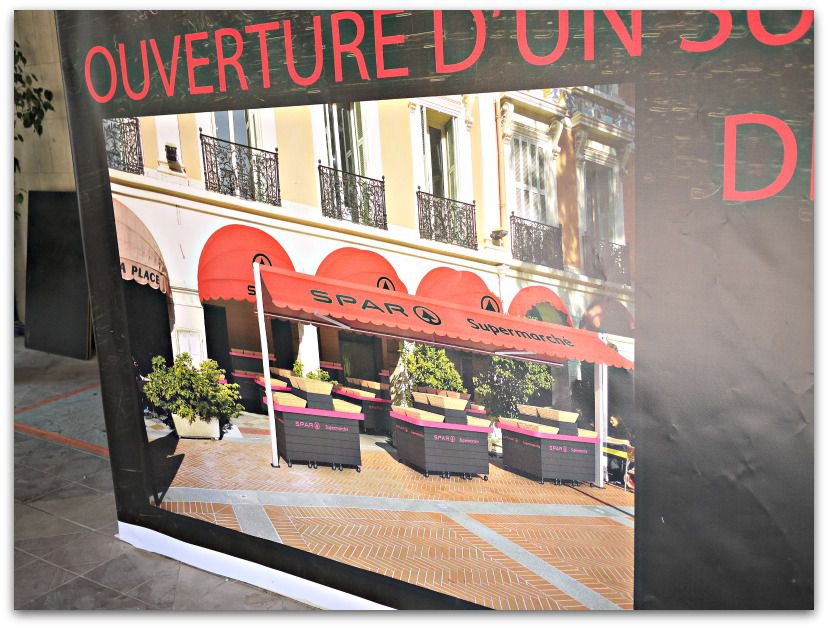 Comments
comments