I loved our approach to the Sunday Marché Paysan in Montpellier.  It was a wide boulevard for both pedestrians and cyclists and it was flanked by tall, young Plane trees making it feel a bit like a runway for humans.
While all over France these historical, majestic trees are being cut down in record numbers, it appears that Montpellier is bucking the trend and planting them instead.  I was instantly endeared.
The first thing we noticed was how pleasant everyone was.  From the vendors to the customers, everyone was friendlier than I was used, very happy to chat about their products, and obliging when I asked their permission to take photos.
Minutes after we arrived, a woman with her elderly mother approached me while I was admiring a huge pan of seafood Paella and said,  "it's delicious, you should have a taste."  When I replied that I was a vegetarian and I was content to just take some photos, she expressed genuine concern that I wasn't getting sufficient protein.  She was so sweet, and her comment, so French!
Further along, we encountered the fromageur/affineur Mr Roland Guillaume from Fromagerie de L'orb who was quite the character, joking with his customers and happily posing for photos.  He had an impressive assortment of sheep, goat and cow milk cheese that he'd made himself but we zeroed in on his Bleu le Royal cheese made with cow milk.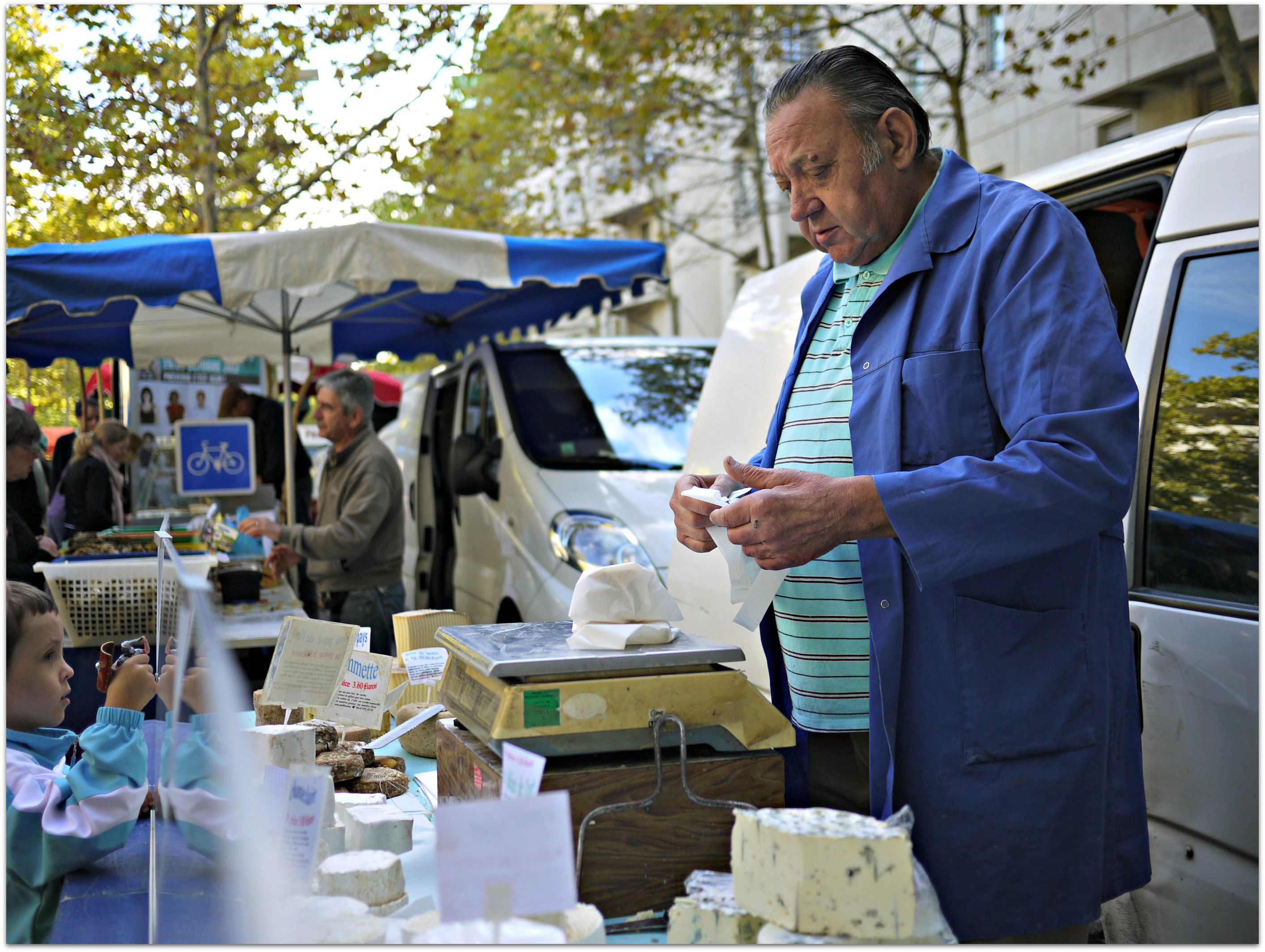 It appeared creamy and dense with just a sprinkling of blue-green veins and from the brief whiff we were permitted by Mr Guillaume, it smelled sweet and irresistible.  A woman who had joined the line behind us urged us on, saying that it was delicious and that she bought it often.  She was right!  When we returned home we prepared it in a salad of mâche with walnuts and it tasted even better than we were hoping.
Across and down from Mr Guillaume, we spotted some delicious, sweet flat breads that from a distance, I thought were savoury.  When we got closer it was clear they were sweet.  Their fragrance was enchanting.  Best of all?  The vendor was happy to cut one of her very large breads into four and sell us a smaller piece.  After a few bites we started to regret that.  The texture was as airy as a perfectly made brioche, only flat, and it was coated in sugar and perfumed with orange flower water.    The bread was so delicious and light, we both picked at it, back and forth, like little birds while we strolled along. 
When it was gone we started to crave strong cups tea and another piece.
Hubby and I both agreed that the "Most Unique Vendor Award" of the Montpellier market should go to Mr Robert Thiery, who sells his live lake water trout from a tank in the back of his pick up truck.
While we watched, customers pointed at the trout they wanted and then Mr Thiery deftly scooped them up in his net and emptied each fish into a small metal bin.  While the trout flipped and flopped around, one by one he picked up each one, conked it on the head with a bamboo stick and then proceeded to clean them but in a most clever way.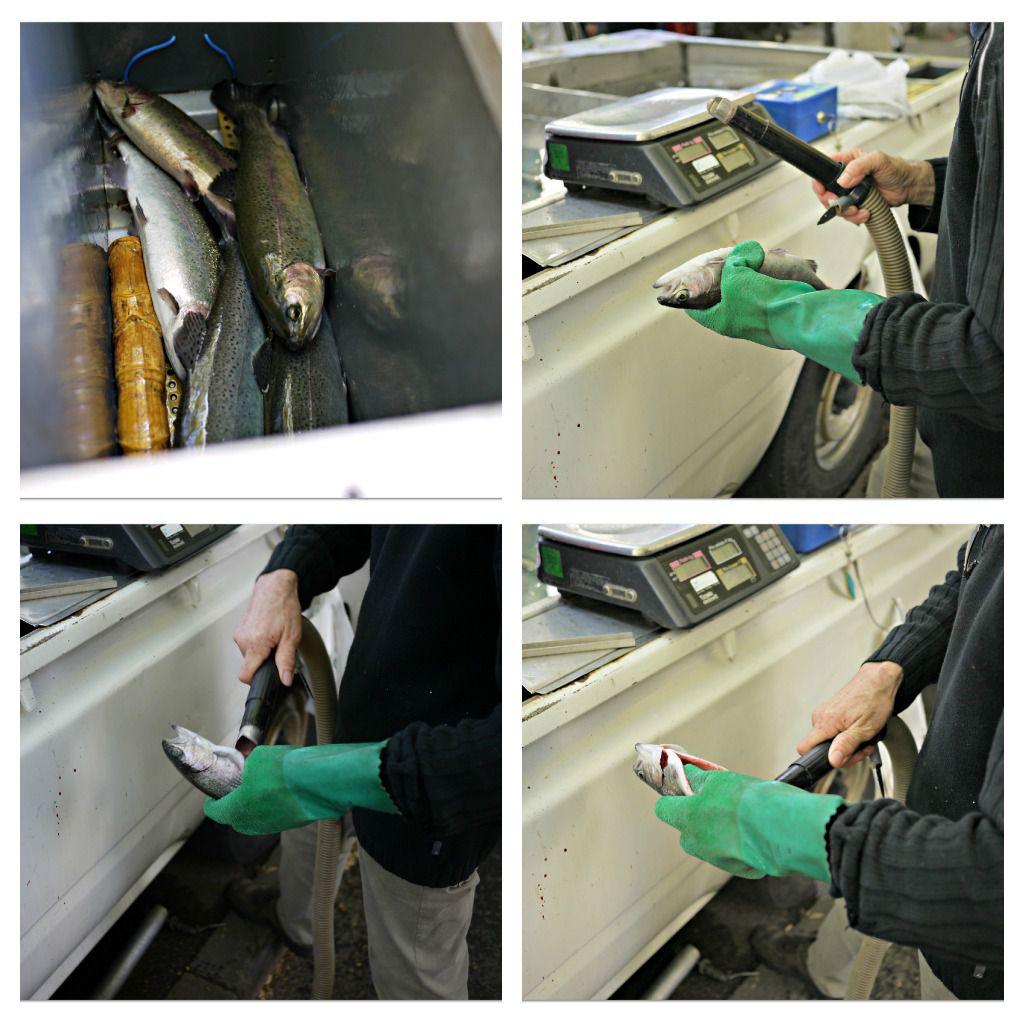 He quickly removed the trout's scales with a blade that was mounted on the side of the truck and then walked a few steps further where he keeps a shop vac with a small sharp knife attached to the hose.   With a quick scissor motion, he sliced the fish open with the little knife, skilfully vacuumed out the innards, popped the trout into a plastic bag et voila!  Dinner.  The entire process from catch, to conk, to clean, to bag, took under a minute per trout.
Mr Thiery's portable poissonnerie was pure genius from start to finish.  Innovation, creativity and tradition. 
I think this would describe Montpellier's market and the city too. 
If you're ever in the Langedoc on a Sunday, I'd say it's worth a detour!
Comments
comments