When I visited Toronto back in May, I popped in to the St Lawrence Market in Toronto this summer on a weekday which was all well and good but what I really fancied was a Saturday visit to the South building.
Every Saturday, the South Building is alive and bursting with local and artisanal producers.  The rest of the week we somehow muddle through with the hundred or so vendors and resellers in the North Building although "muddling through" may not be the mot juste:  the market was named in National Geographic's Food Journeys of a Lifetime book as one of the Top 10 Food Markets in the World.
I have fond memories of the South Side market when I lived in Toronto in the mid-1980's and I was looking forward to seeing what the year 2012 and the locavore movement would bring.  
Mrs Ivanoff's dairy products
It was interesting to see how the market has evolved in the intervening 30 or so years.  There was a new energy and abundance everywhere and a much wider variety of locally produced and eco aware products.  I can assure you that in the mid '80's you wouldn't have seen anyone selling organic arugula or quinoa nor a company that roasted Fair Trade Coffee.  Back in the 80's, local producers were a niche market, reserved mainly for fresh obsessed vegetarians (like me) or enlightened cooks and chefs.
One person who has stood the test of time with her lack of pretension intact is Stephanie Ivanoff.  
Back in the '80's she and her son were selling their own goat, sheep, and cow's milk Fresh and Feta cheeses and here she is, over 30 years later still at it.  
It's clear that she knows her stuff.  Her Feta was, and still is, skilfully made, a balanced mixture of creamy and not too salty but it's her Fresh cheese that's I was hoping she still made.  Thankfully she still does.  The texture of her Fresh cheese is soft and yielding.  Its flavour is light, clean and buttery and  it's a perfect canvas for fruit, honey, olive oil, preserves, or just by itself.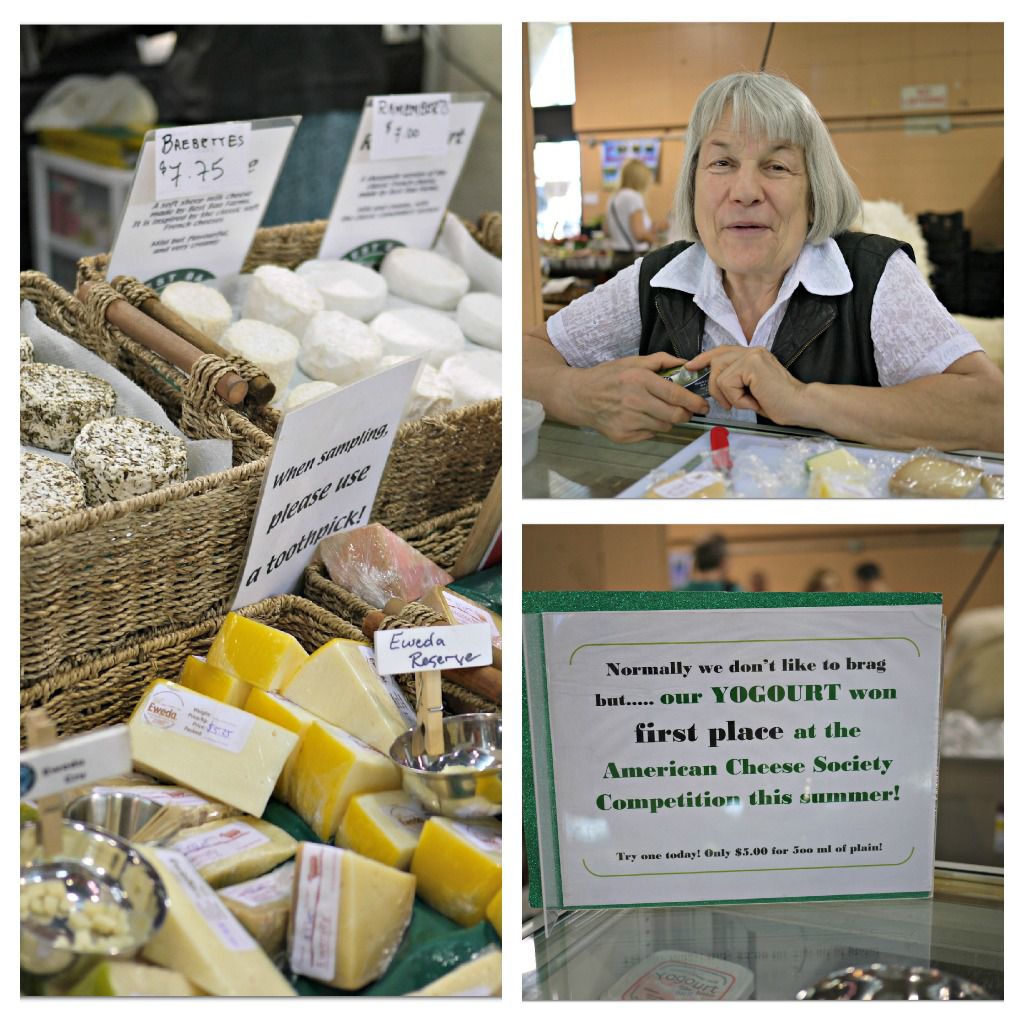 It's the product of the the first stage of cheese making, the immediate result of separating the curds from the whey and not compressing it.  In fact you'll notice that in the time between when you buy it and get it home, the whey continues to seep from the cheese, the texture becomes firmer and the flavour more concentrated.  Since she adds no salt, the subtle flavours of the milk come through and with no salt added, it won't keep.  It's best if you consume it within a day or two.
 In the municipal market in Menton only on Saturdays and Sundays and only in the spring in the short window when the ewe's lambs are weaned but the ewes are still producing milk, a local supplier brings metal pots half filled with a delicate cheese called, Brousse de Brebis. The taste and texture of it is very similar to Mrs Ivanoff's Fresh cheese.  A taste of home.  When it's available, I buy it regularly, bien sûr !
I discovered other delicious and interesting things at the market that morning.  Fruity, buttery, Greek olive oil from Acropolis Organics, delicious French-style goat cheeses from the Best Baa Dairy and some good advice and foraged organic herbs from Linda Rose and her Black River Gatehouse. 
I never drink coffee but Hubby does, so when we saw all the hubbub at the Merchants of Green Coffee stand we stopped to see what they had on offer.  Hubby eagerly sampled some of their delicious, fresh roasted, sustainable coffees while a charming caffeine-fuelled Barista tried in vain to convince me to drink some too.   I will never surrender!
I'll have to make my way back in another 30 years.  Who knows what will be on offer in 2042?
Comments
comments