I've been away a lot and have not had the devotion to write on the move.  Now we pass through that holiday season of excess.  Both these passages have made me focus on the loo.  Let me explain – as promised at the close of my last blog.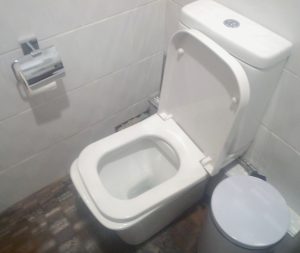 The more you travel, the more you clock up lavatories.  It's not always the most romantic aspect of the wandering life; and is capable of being quite historic in ghastliness.  There really still are those awful things (especially in Paris) where you have to stand and squat your feet on the two slightly small all too low raised areas, almost hopeless unless you are wearing the kilt and galoshes.  Or in London pubs the casey is very often down a Dickensian narrow steep stair that leads to the smallest possible space, usually with a sloped ceiling to bang your head on.  The experience is seldom simple.  It doesn't have to be happy, but it is good if it is not vile.
I don't understand the designers and fitters of loos.  My friend Christopher in the Borders of Scotland has a magnificent seat, made of stout wood and more or less completely round, the way we are at the vital area.  It is doubtless Victorian, an era when they paid attention to such things.  Switch now to my title image, the facility in one of my most preferred brasseries in the Alpes Maritimes: the room is perfectly spaceous, yet the throne, rectangular in the wrong direction, is squashed needlessly against the wall – and against the paper roll – in such a manner as to defeat surely the fittest of Texans.  You can see that the seat has shifted and been dislodged because of the repeated unnatural sway required to hoist oneself off the throne.
The rectangular loo seat is the weirdest of things and I advise people to sit on it side-saddle, the way Her Majesty used to take the Trooping of the Colour.  But it does make you wonder about human progress and innovation, intelligence even, that this simplest frequent requirement should be so generally  – well, I was going to use a c-word.
Happy festivities and may your pennies be spent well…
http://www.bbc.co.uk/news/business-41188465
Comments
comments