July has been one of the hottest recorded and we're entering what is likely to be an equally hot August. Chill out and enjoy some of the evening entertainment on offer on the Riviera!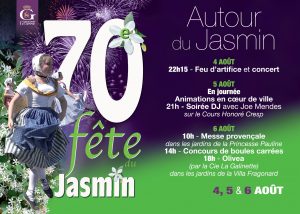 4 to 6 August – Jasmin Festival
Annual "Fête du Jasmin", with parades, entertainment, music and fireworks on the Cours Honoré Cresp and in the old town of Grasse.
5 August – Fireworks
International fireworks competition on the port of Monaco at 21:30, with a display by the USA.
6 August – Organ Recital
Improvisation by Pierre Pincemaille to accompany a screening of the film "Le Cabinet du Docteur Caligari" (The Cabinet of Dr Caligari) by Robert Wiene, at 17:00 in the Cathedral in Monaco.
6 August- Monte-Carlo Philharmonic Orchestra
Symphonic concert by the Monte-Carlo Philharmonic Orchestra conducted by Marc Albrecht with David Guerrier, trumpet, performing works by Johann Nepomuk Hummel and Ludwig Van Beethoven. At 21:30 in the Courtyard of the Palace in Monaco. Tickets from €20 to €100.
6 August- Ladies Jazz Orchestra
Live jazz with the Ladies Jazz Orchestra at 21:00 in the Passage Cahours in Vence. Free entrance.
Comments
comments