Travel and restaurant vouchers, wines and many more prizes were raffled at the "British Flair" tombola at the end of summer 2013. The revenues of the tombola and of other "Friends of Britain e.V." activities are designated to (children's) charity projects. The donations of 17,000 Euro are presented at reception tonight, 11. November, at the Anglo-German Club.
One of the recipients is the Benita Quadflieg Stiftung, which was elected charity of the year. The foundation supports Mignon, an institution offering a home for 10 children in family-like surroundings. The foundation members helped selling tombola tickets at the "British Flair".
Other donations go to "Freunde der Kinder im Krankenhaus  Eppendorf e.V.", the "Klinik Clowns", "The Royal British Legion (Bergen-Hohne Branch)" and to the "English Church of St Thomas Becket".
British Honorary Consul in Hamburg, Claus-G. Budelmann and the chairwoman of "Friends of Britain e.V." Wendy Sprock invited to the reception at the Anglo-German Club. Since 1991, the Friends of Britain have raised more than 440 000 Euro for charity projects in Hamburg and the region.
"Friends of Britain e.V." aims to strengthen the relationship between people of German and the British nationality. The association – named "BCCG British Day e.V." up to 2011 – also organises the yearly "British Flair" at the Hamburg Polo Club, featuring British sports, dances, music, theatre, comedy and British lifestyle.  The event is organised by Das Agenturhaus, Lübeck.
Update Impressions of the "Friends of Britain e.V." reception:
Both the British Flair and the second Friends of Britain event, the evening celebrating the this year's 60. coronation anniversary of Queen Elizabeth, were a huge success, explained Chairwoman Wendy Sprock. In her keynote, she thanked the team – Linda Struck managed some 1000 tombola prizes – , the sponsors and the prize winning charities for all the support in organizing the tombola.
Presentation of the cheque for the Benita Quadflied Stiftung: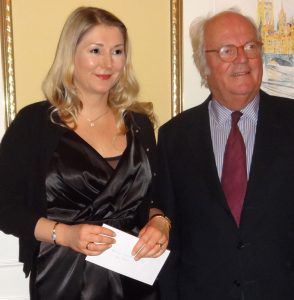 "Friends of Britain e.V." team:
Comments
comments