By Marinell Haegelin
 Othello by William Shakespeare at English Theatre with Graham Watts' adaptation and directing
 Settle in, and as in days of yore thespians announce the play's commencing with their presence completely dominating the stage, theatre and our attention. In William Shakespeare's gripping tragedy, Othello, trust, integrity, love and friendship give way to doubt, suspicions, revenge, and compunction – all because of deceitful subterfuge.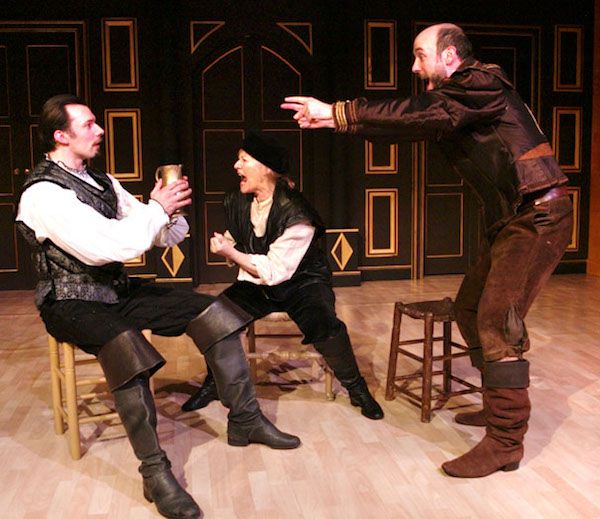 Replete with period dress – Othello was written in 1601–1602 – the stage setting is representative of Jacobean theatre (1603 to 1625), and Blackfriars Theatre, London… minimalist, we would say. Calling his production "retro-radical," returning director Graham Watts (The Comedy of Errors, 2012) adds how the English Theatre and Blackfriars are comparable in size. Taking great pain for German audiences, Watts adapted from Shakespeare's First Folio. The First Folio are re-writes of thirty-six plays by the Bard containing material not in other published copies. A group close to Shakespeare compiled these after his death and published in 1623. The advantage for audiences—German, and anyone circumspect of the complexities of 1600 English—is easy-to-understand dialogue delineating the mounting emotional turbulence we witness.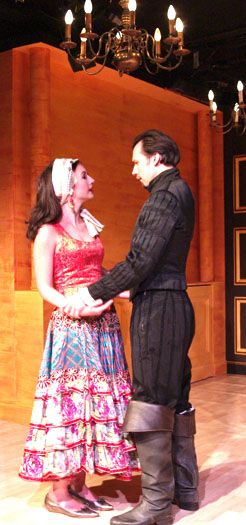 In Venice, the victorious Moor chooses Cassio as his lieutenant, concurrent to his elopement surfacing. Enraged at having his ambitions thwarted, Othello's ensign spitefully plots revenge. Well-placed—Iago's wife attends Desdemona, Othello's lovely, younger fair-skinned wife—Iago mendaciously propagates uncertainty in Othello's mind, and soul through cunning manipulation of fact and fiction. The clincher is when Desdemona's heirloom handkerchief, Othello's first gift to her, falls into Iago's hands. Intricately controlled events encourage dubiety that we, as Iago's confidents, track. The corrosively negative effects that transpire keep we mere audience mortals spellbound.
Watts knows and respects Shakespeare's carefully crafted dialogue; this is his twenty-ninth Shakespearian production worldwide, and he's written a book on the subject. Watts directed the London cast to be physically/facially demonstrative to further convey the raging emotional scales. Othello's characters are comprised by merely six thespians; all have performed in Shakespearian productions before. Challenging for the company was absorbing the lengthy play's distinctions and shortened text in three-weeks, from first read-through to performing before audiences. Mathias Wardeck's stage setting and Patricia Royo's costumes encapsulate the Jacobean period.
Intense and exacting for Declan Wilson (The Whipping Man, 2014) is switching (in such a short time) from the loving, caring exuberantly happy Othello to a jealously confused, wretched man. He also carefully researched seizures for one important scene. Wilson and Neal Craig's (Iago) soliloquies are noteworthy. Imogen Daines (Desdemona) found deviating from the truth of the full-version play demanding. Concurring, Craig and Joseph Cappallazzi (Cassio, Lodovico) clarify grappling with Folio text: to remember what their characters say in the full-version play (that we don't hear) prior to delivering lines in this Folio version that we're watching. Yet, onstage it's a natural transition. English Theatre veteran (Mrs. Warren's Profession, 2011) Jilly Bond (Emilia, Brabantio, Montano) and Zena Carswell (Rodorigo, Duke of Venice, Bianca) attest to London theatre's gender balancing. Each play three male/female characters that demand differentiating, and then staying true to each characters distinct personality.
Why, we wonder, didn't Othello go to his wife at the outset? Why does everyone take Iago at face value? Why does Emilia neglect telling a crucial point in Desdemona's behalf? The implications are sobering. Centuries after Shakespeare the foibles of humanity recur, as do the stigmatic themes: jealousy, dissension and discord, love, ethnicity, migration. To quote Othello, "There is magic in the web," and this production.
OTHELLO premiered February 16 and runs until April 15, 2017. The next production is APRIL IN PARIS, John Godber's heart-warming comedy. It premieres on April 27, 2017 through June 24, 2017.
Evening and matinee performances; tickets available at the theatre or online: ww.englishtheatre.de. The English Theatre of Hamburg, Lerchenfeld 14, 22081 Hamburg, Tel: 040-227 70 89: U-Bahn Mundsburg.
Comments
comments