Jenny Bagshaw lives in a small village in the hills just to the west of Grasse. Nowadays she works within half an hour's drive of home, with gorgeous views of the Cote d'Azur. Find out how and why she made a huge, and successful, lifestyle change…
It wasn't the "retirement" Jenny had planned, but now she's hooked. "I am lucky," says Jenny "to work in an area with some of the best views available on the Cote d'Azur, straight down to the coast at Cannes – a fantastic selling point!"
Three years ago, Jenny decided to switch from a career in the aviation industry to selling property in France.
"I had a 25-year career in the aviation industry, which took me from check-in agent in Edinburgh (where my family live) to airport managing director in London – via Paris, Brussels and a fabulous 12 years living in Dubai and working for Emirates and then Dubai Airports. It was an amazing first career to have – opportunities to travel, make lifelong friends, learn through every pore and often at the school of 'sink or swim'".
A deep sense of being in France
Despite the great experience in Dubai, Jenny felt she needed a base in Europe, and specifically in France – though at that time she had no idea that a property purchase in the area would lead her to a husband and a new career!
Jenny takes up the story: "While I was in Dubai, I decided that I needed a home in Europe. I knew deep down that my base should be on the Cote d'Azur, having spent childhood holidays here and having worked as an au pair in Paris during a gap year."
"Connections to Nice were great, from the UK for my family and via daily flights from Dubai. So, I invested in a derelict apartment and had a fantastic time renovating it with some great friends: a financial advisor, an interior designer and a builder." What better combination!
Jenny left Dubai and moved to London, where she retired and met her husband-to-be who was coming up for retirement after 30 years of police service.
"I met my 'Top Cop' quite late in life! We had both dedicated everything to our careers and decided that it was 'Our Time' and that we would sell up in the UK and move to Nice for a change of scene. We enjoyed a year or so living in an apartment in Nice, but then bought a cocker spaniel puppy and realised that a tiny balcony wasn't going to do the job!"
Hooked on Grasse!
A friend showed Jenny and her husband the area to the west of Grasse – they were instantly hooked. Jenny recounts her first impressions: "It was the fresh air and the spectacular views as well as the village atmosphere, low crime and the value-for-money properties. And all this within 45 minutes' drive of Nice Cote d'Azur Airport and 30 minutes' drive of Cannes. The best of all worlds!"
"We found a property with a fabulous view of Cannes to the south and Lac de St Cassien to the west. It is fair to say that we bought the view, and then set about making the house work for us. After 18 months of renovation, including co-habiting with the kindest, cleanest builders on earth for 12 of those months, we had our home. We are still working on the garden, which suffered through the build, but we're happy to finish it in slow time. Isn't there a saying about it being 'about the journey as much as the destination'?!"
Retirement? What retirement?!
Once their home had been renovated, and life had settled down, Jenny found she didn't know what to do with all her free time. Even her husband could see that she needed a day-to-day purpose!
"We had house hunted as buyers with someone who worked for Leggett and he always spoke highly of the company. He was part of a happy, energetic team, so when the idea of working as an estate agent in France first occurred to me, I knew which company I wanted to talk to!"
"Working as a Leggett agent means I can connect with people of all nationalities and from all walks of life, which I was used to and was starting to miss. My husband is home most of the time, and travels to work on projects in various countries, so my home-based business works well for us."
After her training period with Leggett, Jenny had a vague ideas of working part time. But she was soon hooked and now works full-time and quite long hours – but through choice – maintaining a 70+ portfolio of properties.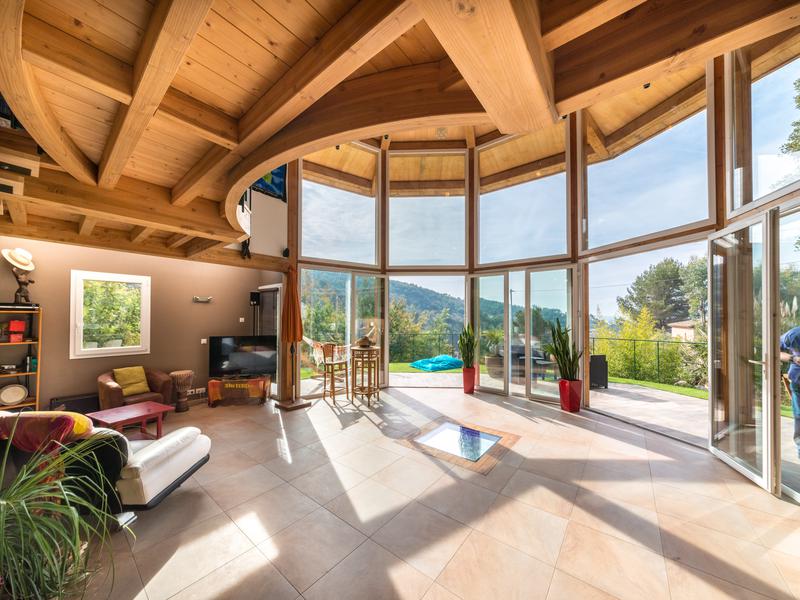 Team spirit
"One of the best things about working for Leggett is the flexibility that comes with running your own business under the Leggett umbrella. Something that we all at Leggett recognised for the recent International Womens' Day is that Leggett is 75% female – one of a small number of companies who can make that claim – and that success must be in part due to the flexibility that this work and Leggett offers. Although it is growing fast, Leggett still feels like a family business and we all appreciate that sense of belonging."
"The team spirit is a big part of the enjoyment of working for Leggett; we always enjoy our get-togethers. They may be meetings or training sessions, but the spin-off benefit is spending a day with friends."
"Working as a Leggett agent really is addictive, and, as with any business, you get out of it what you put in."
A good work-life balance in the Côte d'Azur?
All the leisure activities Jenny and her husband could possibly want are on their doorstep, from paddle boarding on the lake in summer, skiing less than an hour away by car in the winter, plus rowing, cycling and walking their cocker spaniel against an amazing backdrop.
"It has become routine for us in the summer to enjoy our aperitif and a swim in our pool at the end of the day. We aren't party animals, but it's nice to know that we can mix with the beautiful people of Cannes, Nice and Monaco if we want to. Car-spotting and people-watching over a glass of something in Monte Carlo's Casino Square makes a nice change to the normal daily routine. We still have to wash, iron, clean and shop for groceries, but where better to do all that?!"
What really makes you "tick"?
Having had a successful and fulfilling career in aviation, I was curious to find out what it is about being a property agent that really makes Jenny want to get up from her beautiful terrace, overlooking the Cote d'Azur, and go and sell homes to other expats and locals – when she could just as easily sit back down and enjoy a day lazing by the pool!
"Leaving the financial element to one side, for me the joy of this work is to help people achieve whatever it is they want – whether it's a vendor who wants to start a new chapter in a new home or country; or a buyer who is about to make their dream purchase. It is so rewarding to see the excitement as they either head off to pastures new or collect the keys for their new home. Of course, there can be sadness as well as joy, depending on the circumstances, and then the satisfaction comes from supporting those clients, and, in whatever way possible, easing their situation. If Leggett expected us to work as hard-nosed, dishonest, unsympathetic bullies (and believe me, some agencies seem to require these as desired traits!), I wouldn't be here. One of the challenges is leaving people with a better impression of estate agents than they might have had before. That's a good day's work!"
"When I am working on my laptop, sitting on the terrace with those incredible views, I regularly have to pinch myself," says Jenny. As Managing Director of Biggin Hill Airport in London, Jenny used to look out of her office window at Spitfires routinely flying and displaying over the airport. That, she thought was one of the best office views ever, but the one she has now from the terrace "competes pretty well".
From Mme Bagshaw to Mme Leggett Immobilier
I asked Jenny if she found it hard to integrate into a small village community, something that some people who are contemplating moving to France may find challenging. Jenny's reply to that could apply to anywhere in the world, but particularly to rural areas of France, where many Leggett agents are based:
"Wherever I have been fortunate enough to live in the world, the rules are the same: respect where you are and the people around you, and the rest is easy. It's the same here, it's easy to integrate if you are willing to make an effort. Our village has one shop, two restaurants, and a pizza van – so it doesn't take long to get acquainted with people! Most French villages have activities such as boules or various clubs, and there are always committees that are good to join. We joined the fête committee! I have found that being 'Mme Leggett Immobilier' has helped me integrate, as people see me as having a purpose in the community."
Any downsides to working in the Côte d'Azur area?
It took a while to squeeze a downside out of Jenny. The only one she could think of was people's misconception that you have to be a millionaire to live there: "Having a base here doesn't have to stop at being a pipe dream!"
What does Leggett really do for Jenny?
"The best thing about working for the Leggett brand is their professionalism. Any of us could bring the same skills and enthusiasm to a local agency, but working under the Leggett banner means that our properties reach a worldwide audience. Then the back-up we receive from Head Office is second to none, so you never feel alone when you need help. It feels as though all the effort and hard work that we contribute is more than matched by the organisation, support and expertise at Head Office. The two together makes a formidable product, and clients (vendors and buyers) can see that quality. We manage to have plenty of fun and laughs along the way, and a good atmosphere counts for a lot too."
One day you could do this too…
I asked Jenny what she would say to you if you are contemplating life as a Leggett agent but are wavering and undecided. Here's her advice: "Just give it a go! There are always risks and reasons not to do things in life, but this could work out so much better than expected – it did for me! Go to the next Leggett recruitment fare in my area in Valbonne on April 20 and have a chat with a local agent. We are always ready to welcome new colleagues!"
This article was sponsored by Leggett.
Comments
comments