Oh, don't you just love the long school summer holidays!? Yes? Kind of?… It's a lot of time to fill, especially if both parents are working and your children are better being busy. Here are ten activity ideas that are free (or low cost) to do this summer…
My experience of being a working mum and managing the long holiday with two active children has been mixed – mostly depending on the country where I was living while the children were young.
In Spain and France, it was a dead cinch to sign the children up for free, or very low-cost, summer camps that were absolutely brilliant. Weeks of fun and games and excursions with all their friends…what's not to like? The children loved it. Back here in the UK, we found summer camps and activities to be far more expensive, so we juggled a few days of camp here and there with work, interspersed with low-cost, active family days out.
Here are ten ideas that kept our kids (and us) busy, active and ready for bed at the end of the day!
1. Get your bikes out and go for a ride
Find a family-friendly trail, pack a picnic (don't forget the puncture repair kit and tools) and head off for a couple of hours of fresh air on wheels. When my children were really young, they would ride and I would run alongside them.
2. Dive right in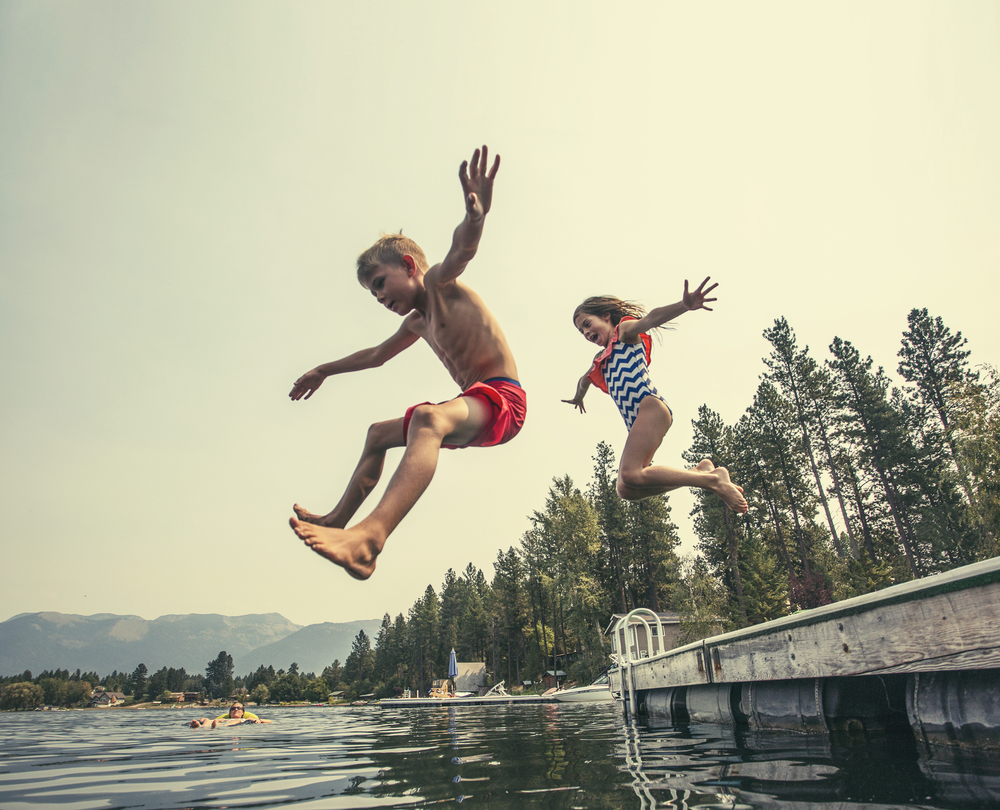 …or go paddling. Find a lake, river, stream or outdoor pool, and spend the day exploring (remember a bucket and net and river shoes if you're going wild).
3. Search for "gold"
Geo-caching is great fun with children of all ages (even teenagers!). It involves some map reading and searching for hidden treasures, which you don't keep, but can add to or exchange one your bought with you. (Hint: take along some reward "treasure" for little ones, in case the cache of treasures isn't age appropriate.) Watch the video for more information or visit: www.geocaching.com/play
4. Go for a run
The latest worldwide running craze that's great for all levels and ages of runners is Parkrun. It's a 5k timed run that's free to enter. If your child is under 11 you have to run within an arm's distance of them, if they're over 11 let them off the leash! Times are all recorded on the Parkrun website, so you can chart your progress over the summer holidays. As the organisers say, "Our runs are suitable for all…from juniors and first timers to Olympians and octogenarians"!
5. Build a sandcastle…
Not just a little bucket one, but a monster one. Get creative, take different buckets and containers and spend some time scouring the beach for decorations – shells, feathers, shiny things. If you've got lots of children with you, make it into a competition (with prizes for all, of course).
6. Get rafty and crafty
If you're lucky enough to live near a gently flowing river, get your kids to design a raft and then help them build it. This may take a few days, so be prepared to do it in stages.
7. Go roller-skating or rollerblading
My kids loved to rollerblade. Our little village in France used to have a rollerblading group and they'd head off blading around the country lanes (wearing high-viz jackets and holding flags at the front and back to warn traffic)! If that's not possible, search for a beachfront or similar smooth, flat stretch and strap on your boots and protective gear. (If you haven't got any, search on eBay – skating seems to be a short-lived hobby so plenty available in good condition.)
8. Join a local Hash House Harrier group
Hashing is running with people of all sorts of abilities, usually ending in a social event. Weekend hashing often includes families, with little ones walking or running part of the route. Find a local HHH group here.
9. Set a trail
Of all the walking-based activities, this is the one my children enjoyed the most. One adult and one child heads off ahead of the others, setting a route to follow by laying down arrows made of sticks, stones, grass, leaves…anything you can find that's natural (i.e. not litter). Lay a few false paths too (marked at the end of the false path with a circle) to slow them down, then at the end of the route hide and wait for the others to find you.  As each person finds your hiding place they join you, until only one is left (make sure little ones aren't left alone as that's too scary).
10. Be an adventurer
Lots of big towns, and some smaller ones too, have an adventure playground. Children always seem to want to stay longer than we do, so take something to sit on, a thermos of coffee or a picnic, a book, a camera, then relax, making the most of the free entertainment.
Comments
comments