Ken Shaw is living the expat dream in his tropical home in Gran Canaria, Spain. It is, quite simply, his idea of paradise… which he and his wife share with some furry (and feathery) friends!
"Try and study for half an hour each day and practise what you learn with friends, in supermarkets, bars, restaurants. You will be surprised how helpful the people will be, they will be delighted that you are trying to learn their language."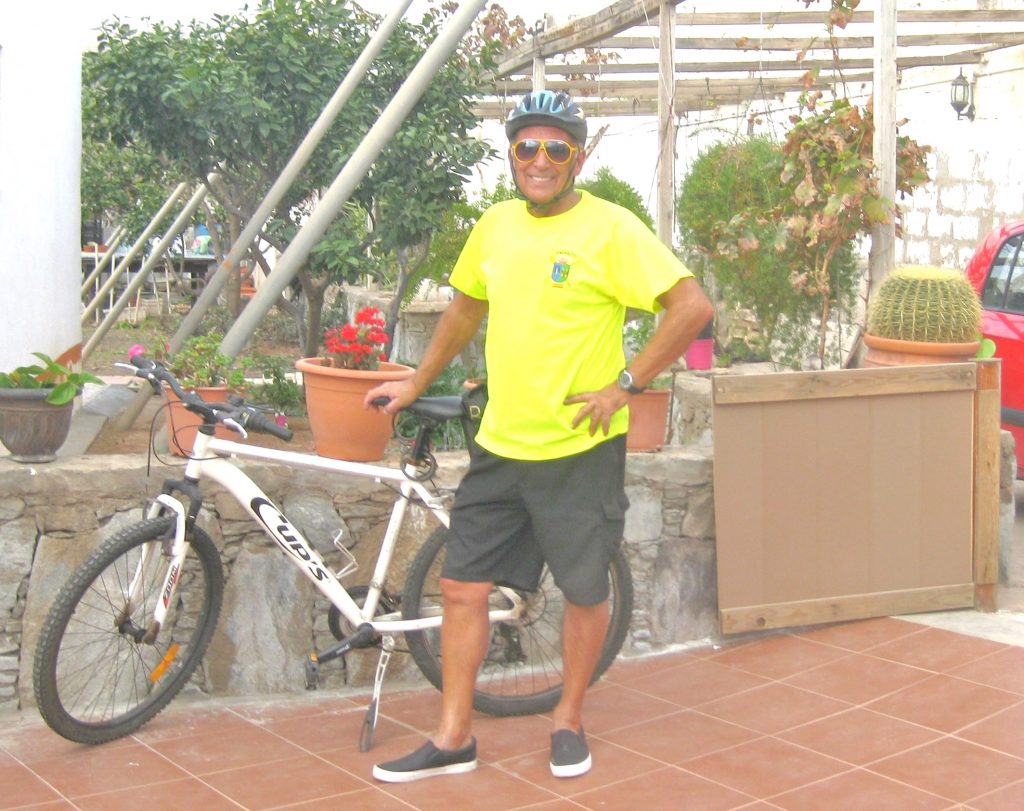 Where do you live now, and where did you move from?
I live in Los Corralillos, a small country village in Gran Canaria, Spain. I moved here from Murcia.
Is this the first time you've been an expat? If not, where have you lived before? If so, what was the leaving process like?
I became an expat in 2004, when I moved from South Devon in the UK to Los Alcázares on the Mar Menor in Murcia.
How do you spend your time? Do you work?
I am retired, but I am kept busy looking after a finca, a large garden, 4 cats, 2 hens and a green Amazonian Parrot called Paco. Paco came with the finca and he was very aggressive at first, but now he is very tame and he likes to perch on my shoulder and go for walks around the garden.  I also spend a lot of my time writing. I wrote my first book two years ago, which is based upon two years of my life as an English expat living in a small Spanish speaking rural community. The book is entitled; Three Hens in an Orange Tree and I have since written four more books, all fiction.
What do you miss most from home?
At this moment I miss the rain. We have not had a drop for the last six months. There is nothing I miss badly enough to make me want to return to live in the UK, although I enjoy going back to England for short visits. My Canarian wife Olga has become an Anglophile and I have taken her to my home county three times.
What do you appreciate the most in your adopted country?
Lots of things. The sub-tropical climate is wonderful and the Canarians are very warm and friendly people. I love the Canarian food and all the fresh fish and sea-food. The island has many contrasts, from the high volcanic peaks in the centre surrounded by pine and eucalyptus forests to the golden sandy beaches in the south where one can swim in the sea all year round.
How did you make new friends in your new home?
I have met most of my new friends through Olga and her family and friends. I have now become a Step-Grandfather to her two young grandchildren who both call me Abuelo.
Have you started learning the language? Any tips on the best way to do it?
I knew quite a lot of Spanish before I moved to Spain, but since I met Olga I speak Spanish all the time, because I don't know anyone who speaks English. I would say it is vital to learn the language of your adopted country. Try and study for half an hour each day and practise what you learn with friends, in supermarkets, bars, restaurants. You will be surprised how helpful the people will be, they will be delighted that you are trying to learn their language. It will also open doors and enable you to learn more about the culture and history of your chosen country.
Do you obviously stand out as being foreign? What's your experience with this?
Yes, because I have green eyes and although I speak fluent Spanish, I still have an English accent.
Any tips for beating home sickness? 
I have been in Spain for over 13 years and I have never been homesick. I have been back for short breaks to visit friends and family, but after a week in the cold, wet weather I am always glad to return to my home in Gran Canaria.
What's the most common question you are asked about being an expat?
I don't think I have ever been asked that question.
How does the cost of living compare to where you were before? Anything that really surprised you as being particularly cheap or expensive?
Since Brexit, all expats living in Spain are suffering from the weakening Pound Sterling and consequently their pensions are converted into fewer euros. This worries me, because my income has dropped by about 15%, yet prices continue to rise.
Are you settled here now? Or do you plan to move on one day?
Who would want to move from Paradise?
Would you share something embarrassing that happened to you as an expat (but that makes you smile when you look back)?
One day I went to the hardware shop to by a nut for a screw and I asked for a TURCA instead of a TUERCA. The man behind the counter said his shop didn't sell Turkish women, but he could give me a phone number if I had it in mind to rent one for an hour.  He was joking of course.
And finally, if you could give one piece of advice to someone considering moving to where you live, what would it be?
Learn the language.
Would you like to be featured? Send us an email to meettheexpat@angloinfo.com with your responses, together with at least four good quality photographs.
If you enjoyed reading this blog post why not become an Angloinfo member? You can sign up here.
Comments
comments