Our guest this week describes herself as an "eternal expat". She has lived in 7 countries and 3 continents and is now raising 2 multicultural and multilingual kids in Dubai. 
"Homesickness is something I struggle with often. In fact, I sometimes feel I am in a state of perpetual homesickness for one home or the other. My best tip for expats is not only to accept that you will be homesick across continents, but to embrace it and make it part of who you are."
Where do you live now, and where did you move from?
I currently live in Dubai, in the United Arab Emirates. I moved here about three years ago from Singapore.
Is this the first time you've been an expat? If not, where have you lived before? If so, what was the leaving process like?
I grew up as an expat child in Bahrain and New York City before moving back to Karachi, with my Pakistani parents and spending most of my childhood there. I then become a Third Culture Adult at the age of 19, when I left Pakistan. Since then I have lived in the United States (Massachusetts and Texas), the United Kingdom, Germany, Denmark, Singapore and the United Arab Emirates. The leaving process (as a teenager!) was overwhelming, yet thrilling at the same time. I had a one-way ticket in my hand to the other corner of the world and I had no clue what to expect once I landed.
How do you spend your time? Do you work?
Currently, I work as a writer and blogger, based in Dubai. My expat life led to making a career change – I had worked in finance and corporate roles for most of my career. But when motherhood coincided with our move from Denmark to Singapore, I hung up my 'Economist" hat and put on my 'Writer" hat. These days I spend my time writing, blogging and speaking at international conferences focused on global mobility issues and I also give regular talks in my local community on raising multilingual children in the UAE.
What do you miss most from home?
Which home are we talking about here? 😊 Having lived in seven countries, they all feel like home. Here is what I miss from 'home':
Pakistan: mangos, cricket and tea at 5 o'clock with samosas.
United States: pumpkin pie, Tex-Mex food, and fall in Massachusetts.
United Kingdom: flapjacks, scones with clotted cream and the Brighton pier.
Germany: Apfelschorle, museums in Berlin, and Christmas markets
Denmark: Danish pastries, Copenhagen street fashion and home design stores.
Singapore: Tropical rainfall, chilly crab and Singlish.
But most of all, I miss my family and friends in each place. I often dream of a city where all my favorite people from Boston to Berlin could live together. The eternal expat dream!
What do you appreciate the most in your adopted country?
There are so many things I have grown to love about the UAE. I love how the country has mastered that perfect balance between the old and the new; between tradition and modernity, between advancing ahead but not forgetting their roots. I also love raising my children in Dubai, because it is one of the most diverse and multicultural cities to live in around the world. And lastly, I've fallen in love with the Dubai desert – when life gets too hectic, I frequently escape to the sand dunes to remember the power of stillness.
How did you make new friends in your new home?
I did the usual things. I reached out to people living here, joined various expat groups for Dubai such as the "I Am A Triangle" group and soon started meeting people through international groups and knowing a mutual friend. When I arrived in Dubai, I was five months pregnant with our second child, so I also joined a mother and baby group in my neighborhood and ended up meeting my best friends through this. I also joined local boot camp exercise classes and I started a small book club and both of these activities led to making some amazing new friends, with like-minded interests. I also met other expat spouses through my husband's work and other parents at school through my daughter so soon our social calendars were full!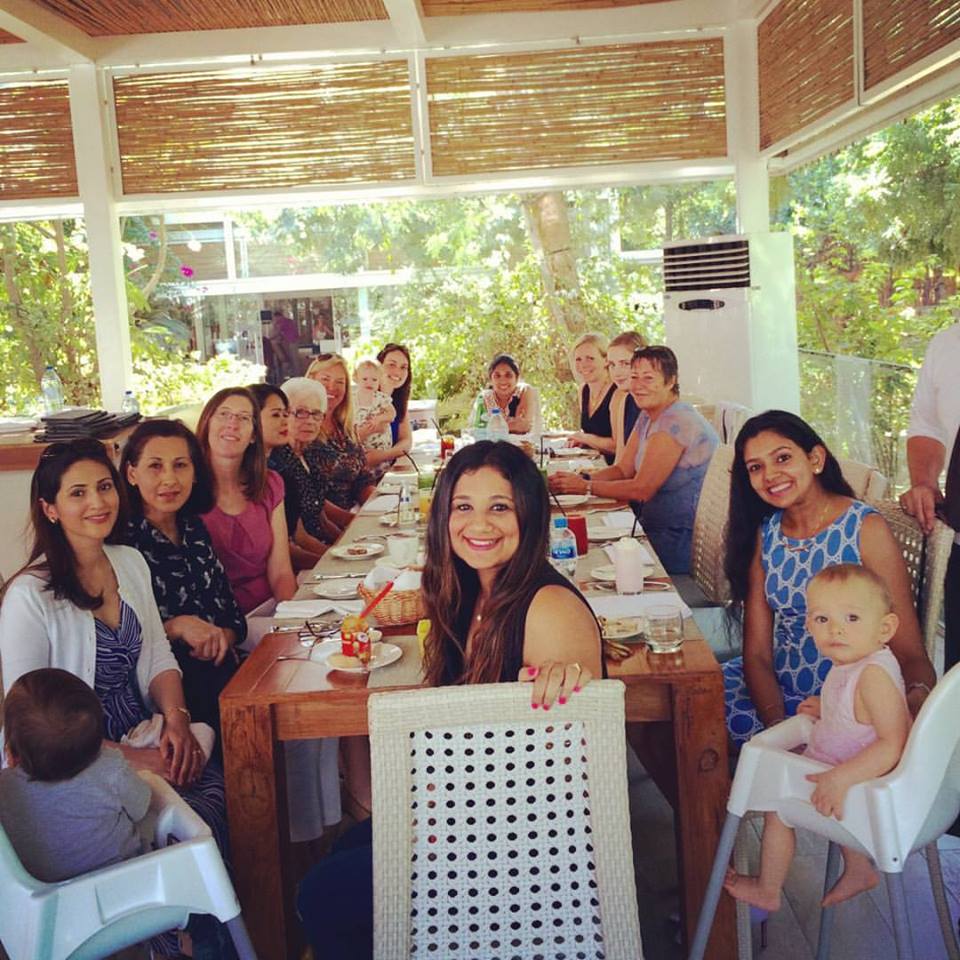 Have you started learning the language? Any tips on the best way to do it?
After learning German in Germany, and Danish in Denmark, I have not been too focused on learning Arabic! There are a few reasons for this: firstly, Dubai is a very international city with Arabic as the official language but English a close second. One does not really need to know Arabic to get through daily life here. Secondly, even though I don't speak Arabic, I can read it fluently! That's because I am a native speaker of Urdu (which has a very similar alphabet and script) and as a child we learned how to read Arabic in order to read the Quran. So, I can read all street signs and notices in Arabic, which does help. Arabic is a difficult language to master, mainly because one has to learn a new alphabet and a whole new script. The best way to do it, is to enroll in the many Arabic language classes in and around Dubai. Or learn alongside your children – my daughter is always teaching me Arabic songs she has learned in school!
Do you obviously stand out as being foreign? What's your experience with this?
Yes and no. We obviously are never mistaken for local Emiratis, since we look different and dress differently. But as a Pakistani woman with an Arabic name of Mariam (my name is the Arabic version of Mary), I do not stand out as much as my husband, who is half German and half Italian. Multicultural and interracial marriages are the norm in Dubai, so it is very common to meet families like ours: father is from country A, mother is from country B, they met in country C, first child born in country D, now living in country E…being multicultural and multilingual means we fit right into the diverse population of Dubai!
If you have children, what are your observations on Third Culture Kids?
I recently attended the Families in Global Transition (FIGT) conference in March this year, where the topic of Third Culture Kids (TCK) was discussed in detail. My kids definitely have many of the traditional TCK attributes: being adaptable to new surroundings, very quick to learn new languages, good observational skills and an expanded worldview thanks to our expat lifestyle and travel addiction. But they are also very different from a traditional TCK in that they don't have just one home to go back to and "repatriation" for our family is a rather complex notion, because which country would we repatriate to?
Because their parents come from different countries and different cultures and they are being raised around the world in other different cultures, I think my children are the classic example of Cross Cultural Kids (CCK). We have three main cultures at home: German, Pakistani and Italian and then of course we have our adopted cultures and our host cultures. What this means for my children is that they are used to eating different foods from all around the world, they are used to switching between at least three languages every given day and they are used to making friends from all around the world. I hope these rich experiences will shape them as they grow older into becoming tolerant, international-minded and global citizens.
Any tips for beating home sickness? 
Homesickness is something I struggle with often. In fact, I sometimes feel I am in a state of perpetual homesickness for one home or the other. My best tip for expats is not only to accept that you will be homesick across continents, but to embrace it and make it part of who you are. Keep the memories alive whichever way you can, whether it's looking back at photos or reconnecting with an old friend you made during your time there. This will not only make it easier to deal with the various nostalgia, but will also enrich your life and the expat journey you are on.
What's the most common question you are asked about being an expat?
The most common question I get asked as an expat is: "why do you call yourself an expat and not an immigrant?" I have some pretty strong views on the topic so I recently ended up writing a blog post on the need to re-define exactly who an expat is.
How does the cost of living compare to where you were before? Anything that really surprised you as being particularly cheap or expensive?
Over the past few years, Dubai has become increasingly expensive and the cost of living in the city has gone up significantly. If I compare it to our previous home of Singapore, certain things are more expensive here such as dining out (I miss the cheap hawker meals in Singapore!) while schooling and housing seems to be just as expensive. The only things that are cheaper in Dubai than in Singapore are buying a car (or two) and gas. Each time I fill up the tank, I can see the difference. The only thing that really surprised me in Dubai is the practice of landlords asking for rent for the whole year in one cheque! I had never seen that or heard of it in any other place that I have lived.
Are you settled here now? Or do you plan to move on one day?
We are settled in Dubai for now but that does not mean there will be no moves in the future. It is difficult to say anything for sure, but the thought of settling down in one place sounds appealing and terrifying all at once!
Would you share something embarrassing that happened to you as an expat (but that makes you smile when you look back)?
Oh my, there have been far too many embarrassing expat moments all around the world! When we lived in Germany, I used to make faux paus regularly – the worst one I made was in front of a bunch of people at a party when I sang the national anthem (as part of a party game) and substituted "freiheit" (freedom) with "freizeit" (free time). My friends could not stop teasing me over the fact that I thought every German deserved some free time!
Then there was the time in Copenhagen, when I had newly arrived and did not know my way around the city at all. While my husband left for his first day at work, I went out to go explore the city and got terribly lost. In the end, I hailed a cab (I had no clue how expensive cab rides were in Copenhagen) and gave the cabbie the name of the temporary housing where we were staying till we found an apartment. I pronounced it all wrong so the cabbie looked at me confused. Then I remembered the street name that I had memorized and written down and showed it to him confidently: "ensrettet vej" and he burst out laughing. Turns out the street name in Danish meant "one-way street"!! So, we had deduced that our housing was on a one-way street, somewhere in Copenhagen! I have never been more embarrassed in my life but it did provide me with the incentive to start learning Danish immediately 😊
And finally, if you could give one piece of advice to someone considering moving to where you live, what would it be?
My best advice would be to do your thorough research and accept a job in Dubai only if it matches the cost of living here, and not in your home country. Dubai may be a tax-free haven, but if you want to earn money and save some of it, you need to negotiate your expat terms carefully keeping in mind the high schooling and housing costs in particular.
Keep in touch!
You can hear more from Mariam on her website 'And Then We Moved To' and you can follow her on social media using these links:
Would you like to be featured? Send us an email to meettheexpat@angloinfo.com with your responses, together with at least four good quality photographs.
If you enjoyed reading this blog post why not become an Angloinfo member? You can sign up here.
Comments
comments