Often overlooked in favour of bigger holiday destinations such as Thailand and the Philippines, Vietnam is a short hop from Hong Kong and has a wide range of holidays to offer, from city breaks to island paradise. Here's a round up of just some of the many great locations this country has to offer…
Hanoi
An easy city break from Hong Kong, with regular cheap flights taking just under two hours. The country's capital offers a buzzing atmosphere with some great street food and markets, a mix of old French colonial architecture and temples.
What to do
Head to the West Lake for the views and don't miss the Ho Chi Minh Mausoleum or the Opera House. 
Where to stay
The Sofitel Legend Metropole in the French Quarter is one of the city's original grand hotels. Opened in 1901 it still has an air raid shelter in the grounds and is where Graham Greene wrote The Quiet American in 1951.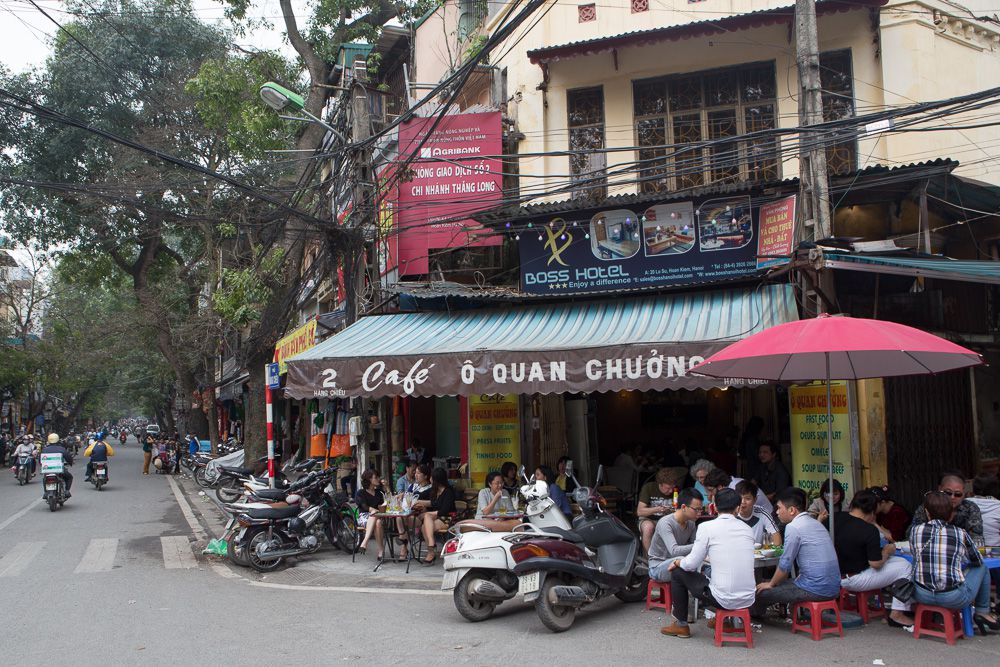 Where to eat and drink
You can't beat tucking into some street food in the city's old quarter but for something with a touch of class try Club Opera Novel; housed in a classic French Colonial building it serves classic Vietnamese dishes at a reasonable price.
How to get there
Vietnam Airlines fly direct to Hanoi from $1,266 return.
Ho Chi Minh City
Formally known as Saigon, Vietnam's southern city is a mix of Colonial French landmarks, stark communist architecture and motorbikes. Still reachable in under three hours, it's an ideal city break from Hong Kong with lots to see and do.
What to do
Explore the city's wartime history at Independence Palace and the War Remanence Museum, wonder at 19-century splendour with the Notre Dame Basilica and the Saigon Post Office, or keep the kids happy at the gigantic Dam Sen Park, which includes a water park, gardens, amusements and more.
Where to stay
For modern luxury, The Reverie Saigon is a new high-end hotel within the Landmark Times Square building that wont fail to impress, while Ma Maison offers a more intimate boutique experience.
Where to eat and drink
Take the opportunity to try some of the city's exquisite street food and dine with locals at one of the many Pho joints (Pho Hoa Pasteur comes recommended). However, for some fine dining Temple Club offers a mix of Vietnamese, French, Chinese and Indian dishes in an old heritage building.
How to get there
VietJet Air fly direct to Ho Chi Minh from $1,475 return.
Phu Quoc
Vietnam's largest island, just off its south west coast is a beach paradise that has recently seen massive expansion. With a new runway and some big-name hotels on the way, it's not the sleepy backpacker destination that it once was but it's still a great spot to relax.
What to do
Discover some of the pristine white sand beaches, such as Ong Lang or Bai Sao, trek out into the jungle to see the Suoi Tranh waterfall or go snorkelling in the clear shallow waters. For history lovers there's also the site of the Coconut Tree Prison, now a museum telling of the harrowing treatment of the Viet Cong prisoners during the Vietnam war.
Where to stay
Most of the resorts have beautiful private beaches, though the sea can be rocky in places. Up on Ong Lang beach Mango Bay has eco huts set back in the trees for the perfect escape, as well as one of the best restaurants on the island. Down in the southeast the newly opened JW Marriot Emerald Bay Resort and Spa offers pure luxury for its guests from its bright airy rooms to its four on-site restaurants and private beach.
Where to eat and drink
Many of the best restaurants are in the hotels and Mango Bay's On The Rocks is a prime example. The restaurant serves seafood and Vietnamese classics, including one of the island's best bowls of pho. For more casual eating, Winston's Burgers and Beer has awesome homemade burgers and a soundtrack to match.
How to get there
Vietnam Airlines fly to Phu Quoc, via Ho Chi Minh from $1,986 return.
Hoi An
Now a UNESCO world heritage site, Hoi An has been preserved in its traditional form to become a living museum. With its canals and wooden shop front this can feel slightly Disney-fied at times but it remains a very pretty location and a more relaxed offering than Denang.
What to do
Hoi An itself is pretty small and can easily be covered in a day, though it still has enough restaurants to make it suitable to return to. The Japanese covered bridge, the market and the small museums should all be on your tick list. There's also miles of impressive beach nearby to enjoy.
Where to stay
The Nam Hai – now a Four Seasons resort – is one of the higher end offerings along the coast of Hoi An and offers palatial villas, three beachfront infinity pools, its own private beach and two restaurants.
Where to eat and drink
With picturesque riverside views from its rooftop, Cargo Club offers a spread of international dishes on its menu including some impressive desserts. 
How to get there
Hong Kong Express flies direct to Danang (40mins by taxi or hotel car to Hoi An) from $865 return.
Danang
Vietnam's fourth largest city sits in the middle of the country and was a major airbase during the Vietnam war, being one of the last cities to fall to the communist forces. Today, the city is a major destination for tourists, with a wealth of new hotels, restaurants and shops. Thanks to its large airport it is an easy destination to reach and offers some great beach resorts.
What to do
The city offers some interesting architecture, especially its Dragon Bridge, and the Museum of Cham is a popular stopping point. Here too, the street food is worthy of some serious tasting and day trips out to Hue and Hoi An are easily achieved.
Where to stay
You are spoilt for choice with beach resorts in Danang but the Hyatt Regency is one of the best. With just under 200 large modern rooms, suites and villas, five pools, a spectacular beach and a luxury spa this is the ideal place to relax.
Where to eat and drink
Situated in the trendy new restaurant precinct, Fatfish offers a relaxed dining experience with local craft beers, pizzas, a wood-fired barbecue and Asian fusion dishes.
How to get there
Hong Kong Express flies direct to Danang from $865 return.
Ha Long Bay
One of Vietnam's closest destinations for Hongkongers, Ha Long Bay sits on the northeast coast with its magical collection of karst rock structures, much like those of South China's Yangshou, and Thailand's Krabi. This UNESCO heritage site is best seen from the water – even the villages here are floating communities – with many small luxury cruises navigating the natural geography.  
What to do
Hai Long Bay is a great spot for diving and snorkelling thanks to its calm warm waters and plentiful corals. You can also spend your days hiking and exploring the many caves in limestone.  
Where to stay
Though there are hotels in Hai Long city, the best bet is to stay on one of the luxury cruise ships. Silversea cruises offers two or three day cruises on its Ha Long Bay Silversea cruise, with 18 cabins a restaurant and sundeck on board, allowing you to see the sights in style.  
Where to eat and drink
Most of the ships have their own restaurants on board for guests, though you can also pick up fresh seafood and local dishes at some of the islands. In Halong city, try the Paradise Hotel's 1958 restaurant, which offers a selection of Vietnamese dishes in a classy modern setting.
How to get there
Vietnam Airlines fly direct to Hanoi from $1,266 return. From there you can either take a private car or seaplane to reach Ha Long Bay
Nha Trang
Vietnam's southeastern seaside town has long been a party place and continues to offer a perfect mix of sun, sea, restaurants and bars. The newly renovated promenade boasts a range of boutiques and bars that open late into the night, while the outskirts offer more of a peaceful retreat.
What to do
There are activities here for all types of traveller, from eco retreats and temple hopping to dive fans and adrenaline junkies. The Vinpearl Land complex includes an amusement park, aquarium and resort, and links to the mainland via the world's longest cable car.
Where to stay
For a more peaceful stay, try the ultra-luxurious Amanoi, two hours' drive south of Nha Trang. Set on the edge of Nui Chua National Park and the waters of Vinh Hy Bay, the chic collection of pavilions, spas and residences offer breath-taking views and complete serenity.  
Where to eat and drink
Pavilion is the main restaurant at the Evason Ana Mandara resort and remains one of the best in town. The Six Senses-owned brand offers up a blend of traditional Vietnamese dishes with a contemporary twist and beautiful presentation.
How to get there
Vietnam Airlines fly to Nha Trang via either Ho Chi Minh or Hanoi from $1,722 return.
Con Dao
The archipelago of islands that form Con Dao once served as a penal colony when under French rule with some gruesome punishments. Today however, many of the islands are national park, housing endangered turtles and dolphins, while the main island features a range of temples and historical sites as well as some striking scenery and beautiful beaches.  
What to do
The main town of Con Son is easily walkable and extremely sleepy. Head to the Con Son Market, where you'll find local breakfasts and coffee as well as fruits and snacks. The national park is the perfect spot for a hike and the beaches are pristine. The water is also known for its diving, with plenty of coral and even a sunken ship wreck. The old prisons are worth a visit though the stories of the Tiger Cages take a strong stomach.
Where to stay
Six Senses Con Dao offers luxury pool villas looking out over a flawless beach. There are two restaurants, a bar and spa within the resort, which sits to the northeast of the main island.
Where to eat and drink
Outside the main resorts there's a range of small local restaurants serving seafood and local dishes, but for more of a Western flavour, Bar200 offers burgers, pizzas and other home comforts and is a great spot for a drink too. 
How to get there
Vietnam Airlines flies to Con Dao, via Hanoi or Ho Chi Minh from $3,877 return.
 By Mat Gallagher
Comments
comments