As the weather in Hong Kong begins to cool down and your urge for a beach-side weekend getaway increases, remember that The Philippines archipelago can be reached in less than two hours. Home to more than 7,500 unique islands, and broken down into three regions – Luzon, Visayas and Mindanao –  The Philippines caters for the relaxed, action-packed or cosmopolitan weekend escape.  Read on for an introduction to some of the country's most popular alcoves!  
Cebu City
As the second most populated district in The Philippines after Manila, Cebu City offers holiday-goers with the option of an action-packed escape or simply lazing by the pool. Home to three major shopping malls and a variety of international foodie hot spots, Cebu City is a great visit if you are looking for more than just a 'resort-style' holiday.  
What to do 
Visit the region's premier shopping destination, Ayala Mall, featuring outdoor and indoor food and beverage outlets, and affordable shopping to boot! 
Where to stay 
Cebu City Marriott Hotel offers central and luxurious accommodation within walking distance to Ayala Shopping Mall.  
Where to eat & drink 
Maya serves upmarket fusion Mexican street food with a world class tequila menu.  
How to get there 
Philippine Airlines and Cathay Pacific code-share daily flights to Cebu from $3,000 return.  
Mactan
Unlike Cebu City, Mactan Island offers visitors a quieter recluse, with beach-side resorts, fine dining and crystal-clear waters. The small island is home to the Cebu International Airport and caters for couples seeking a quiet seaside getaway as well as families opting for child-friendly resort-style accommodation.  
What to do 
Spend a day by the beach and chill out at Breeze Cafe, Shangri-la, Cebu. 
Where to stay 
Shangri-la Hotel and Resort is a seaside child-friendly resort with four award-winning restaurants and bars on site. 
Where to eat & drink 
Abaca Restaurant is an award-winning oceanfront alfresco California Mediterranean inspired restaurant and bar.  
How to get there 
Philippine Airlines and Cathay Pacific code-share daily flights to Cebu from $3,000 return.  
Palawan
Voted 'the most beautiful island in the world' (2016) by Condé Nast Traveler, the island province of Palawan is one of The Philippines' best kept secrets. Abundant aquatic life, crystal-clear waters and white sandy beaches stretching for more than 650kms are just a few of the reasons tourists flock here from all over the world.  
What to do 
Enjoy a day kayaking around the picturesque Minilok Island, El Nido, Palawan.  
Where to stay 
Fronting a private beach and backed by a tropical forest, El Nido Resorts offers eco-friendly accommodation options.  
Where to eat & drink 
Watch the sunset over funky house beats and killer cocktails at Republica Sunset Bar, Palawan 
How to get there 
Air Asia travels daily to El Nido Airport, Palawan from $1,580 (one way).  
Boracay
Stretching more than 7kms, Boracay Island is lined with resorts, restaurants, bars, boutiques and water sport activities. Previously voted as one of the world's top destinations for relaxation, Boracay caters for those hoping to stay horizontal poolside, as well as couples looking for an action-packed weekend getaway.  
What to do 
Join in for one of the island's many diving tours and spend the day viewing colourful coral and marine life.  
Where to stay 
Villa Caemilla Beach Boutique Hotel caters for honeymooners, couples or families, Villa Camilla offers boutique beach-side accommodation away from the hustle and bustle.  
Where to eat & drink 
In line with Boracay's Spanish heritage, indulge in paella marinara at Doz Mestizos.
How to get there 
Philippine Airlines travel daily to Kalibo International Airport, Boracay from $1,250 (one way).  
Metro Manila
If you are looking for a change of scenery and a cosmopolitan getaway then head to the Metropolis of Manila for a weekend of affordable shopping, dining and nightlife. To make the most of what the city has to offer, stay centrally, within easy access of the best shopping precincts in town.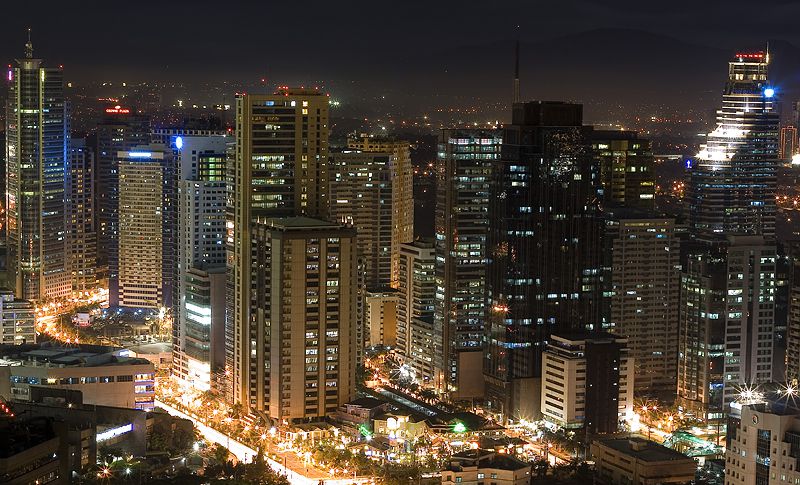 What to do 
Visit the Philippines largest Mall, the Mall of Asia for amazing deals on home-ware, apparel and electronics.  
Where to stay 
With spacious and contemporary hotel-style accommodation, F1 Hotel features an outdoor restaurant pool and bar, and is central to the city's largest shopping malls. 
Where to eat & drink 
Help yourself to a self-administered wine tasting experience at CAV wine bar and cafe, Taguig City, featuring top selling blends from all over the world.  
How to get there 
Air Asia travels direct from as little as $1,000 return.  
Tubbataha Reef
Home to an extremely high density of aquatic and bird life, Tubbataha Reef has been designated a world heritage protected marine park. It is estimated that the waters that surround this tiny island contain no less than 600 fish and coral species, making it the perfect couples' diving getaway. The reef also serves as a nesting home to green sea turtles.  
What to do 
Stay close to the island's best diving site, Puerto Princesa. Snorkel, sunbathe, sip on beachfront cocktails, and repeat.  
Where to stay 
Dos Palmas Island Resort and Spa is an enchanting couples' retreat from urban living.
Where to eat  
There's no need to leave the resort to dine when fresh ocean produce is prepared at the resort's own seafood restaurant, Kara-e-nan Restaurant & Bar 
How to get there 
Air Asia connects to Puerto Princesa, Tubbatha Reef, Palawan from $776 one way.  
By Noelle Walker
Comments
comments