We all lead such busy lives nowadays – rushing around, barely a spare moment to relax. If you are on public transport, in a car, out jogging, at the gym, cycling to work, etc, etc these are times when you can enjoy some great radio programmes of your choice with a podcast saved to your phone. You can choose ones that interest you and there really is something for everyone. You can learn a new language. You can stay up to date with the news. Follow the latest trends in your industry. There is a world of knowledge and fun to listen to right on your phone.
The basics:
If you do not use podcasts here are 2 links to learn the basics and how to have access to them on your Android phone :
https://www.digitaltrends.com/mobile/how-to-download-podcasts/
or on your iPhone :
https://support.apple.com/en-ca/HT201859
It's really very simple. Then you just need to find and subscribe to the ones that interest you.
Here are my favourite 7 podcasts at the moment (all with Apple links) :
Friday Night Comedy – BBC Radio 4 – The Friday Night Comedy link..
Every week there is 30 minutes of quick-fire punning and gags from various panel-based radio shows. The News Quiz is on at the moment and hosted by the hilairious Miles Jump. At other times it is fabulous political satire from the people at Dead Ringers or The Museum of Curiosity. This is just a great fun half hour and I often find myself laughing out loud on the bus….
The Infinite Monkey Cage – BBC Radio 4 – The Infinite Monkey Cage link…
The show where science and comedy meet, exchange views and fall in love with each other. Hosts Robin Ince and Professor Brian Cox are in the 15th season of this great show. It has been going so long because it tackles the big issues we all wonder about and they bring in scientists, experts and comedians to discuss the subject at hand. To give you an idea, the topics recently discussed include :
The Human Story – How we got here and how we survived
What is Reality?
Before the Big Bang…
Will Insects Inherit the Earth?
The Mind Vs the Brain
From Our Own Correspondent – BBC Radio 4 – FOOC link…
The silky tones of Kate Adie present insights from journalists, correspondents and writers that go deeper into news stories. This is on the ground content and interviews from the people in the news or news stories that you have not heard, but that are really interesting or very important. Essential listening….
Fighting Talk – BBC Radio 5 Live – Fighting Talk link…
I love sport and I love comedy. This Saturday morning show is jam packed with both. Over they years it has had some great presenters, but the current one, Colin Murray is the best of the bunch. Regular guests from the world of sport, comedy and show-business compete for points by giving excellent arguments and punditry. The result is one full hour of laughs every week. You will learn to love the input from people like Steve Bunce, Greg Brady, Bob Mills, John Rawling and many others.
David Baddiel Tries To Understand – BBC Radio 4 – David Baddiel link…
The comedian and writer David Baddiel is a very funny man, but there are some very basic things he admits that he just does not 'get'. In every podcast he lets the public choose the topics and if he too does not understand he goes deeper into it and find experts to explain things to him and us… Here are some examples of what he has investigated :
The IMF
Rugby
Why Nuts Have Shells
The Kardashians
Electricity
50 Things That Made The Modern Economy – BBC World Service – 50 things link…
I stumbled across this one by accident and I love it ! Tim Harford has picked 50 things he thinks shaped the way we live today and then investigates and explains them to show us what we sometimes take for granted. It is very, very, interesting. Topics include:
Passports
Air con
Batteries
Banking
Bar Codes
Paper money
Comedy of the Week – BBC Radio 4 – Comedy of the Week link…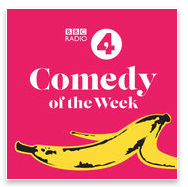 Cariad Lloyd has a great job. Every week she researches and presents the very best comedy programs for us to enjoy. It is a cast-iron guarantee for laughter and then she interviews the comedians which is sometimes just as funny as the show. You too will laugh out loud on the bus…..
So there you have it ! Seven of my favourite podcasts from the BBC that I cannot live without. They bring me laughs, knowledge, distraction, relaxation and fun !
What are your favourites ?
Also : English language film listings for Amsterdam, Utrecht, Almere, Haarlem, Zaandam and Hilversum can be found here :
https://www.angloinfo.com/amsterdam/events/movies
Refreshed every Thursday !
Comments
comments