1. Where do you live now, and where did you move from?
I am originally from the south of Romania, close to the Danube, but I moved around a bit and lived in Sibiu and Bucharest for a couple of years, before moving to Amsterdam.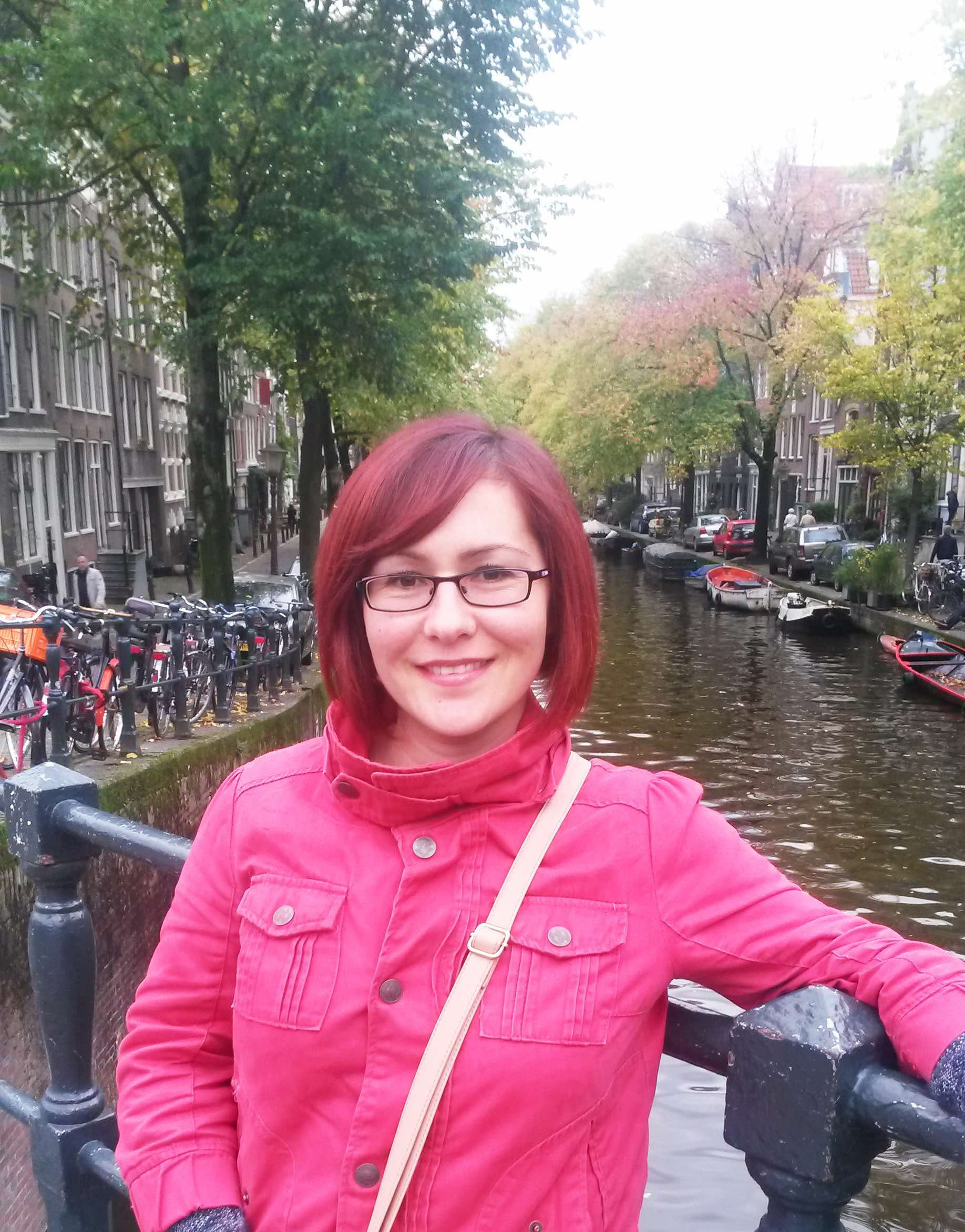 2. How long ago did you move? What made you decide to make the move?
My partner at the time and I wanted to move here because we visited the country for the first time quite a number of years ago, but the decision to leave everything behind was difficult to make and took us some time. We moved eventually when he was offered a good job in Amsterdam. That was more than five years ago, in 2010.
3. What do you miss most from home?
I miss my family and friends. I also miss the weather sometimes, not as much as in my first years in the Netherlands, but I still long for the well defined seasons, the hot summers and heavy snow in the winter.
4. What do you appreciate the most in your adopted country?
I really like the relaxed Amsterdam lifestyle. Everyone goes around by bike, the people are generally happy and optimistic, and I like the way they know how to make the most of every sunny moment. Also, as much as I love Amsterdam and everything it offers, I appreciate the fact that I can travel quite easily through the country and visit other picturesque places, given the short distances. I enjoy the freedom and ease of travelling around Europe; in a few hours I can get to many other beautiful countries.
5. How did you make new friends in your new home?
I met a few great people here, most of them through my blogs, at work and at the Dutch courses I took a while ago.
6. What is your favourite restaurant here? Favourite expat bar?
It's very difficult to chose only one restaurant, there are so many good ones in Amsterdam. But I absolutely love Indonesian food, so I think I can say that I have 3 favourite places to go when I want to eat something really good — Long Pura, Blauw and Tempo Doeloe.
Is there such a thing as an expat bar? I usually prefer to mingle with the locals, I love going to brown cafés in the Jordan neighbourhood (like Café Thijssen), somewhere close to the water in the summer (Amsterdam Roest, the terraces along Amstel River) or in the park (Pacific Parc in Westerpark).
7. Have you started learning the language? Any tips on the best way to do it?
I started, but I didn't get very far. I can read my official correspondence, the news, and I can have small conversations with people, but that's it. I hope one day I will be able to speak it properly. The best way to learn, I think, is by speaking with locals. You can learn your grammar and do your homework, but without practice it is be very difficult to become fluent.
8. Favourite place in the world?
Any place that's close to the water.
9. How often do you go back to your hometown?
About three times every year. I wish I could visit more often, though, or at least have a longer stay when I go.
10. Do you obviously stand out as being foreign? What's your experience with this?
I don't think I stand out as being foreign. At least not until I ask people to switch from Dutch to English. Surprisingly for me, local people address me in Dutch most of the time. I had some funny moments like at the supermarket when the cashier was talking English with the previous customer, and then to me for a second, but after looking at me he switched to Dutch and even apologised for the English.
11. What were the biggest challenges you faced when you moved?
I work in a multicultural environment and I had to learn how to adapt to all the cultural differences and how to not go crazy after hearing or speaking multiple languages every day. It is the same with friends and acquaintances, I'm always surrounded by expats and this was a challenge for me, because I never lived abroad before. But I have to say that this challenge is also my favourite thing about being an expat: you learn so much, meet so many different people and you develop yourself as a person.The biggest challenge, though, was to make friends. I'm not really an extroverted person but I can't live without being surrounded by good friends, people I feel connected with. And good friends are not easy to come by. Even if you meet the person who could be a close friend to you, it still takes time to get to that level, you can't expect to have the same relationship you have with the friends back home, which you have known for years or your whole life. There is a happy ending — I'm happy to be able to say I've made a few good friends here, and even after some of them moved to another country in the meantime, the good friendship remained.
12. And the nicest surprises?
The nicest surprise was the courage I got after I moved, the feeling that I can push my limits and do more with my life. The inspiration the place gave me. I started writing more, improving my photography skills, focusing more on my passions.
13. Any tips for beating home sickness?
The best advice is: have Skype installed on your computer!
But also having a few friends of the same nationality helps because you can practice the language, make jokes that no other people will understand or celebrate special events from your native country together. Keeping up with some traditions is also helpful. I discovered that making a traditional Romanian cake and bringing it to the office to celebrate a Romanian holiday with other nationalities makes me feel closer to my home as well.
14. How do you occupy your time? Do you have a job?
I work for an international market research company and in my spare time I take photos and write on my blogs: Amsterdamian http://amsterdamian.com/ and Danarozmarin http://danarozmarin.com/. I always feel like I don't have enough time for everything I want to do. I am also passionate about herbology and I am involved in some exciting projects like River of Herbs http://www.riverofherbs.org/. Lately I have kind of neglected it, though, it due to lack of time.
15. How do you spend your free time (in your adopted place)?
The time I have left after doing all the things I mentioned above is well used: meeting my friends, doing yoga, reading and watching series and spending quality time with my tomcat, Eric van Taz. Hmm, I should've probably mention the cat first! Don't tell him!
16. Is this it for you? Or is there a new destination?
Right now it feels like this is it. But you never know where life brings you, and I don't exclude the possibility of moving somewhere else, or back to Romania some day.
17. And finally, if you could give one piece of advice to someone considering moving to where you live, what would it be?
Come here with an open mind and be prepared to experience things that may look strange to you, at first. Some things will be better than in your country, some worse. Accept the difference and try to understand it, if not, at least try to learn how to live with it. And be ready to fall in love with Amsterdam irremediably!
My blog and social media channels:
Blog: http://amsterdamian.com
Facebook: https://www.facebook.com/amsterdamian.page
Twitter: https://twitter.com/theamsterdamian
Instagram: https://www.instagram.com/theamsterdamian/
Google+: https://plus.google.com/+Amsterdamian
Comments
comments