In this new blog piece, we interview the person at the head of important and noteworthy local institutions to allow all our readers to have greater insight into the daily workings of these places.
The Bahuistheater owner Mike Manicardi kindly takes some time out of his busy schedule to answer our questions about his place of work and about himself.
1. Where are you from and what is your background ?
I was born in Northwood Hills near Watford football club. (Elton John Country… His father played the Piano in the Northwood Hills Hotel – it was a rough bar)  My father was an Italian (who got locked up on the Isle of Man at the Age of 16 ,when Mussolini joined the Hilter club)  and my mother was Irish. I studied at the Royal Academy of Dramatic Art and worked as a professional actor before making my own  successful touring company. We toured for some years with an arts council grant and I liked Amsterdam the best when I couldn't stand touring anymore in the Volkswagen bus.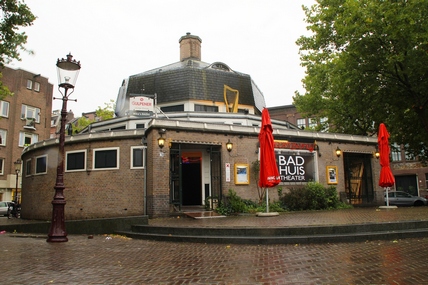 2. What were your first impressions of living in Amsterdam ?
It was an artistic city and extremely beautiful and a small town. The proximity of the living and working attracted me very much.
3. Please tell us more about you theatre. 
I had another project 100 yards down the road from the broken down Badhuis. When the city council pulled the old bus station down where we had made a local community theatre, they offered me the broken Badhuis. Gradually over the years we have developed it into a cult location that is 95 percent independent and artistically exciting as the real expat theatre in the Netherlands. We don't just do English speaking plays; we cater for many cultures.
4. We heard a lot of positive vibes about the recent show Allo Allo. Please tell us what you can about that.
Allo Allo was totally sold out over two runs. And we are going to bring it back again in October for more fun. Come and see it! We love making people laugh.
5. There are so many internationals living in Amsterdam What do you think these internationals love best about living in this city ?
Amsterdam is an international cultural city, of course. It was, 35 years ago, a progressive and exciting artistic place to work, for a young theatre artist. It has changed but I'm still proud to be an Amsterdammer and that we all share different cultural roots and try to get on with each other.
6. What's up next at the Badhuis ?
Blackadder Goes Forth is coming from the 15th of June to the 2nd of July. Three episodes of the very satirical series set in the First World War. It is  funny and very sad, but the language is brilliant and I think in a 100 years, people will still laugh at the satire and sarcasm of Rowan Atkinson's creation of Captain Edmund Blackadder. We are only doing 8 shows and it will probably be sold out like Allo Allo, so please mail us quickly if you want a reduced ticket –  badhuistheater@gmail.com or use and share this : http://www.badhuistheater.nl/events/blackadder-goes-forth-allo-allo-company/
7. What makes a great actor ?
A great actor is someone who 'lives' in front of an audience and takes/invites the audience (with his or her technique) on a journey into a different and changing "reality". People are together in the dark with other people experiencing the theatrical process .
8. What is your fondest memory or proudest moment at work ?
The forming of the Allo Allo company (inc. BlackAdder) was totally joyful. We never argue, we listen and learn from each other. We also had unbelievable success with the "Good Soldier Svejk "20 years ago, which was totally sold out for more than a month.  We are doing it in a new version from the end of November till 10 december.
9. What do you like to do in your spare time away from work ?
*This is a joke.* I don't get (or really want) any spare time, because I love my work. But my free time is spent listening /discussing with my children.
10. What good Dutch words or expressions did you learn first ?
Goed zo / Moeilijk
Erwtensoep
ESSENTIAL INFORMATION AND LINKS :
Het Badhuistheater
Boerhaaveplein 28 | 1091 AT | Amsterdam
E-mail: badhuistheater@gmail.com
Tel: 020 66 85 102
Mobile: 06  111 733 24
Tickets here : http://www.badhuistheater.nl/tickets/
Comments
comments