Thank you Damien for taking time to answer our questions. The food looks amazing……
1. Where do you live now, and where did you move from?
I live in Hoofddorp (the Head Village & Expat Hamptons)  I am originally from the footballing Mecca of Sunderland in the north east of England, but I lived in Reading in Berkshire before I moved to the Netherlands, Reading is a great city where I spend most of my 20's.
2. What do you miss most from home?
I miss 3 things.
a, The british sense of humor, I am in tune with the dutch sense of humour and its very funny, but there isn't anything like the british sense of humour in the world.
b, A proper Roast dinner, with all the flavours and textures, good gravy and excellent meat and sharing the occasion with family and friends.
c, Reasonably priced cars. Cars are expensive in this country.
3. How did you make new friends in your new home?
I found it very easy to make friends, I have found dutch people open and friendly, I have a season ticket at Ajax, through that I have made a lot of friends. Being a chef, my Barbecues are popular I seem to get a lot of people showing up, I am convinced its more about my glowing personality than the food lol, I also think trying to speak the language is a big part of this, I am a firm believer that people who speak the language will have a happier and more enriched life here.
Link to recipe for the above dish : http://damienchef.com/2017/09/06/damiens-welsh-lamb-goats-cheese-salad/
4. What do you appreciate the most in your adopted country?
I appreciate the openness, tolerance & Freedom.
5. What is your favourite restaurant here? Favourite expat bar?
I have eaten in a lot of places in Amsterdam over the last 10 years, 3 places are standout, Restaurant Breda on the Singel, Grahams Kitchen on Hemonystraat, price quality is exceptional,  Liberijeszusje at the Waldorf is a luxury that's worth splashing out on.
My favourite bar is Café Van Zuylen, I used to sit in the window and watch the world go by.
6. Have you started learning the language? Any tips on the best way to do it?
I went to the Nun's in Vucht for 2 weeks, this helped me get a grounding in the language, but the best way to learn is just to jump in, persist, try, struggle, feel stupid, make mistakes, get laughed at and laugh at yourself. You will feel richer for the experience.
I physically buy a newspaper every Saturday (De Telegraaf) its like the Daily mail of the Netherlands, packed full of low level sensationalist rubbish, I read it and google any words I don't know, it keeps me loosely informed and somewhat relevant, when I have coffee with colleagues I feel I can follow the conversation and understand the main talking points.
7. Favourite place in the world?
Lindau in the Allgäu region in Bavaria, we have a long holiday every Summer and spend Christmas there most years.
8. How often do you go back to your hometown?
Not nearly as much as I would like to. I really miss the place, the people and the culture are brilliant.
9. Do you obviously stand out as being foreign? What's your experience with this?
I look very British, I find that people will speak to me directly in English, I always reply in Dutch and they apologize, but then look at me funny and confused.
10. What were the biggest challenges you faced when you moved?
I work for a really great company, they just made the whole experience brilliant, everything was pretty much arranged and I didn't have any issues.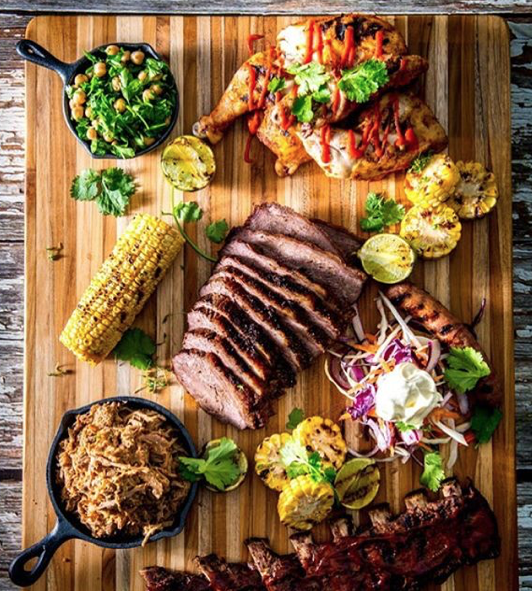 11. And the nicest surprises?
When I arrived, The company (Hutten) was still really small, my colleagues were brilliant and really helped me. These people have become really close friends, I have seen them grow, get married and start families. The same with my neighbours, when we moved into our neighbourhood, they were excellent and have been really supportive, they look after our house when we go on holiday, in the UK i didn't know my neighbours.
12. Any tips for beating home sickness?
Don't compare, accept you are in a different place, enjoy the fact that you aren't in your comfort zone, because you will look back and realise that this period is a unique experience.
13. How do you occupy your time? Do you have a job?
I have 2 kids, I have no spare time, but what little I have, I love to cook.
I am Executive Chef at Hutten and have been for almost 10 years, Hutten are a farm to table business caterer, they are a catering supplier to a lot of international companies in the Netherlands. it's a really cool job, working with the freshest, purest ingredients and working business hours, Monday to Friday, no evenings and weekends, its like a dream for a chef.
14. How do you spend your free time (in your adopted place)?
I really like family time, I love lazy Sundays, Next year taking my Son Thijs to Ajax as a season ticket holder.
15. Is this it for you? Or is there a new destination?
Who knows, I have always found that opportunities are often unplanned. But we are very happy here.
16. And finally, if you could give one piece of advice to someone considering moving to where you live, what would it be?
Go in with your eyes open and try and fit in, try and understand the culture and do more listening than speaking.
Although it seems impossible you will eventually be able to ween yourself of  stroopwafels.
Link to Damien's food blog : http://damienchef.com
Comments
comments