Our top 7 hair salons in Amsterdam
Almost everyone can have a 'bad hair day' and we all know that great feeling when we have been to the hairdressers and feel like a million Euros as we walk down the street afterwards. In Amsterdam, there is a massive choice of salons and we thought we would tell you a little more about our favourites and others that we have heard are highly recommended. We never go to just one place and as salons become popular it gets harder and harder to get a reservations, so we use many. We are constantly being asked if we know a good one, so here is a handy list.
Here is our list of the top 7 hair salons. What is your favourite salon ?
La Maison Amsterdam :
This family run salon has always been a top choice. Discovered one day just walking down the Rozengracht, we went in because it looked so cool. The reason we still regularly go there and recommend into friends is because of the great stylists, but also due to the friendly atmosphere there. It is a flagship store that is constantly innovating with the best products and equipment. They recently started to use the new Dyson Pro hairdryers for example. Martin and Brigitte have been pushing this place forward for years. Lewis, Marc and all the team are professionals at work and the kindest people you could hope to meet. They really apply the total beauty concept for both men and women.
Essential information :
Rozengracht 215, 1016 LZ Amsterdam
020 330 3120
http://lamaison-amsterdam.nl/en/about-us/
Artistique :
This great salon in central Amsterdam came to us by word of mouth. Michiel, Amer and the team are always in a bubbly mood and clearly love their work. They do hair and also have many beauty treatments. They are open later than other salons and that can be useful if you have a hectic work schedule.
Essential Information :
Keizersgracht 471, 1017DK Amsterdam
020 423 38 06
http://www.artistiquehairbeauty.nl/#home
Marcio Domingues :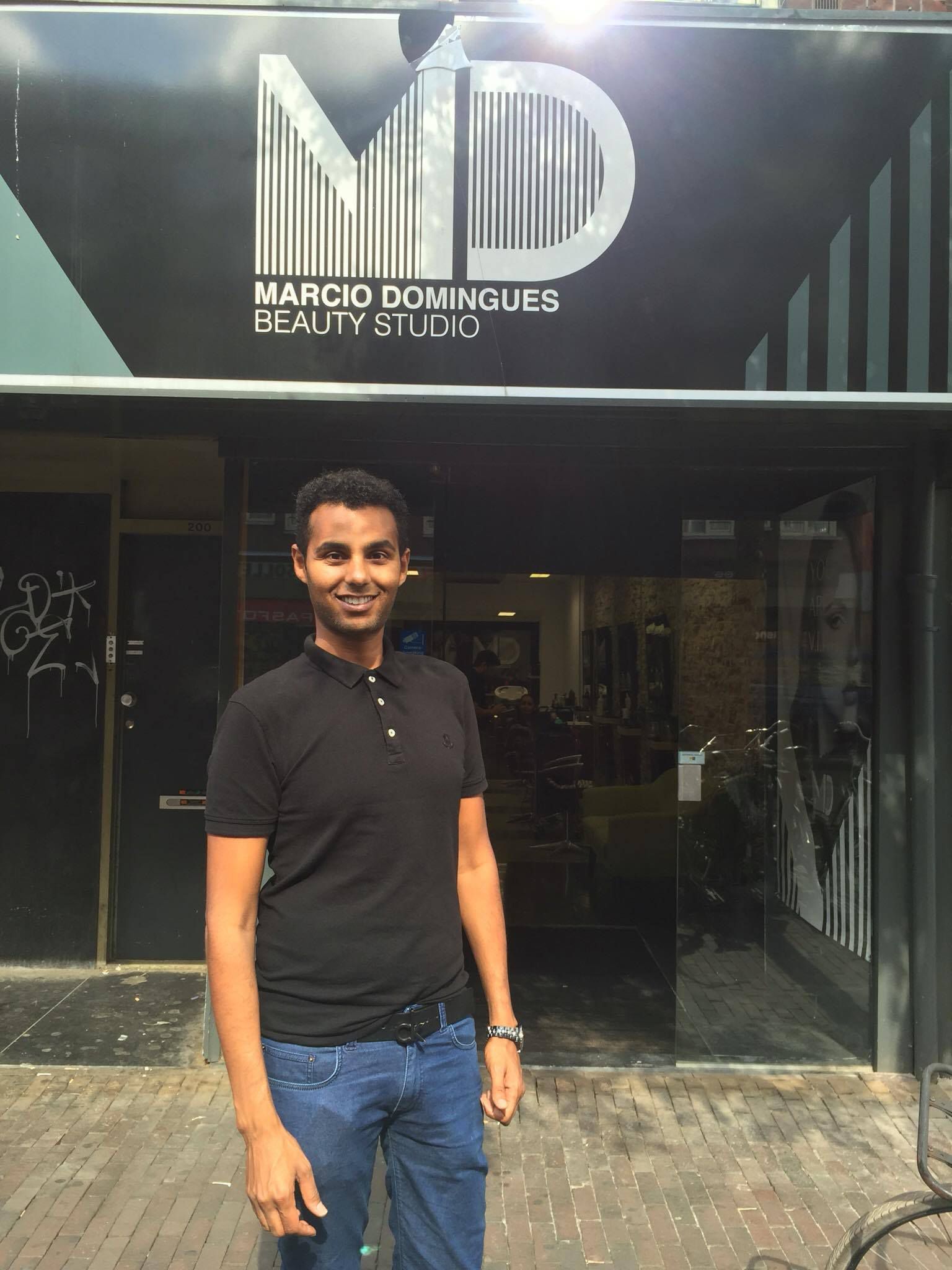 You will only probably know about this place if you live in the Kinkerstraat are or if someone has recommended it to you, but you do really need to know about it. Run by a really cool team of Brazilians, they really are good at all hair types and the prices are the some of the best in town.
Also, a tip for the husbands, Fabrizio (in the photo) is a fantastic stylist and does cut, wash and blow dry for the best rates.
Essential Information :
Kinkerstraat 200, Amsterdam
020 7850 367
http://www.marciodomingues.com/?lang=en
Toni&Guy Van Baerlestraat :
 This salon moved from its position nearer the Vondelpark to further down the same street a few months back and we followed it. We have used many different salons in this group and are always happy with the results. In this case we regularly still go to this one thanks to Laura and her great team. Great cuts and a great vibe in a location that is really handy for us.
Essential Information :
Van Baerlestraat 150, 1071 BG Amsterdam
020 664 96 56
http://www.toniandguy.nl/salons/#amsterdam
Aveda Dayspa Hair:
This is the full works. We originally thought it was a spa. It is, but it also has a good part of the centre devoted to hair and beauty too. Near to the Olympic stadium, if you live in that part of town it is a great place to discover, but people travel from far and wide to go there too. Maarten and the team will take care of you for sure.
Essential information:
Laan der Hesperiden 90, 1076 DX Amsterdam
020 794 93 66
Gallery 9 Hair Salon :
We discovered this place as we were visiting the Gallery 9 art gallery above it. What is really nice is that the hair salon is full of art works and nothing relaxes us more that looking at art. Andy has a large and growing user base and they all love the skull massages he gives as part of the hair cut experience.
Essential Information :
Keizersgracht 548 1017 EN Amsterdam
06 11 59 74 53
Fraaij Hair :
We have been to Martijn's for years at his old address in the 10th street and now he has moved to a new and bigger location. A person with decades of experience is always a good bet. We always found Martijn to be very welcoming and he does a lot of classic and modern cuts and colours.
Essential information :
Nieuwe Passeerdersstraat 10, Amsterdam
mobiel: 020-4277962
Comments
comments