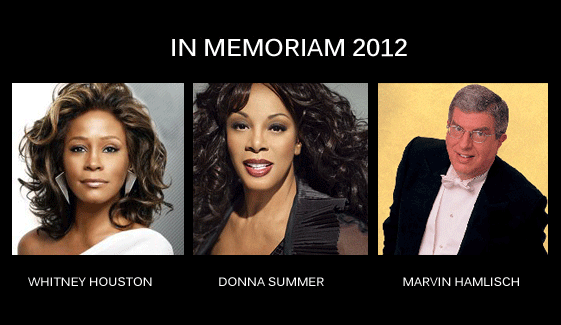 Losing a music artist is never easy, especially if they were ones who created a lot of works which you identify with certain events or times in your life.  2012 was a tough year for the music industry. While there were many artists who passed away last year, three artists in particular died rather suddenly and many people would agree, before "their time."
It all started back in February when, on the eve of the Grammy Awards in Los Angeles, Whitney Houston was found dead in her room at the Beverly Hilton Hotel. After years of battling drug addictions (primarily cocaine), the songstress finally succumbed to the disease. An autopsy performed days later surmised that the cause of death was accidental drowning while preparing to take a bath. A toxicology test showed not just cocaine, but marijuana, Xanax, Flexeril (a powerful muscle relaxer) and Benadryl in her system.
Whitney came onto the music scene with the release of her self-titled album, Whitney Houston, in February 1985. That album sold 25 million copies worldwide and spawned such hits as Saving All My Love For You, Didn't We Almost Have It All and The Greatest Love Of All. In 1992, she made her movie debut in The Bodyguard, and the soundtrack featured a song that would become the biggest recording success of her career, the Dolly Parton-penned I Will Always Love You. The song stayed at number one on the American Billboard chart for over three months and the soundtrack sold 47 million copies worldwide. Personally, I remember seeing Whitney live in concert twice, both times early in her career, once in Syracuse, New York and again at Madison Square Garden in New York City.
Whitney Houston was 48 years old when she died on February 11, 2012.
Just three months later, on May 17, 2012, the music world lost another icon. Donna Summer, known as the Queen of Disco, died in Naples, Florida after battling lung cancer.
Most people assume that Donna Summer's career started with the release of a 1975 hit song titled Love To Love You Baby, but in fact she had actually been singing professionally since the late 1960's. Her first big gig was performing in the musical Hair in West Germany.  She had auditioned for the Broadway show, but lost the role to Melba Moore. The producers like her and instead offered her the same role in the Munich show. She moved to Germany and became fluent in German, even recording some songs in the language.  A few years later she moved to Vienna and married Austrian actor Helmuth Sommer. Although they divorced shortly after, she kept Sommer's last name, but changed it to the English spelling, thus becoming Donna Summer.
In 1974, she recorded an album titled Lady Of The Night, in conjunction with her new found German writing partners (and producers), Giorgio Moroder and Pete Bellotte.  The album had some success in Europe, including hitting number one in the Netherlands.
Her first record to be distributed in the United States was the 1975 hit Love To Love You Baby, which peaked at #2 on Billboard and hit the top five in the U.K. Two years and three albums later, she had a second top 10 song titled I Feel Love, which is said to have ushered in the acceptance of electronica as a music genre. But her biggest hits were yet to come.
Between 1978 and 1979, she released three back-to-back double-albums: Live & More, Bad Girls and On The Radio, all of which hit #1. The albums included what would be the biggest hits of her career Last Dance, McArthur Park, Bad Girls, Hot Stuff and the Barbra Streisand duet No More Tears (Enough is Enough).
The years that followed produced many additional hits including She Works Hard For The Money, This Time I Know It's For Real, Unconditional Love, There Goes My Baby, State of Independence, Love is in Control (Finger on the Trigger), Carry On and I Will Go With You.
Donna Summer's last studio album, Crayons, was released in 2008. It included the dance club hit Stamp Your Feet and the follow up I'm A Fire which hit #1 on the Billboard Dance Chart.  I was fortunate enough to also see Donna Summer twice in concert, the second time at the Hollywood Bowl during the summer of 2008, shortly after she released Crayons. Like Whitney, her talent was purely natural and she sounded as good, if not better, singing live as on record.
Donna Summer was 63 years old when she died on May 17, 2012.
Late last summer, the music industry was again shaken when musician and songwriter Marvin Hamlisch past away after a brief illness.
Hamlisch is best known for writing numerous hit songs from movies such as The Way We Were, The Entertainer (from The Sting) and Nobody Does It Better (from The Spy Who Loved Me). He wrote the musical score for the hit Broadway show A Chorus Line, and the book and score for the Broadway smash They're Playing Our Song. He was one of only 11 people ever to win all four major American entertainment awards, the Oscar, Emmy, Grammy and Tony. He also won the Pulitzer Prize in 1975.
In September 2011, Marvin Hamlisch was in South Holland. He gave a lecture and performed at the Louwman Automotive Museum as a guest of the John Adams Institute.
Marvin Hamlisch was 68 years old when he died on August 6, 2012 in Los Angeles, California.
Comments
comments