Topshop to open stores in The Hague and Rotterdam, Megastores Den Haag will get a makeover, name change, Blokker sells off Leen Bakker…
The popular British lifestyle brand Topshop will be opening its first stores in South Holland this Fall with one each in The Hague and Rotterdam. The fashion clothing chain currently operates only one stand-alone store in the Netherlands (Amsterdam). Topshop has begun recruiting for staff members although a specific date has not yet been announced other than autumn 2017.
The Megastores shopping mall in The Hague, the largest entirely enclosed mall in the Benelux at 85,000 sqm, is undergoing a €40 million transformation to increase its appeal to a wider audience. The three main focus points of the project (which was designed by Group A Architects) is to significantly improve the mall's functionality, accessibility and quality of visit.
The redesign includes an extension and new grand entrance facing the Leeghwaterplein, on top of which a new residential tower will be constructed. The upper floors will be apartments while the lower floors will house a hotel and office space. On the ground floor will be restaurants and an extension of the retail selling space. The layout of businesses inside the mall will change with leisure-type operators (for example, a bowling alley and paintball game) offered first, followed by grocery and food shops, then smaller-sized fashion apparel stores and ending with larger home furnishings showrooms and big box retailers.
The entire exterior shell of the mall will also be replaced. This element was designed by Jos de Vries retail concepts and will be integral to the establishment of the mall's new identity. Upon completion of the remodel (expected by end of 2019), it will no longer be called Megastores, but rather Galleria.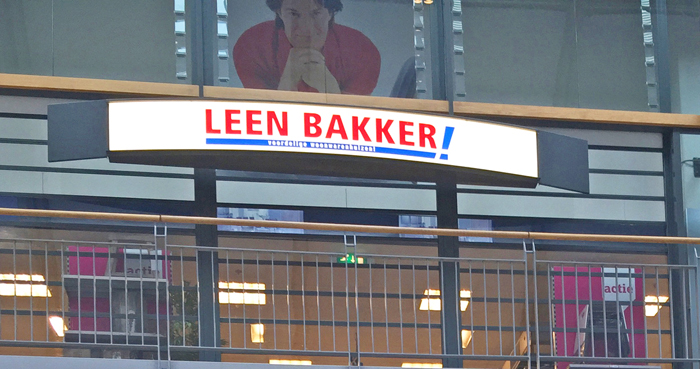 Back in February, Blokker Holding announced that it was committed to improving sales and profitability which had been trending down due to weakness in the 'household' product category. It said 'De Nieuwste Blokker' (a more modern store format with advanced technology such as terminals for ordering products online) was successful in test areas and would be expanded further. In addition, approximately 100 unprofitable Blokker stores would be closed.
In May, it was further announced that going forward the company would be focusing solely on its core retail brand, Blokker. Its MarsKramer division would become solely a franchised operation with company-owned stores being closed. It would be divesting all other retail divisions it owns, which includes Xenos, Big Bazar, Leen Bakker, Intertoys and Maxi Toys. In addition, it would cut back its distribution from 8 countries currently to just the Netherlands and Belgium.
Soon after that announcement came word that the Leen Bakker chain is being bought by the investment group Gilde Equity Management, owners of the Kwantum, Benesto, DecoWize and Woon & Co. retail brands which already operate 109 stores. The Leen Bakker division, with its 179 stores in the Netherlands and Belgium, is considered to be one of the higher profit brands in the Blokker Holding fold.
Earlier this week, Blokker Holding announced all its previously announced key initiatives are all moving forward.
Related information…
Comments
comments