She ran barefoot up the dusty steps and proudly handed us two baby goats. We were halfway up a mountain in Serra do Alvão and had stopped to ask Maria Manuela directions. This was May last year, Diana Matoso and I had set out on a project to record the wild places- river beaches, secret coasts and hilltop castles of Portugal -for a guide book now nearly complete. After stories, family history and swapped addresses Maria finally gave us directions- fine for surefooted shepherdesses but in a jeep along a narrow and cracked ridge, a challenge- we returned her goats and set out.
Wild places, being wild places, tend not to show up on maps. Over the course of one year travelling Portugal's forgotten villages, rivers, coasts and mountain tracks, talking to locals has been a bedrock for us when it comes to navigation. As steadily as we collected the wild places for the book, a second parallel narrative was accumulating, one composed of faces leaning in as we wound down our windows, sun-shrunk faces, faces as wizened as rocks and cracked like the earth.
A simple question rarely receives a simple answer. This is one of the lasting joys of travelling inland Portugal: people are always ready to talk.
We've had people shout directions from upper windows, men confer with each other outside cafes, one old woman who pointed us the road 'Take that one, I've heard it goes, but I've never left the village!'. Another with eyes twinkling and Viana gold earring glinting from under the black felt hood she wore in midday sun, caught my hand, drew me near 'I bet your mother misses you!' At Brotas' fountain we asked if the water was good to drink, two men laughed and called to a woman whose stick tapped over the road, bowed to the ground with age 'I'm 92,' she cried out 'and it's never done me any harm!' It has been the people, not the Road Atlas, that have been our detailed GPS and co-ordinates.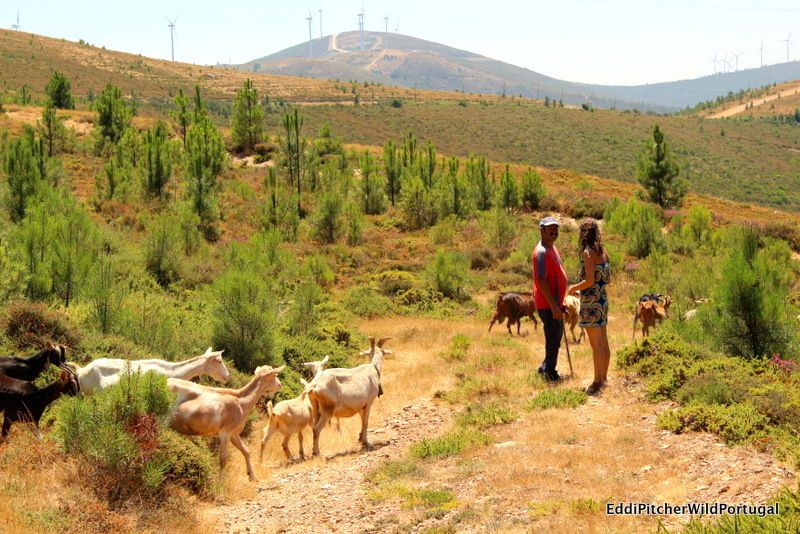 The wild is clearly not a place to "escape it all": these are places were you are more reliant on connections with others- advice, directions, favours- than anywhere else. Perhaps this is why these strangers are so ready to share.
But we've had our share of quiet moments. Nearby Castelo de Vide in Alentejo, are five megalithic burial sites across neighbouring fields, it's called Coureleiros Megalithic Park. The name confers some air of authority but the only guardians here are curious horses and hostile cows. The largest dolmen is built with several monoliths leaning in towards each other, resembling cupped hands sheltering a bird. It invites you to step inside. Your instinct is to touch the stones. Up close they are covered in moss, lichen and tiny shards of quartz glinting silver. Inside their shadows you feel dwarfed by the sheer weight of the stone leaning towards you.
These are burial places, strings of beads, ceramic pots and arrow heads excavated here suggest offerings and reverence. It's a place where the ancients would still be materially connected with the living ones. By touching the stone, with its flint-knapped grooves,I realised I was asmaterially connected with them, my ancestors,as they with theirs. In this sense- and I mean touch– their constructions are still as powerful as when they were more obviously in use.
But I am not writing this piece about the interconnectedness of people across generations and eras only. How we connect and ensure others connect with this heritageis important. We visited a group of sixth form students studying Tourism at a college in Arouca last year. Diana an I explained why we had come to their deeply rural district and whether they knew anyone who kept a tradition alive. A hand shot up in the back of class 'My grandfather keeps bees!' A place to buy honey, is exactly what this guide book would recommend. This tourism student doesn't have to go to the Algarve to start her career or build a new Algarve in her northern village to be successful. Her heritage and traditions are treasures she can begin to maintain, protect andshare right now.
Portugal has always been a gateway to other cultures. This mix and rich heritage has also been what defines the culture as distinctly Portuguese.And now, post-Brexit, it's important to remember this is also true for the UK. Whoever we are, wherever we are from, if we want to see ourselves clearer then let's look through the prism of our collective heritage. A gift inherited from the very first settlers and many different subsequent travellers across Europe and let's embrace this heritage.
Comments
comments