We are very lucky to be living in Portugal with 300 days a year of sunshine!
Looking out from my office window you would be forgiven if you thought we were in Ireland with the rain persistently being persistent!
If we do have around 300 days of sunshine it would be crazy not to make use of all that free energy right particularly if you live in the red area depicted in this diagram.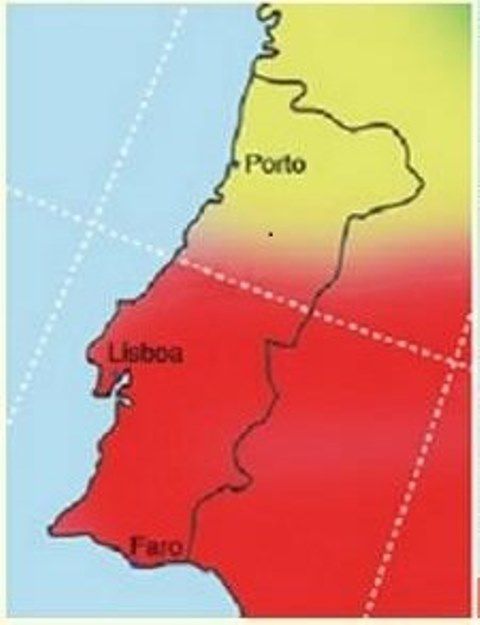 I know lots of people do have solar collectors for water, electricity and hot air but do you actually know if they are any good?
There was a big push in Portugal to sell motorized "follow the sun" electricity generation photovoltaic panels.
The idea was that you sell your excess energy. They are meant to be a long term investment I know but I just can't get my head around investing my money then having a third party set the price that they will pay me with no input from me.
I hear the repayment rate has recently been cut so the "investment" is looking a little weaker already.
Money aside these units are awful to look at and I would not want one on my property.
Having talked to a lot of people I don't think the PV technology is very robust yet. UV in the sunshine can damage absolutely anything so in 8 years time will any part of the panels that you installed with a ten year life be reusable or will you have to reinvest all over again. I think so.
I have heard many horror stories about water heating solar panels. With everything going wrong from the glass being smashed by hailstones to bursting their water tanks because a pressure relief valve was not fitted or fitted the wrong way around which is a great advertisement for introducing apprenticeships into Portugal.
As a builder you may think that I might embrace all the money saving Eco technology that I can because I can buy it trade after all but here's the rub. I want it to look right, perform properly and have a reasonable payback period. Even with 300 days a year of sunshine this is not currently the case.
If it looks acceptable and technically robust it is expensive and the payback takes longer.
I will be soon building my next family home and yes I will have a water heating solar panel only because the local Camara insists. It will be a combined panel that supplies hot air in the winter and hot water in the summer.
To throw another spanner in the works the price of oil is dropping to a long term low pushing out the solar payback even further.
Comments
comments