In the same way that the little old ladies in black are disappearing from our local village markets there is also a change in the countryside.
All over the region of central Portugal there is what is called Mata this is land which was once productive and during the dictatorship and was left to go wild by people who emigrated to other countries all over the world or found work in the cities. The local people due to the prolonged recession, lack of overtime or jobs have started to clear and plant the land again. It could be with tiny eucalyptus with dreams of a big pay day in seven to ten years of it could be those Portuguese staples cabbage and corn.
My friend in the agricultural shop says they have never been so busy.
By the way he said that from November 2015 you will not be able to buy farming chemicals such as pesticides and herbicides without attending the 40 hours of training that the government has arranged.
No certificate no chemicals. Times are indeed changing.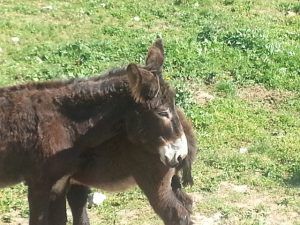 It is rare to see a true Portuguese donkey with the furriest ears that you have ever felt! or mule at work now they have all gone the same way as their owners.
Almost gone from our local landscape is the Vaca (cattle) pulled cart or plough.
These beautiful animals are an amazing mixture of gentle nature and unbelievably power.
This man is harrowing his already ploughed land.
Take a look at the land it is just stone and sand.
While I was watching him work I noticed that the cows hardly kicked up any dust and kept to a nice easy walking pace which the old guy controlling them could easily cope with.
To turn them he just tapped them on the rear thigh with his long stick. The other end of the stick was a small blade for clearing stones from the harrows teeth.
Personally I am all in favor of mechanical aids but if I had the space and the skill to look after it I would love to have a Vaca grazing on my lawn!
On the other hand going to work at the speed my friend Sr Joao goes at is probably not the best idea if you ever want to get there and those metal wheels make a real racket on the cobbles.
Comments
comments