Palm trees are one of the things that I like about Portugal the other is cicadas
To hear that unmistakeable sound go to http://www.cicadamania.com/audio/    it will make you feel like summer is just around the corner.
Both tell me that I am living somewhere warm. Even though it feels decidedly cold when you are out of the sun in late December.
A friend asked if we could take down a palm tree in his garden as it was very big and close to a newly built extension. Judging by its size it had been planted at least 60 years ago probably longer.
The EDP (Portuguese electricity supply company) or their contractors had been and cut the top off it some months earlier and it had started to die. The palm was judged to be too close to some power cables apparently and the EDP cut it at the home owner's expense.
Palm trees unlike normal trees are very fibrous and they can jamb up your chainsaw while you are cutting them down. Not a good idea as this palm weighed about three tons and had to be taken down safely.
While it was being chopped up and loaded onto the truck for disposal we found lots of large grubs about the thickness of a man's thumb and white in colour.
When I looked them up on the internet I found that they were the young of the "Rhynchophorus ferrugineus"
The red palm weevil, Rhynchophorus ferrugineus, is a species of snout beetle also known as the Asian palm weevil or sago palm weevil.
The adult beetles are large,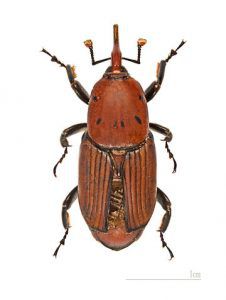 ranging between two and five centimeters long, and are usually a rusty red colour – but many colour variants exist and have often been misidentified as different species.
Weevil larvae can excavate holes in the trunk of a palm trees up to a metre long, thereby weakening and eventually killing the host plant. As a result, the weevil is considered a major pest in palm plantations, including the coconut palm, date palm and oil palm.
Originally from tropical Asia, the red palm weevil has spread to Africa and Europe, reaching the Mediterranean in the 1980s. It was first recorded in Spain in 1994 and in France in 2006. Additional infestations have been located in Malta and Italy (Tuscany, Sicily and Campania), and there are suspect reports suggesting that it has established along the Mediterranean coast of Portugal as well.
This is obviously old information because this Palm was full of them.
Hopefully the other large palms in the garden will be ok.
 Further reading about this pest
http://en.wikipedia.org/wiki/Rhynchophorus_ferrugineus
http://www.aljezurfarm.com/Control%20of%20red%20palm%20weevil%20in%20the%20Algarve.htm
Comments
comments