So being a Durban born girl, I grew up and lived there all my life, the ocean never phased me. And ever since I've moved to Korea the thought of going to spend a day/weekend at the beach never crossed my mind, not only because there are no good beaches remotely close to where I live, but also because I was not a "beach-goer". This month however I was fortunate enough to travel to Busan for the weekend with a bunch of my mates, and man oh man! did this greatly change my perspective.
I never actually realized how much I missed the sand on my toes, or the sound of the crashing waves, heck, I didn't even realize how much I missed what a beautiful sunset looked like over the ocean. Busan drew me back to Durban for the weekend, and it felt FANTASTIC!
 Okay, so my reasoning to go to Busan was to see the place, as I had never been there before, the fact that I would see some awesome beaches did not even cross my mind. Another reason was to get to play dress-up for some pre-Halloween fun with a great bunch of people and to catch a glimpse of the Busan Fireworks Festival.
With all this in the mix, I had spotted a pretty great deal that a tour company (WINK) had on offer for that particular weekend; the price of the trip was really competitive. The cost included a round trip charted bus, accommodation and dinner on 1 night. There was also an additional fee for a half day tour of Busan by private coach. This was optional.
We left Seoul on Friday night; although the bus was running a little late we were all pretty excited so we had barely noticed. From there on out we were Busan bound. The overnight bus ride took about 6 hours, I tried to get some sleep in, but being on a moving, noisy bus this didn't prove successful. I managed to get a few winks in for a bit just before we arrived on the sore of Gwangalli beach. Waking up to the sunrise was sensational. I read lots about the Diamond Bridge, but seeing it first hand was breathtaking.
We were stationed at the beach all morning from about 6am up until 1pm when our rooms were ready and we could check-in. So we killed some time that morning bumming it on the beach. A little after 9 am when some shops opened we managed to grab a much needed cup of coffee. We headed back to the sand and chatted with a few locals.
As brunch time approached we were famished so we decided to try one of the many great looking places on offer. The promenade at Gwangalli boasted a wide array of western food. Here, you can find anything from pancakes to club sandwiches and whatever in-between.
After brunch we collected our luggage and checked-in. By this time the roads leading into Gwangalli beach had been closed off in preparation for the fireworks that would be taking over the sky later that night. The rest of the day consisted of free time, so we decided to go back to the beach and settle on a good spot to see the fireworks. At about 6pm the WINK tour group met for dinner at a local galbi restaurant. A few of us who were vegetarians (I felt) were not well catered for and were only offered side dishes as our main meal. This disappointed me after previously stating that I was vegetarian, anyway I opted out of the dinner and headed back to the beach. A fellow veggie and I held our beach spot until the others would return.
Between the hours of 6.30pm-7.30pm it seemed Halloween demons had descended upon us. The crowds had tripled in size and people were now packed like sardines on the beach. It was by far one of the most uncomfortable experiences I ever encountered in Korea, People were extremely rude, stepping all over each other's beach mats, some even took up space on our mat as they kept trying to squeeze in more and more people. Every 5 seconds a family or two would try to get out or in, kicking up sand into people's food and drinks along the way. A poor friend of mind even had beer spilt on her in this ordeal. After putting up with this terrifying situation for about an hour, we decided to give up or spot and watch the fireworks from our motel instead.
I believe the fireworks started at 8pm, I was already over the hype by this time, and because of being pushed and shoved earlier I skipped the display altogether, however a buddy of mine did get a few good shots of it for me and I had seen some videos as well, it did not appear to be much different from the Yeouido fireworks festival which I saw last year (I say Seoul hosted a better display that Busan from what I saw)
So while the fireworks were going off, we were getting our costumes on! A night of fun and frolic awaited us. After dressing up we got onto an over packed subway car and headed to the university area of Busan, namely: Kyungsung University Area (KSU).
We hung out here for most of the night, walking about the side alleys and seeing everyone all dressed up. It was really fun! By far my "Best Costume Award" went to Albert Einstein (whom almost everyone was raving about). This guy was on point with his get-up! It was seriously freaky how closely his costume resembled Einstein.
We hopped around a couple of bars that night, but my favorite was Blue Monkey- a great bar, with an awesome vibe and good music. It also boasted a mini dance floor along with some great drinks specials. If you are in the area and looking for a good night out this is a good spot.
On the morning of our departure day we got to see some of the most popular sites of Busan. The tour was the highlight of it all! Our first stop was Yonggungsa Temple. No picture could ever capture the beauty of this temple which is built in the mountains over-looking the ocean. This was the most spectacular temple I have seen in Korea. It definitely is a must-see for anyone travelling to Busan.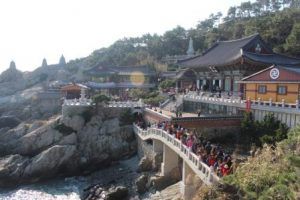 After walking around the temple grounds we got back on the tour bus and moved on to Haeundae Beach. Just as pretty as Gwangalli beach, where we took a nice long stroll along the beach promenade.
Next stop, Jagalchi fish market! Here we saw hordes of fresh fish. It's basically an overcrowded fist market with some great deals on raw fish. Here it is typical to find raw fish restaurants as well as fried fish place. If you are daring enough and have a tough stomach I suggest you give it a try for a real Busan experience.
Our last stop was Busan Tower. The 129m tall tower provided a breath-taking view from way up high. Busan is a really dense city! It's amazing to see how close to the shore the city's infrastructure runs.
This brought us to the end of our tour. I was glad to be heading back to Seoul, but sad that I had to leave the coast behind.
Joining a tour group like WINK was a great opportunity, we had lots of free time and we also got to meet some new people and make new friends. All in all it was a good experience to be had. I would suggest checking out all the above mentioned sites if you are ever in Busan. It's easy to get to each place by public transport or taxi service once you're there. You can easily get into Busan via plane as it hosts a fully functional international airport. Alternatively the KTX is a reliable mode of transport. Tickets for the KTX can be bought online, and its prices are pretty reasonable.
If you would check out any upcoming events/tours by WINK you can like their Facebook page: https://www.facebook.com/groups/wheninkorea/.
You can also find an abundance of information about Busan, provided by Korea Tourism Organisation: http://english.visitkorea.or.kr/mapInfo.kto?func_name=depth2&md=enu&lang_se=ENG&area_code=6
Happy travelling!
Comments
comments