It's warming up of late, and for the hot and humid months Korea has some delectable treats and meals to quench your appetite.
I have been in Korea for a year now but 팥빙수(patbingsu), a popular cooling treat, has only just entertained my taste buds. Patbingsu is sold at the majority of cafes in Korea, it costs around 10 – 15,000 won and is usually shared between two or three people.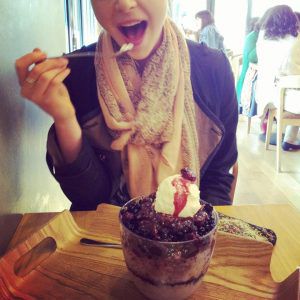 I think a very appealing aspect of patbingsu is actually the way it looks when you first get it. It's like a cool and colorful frozen garden, after a little while though it turns a bit mushy. Maybe like a guy whose appetite for beer expands…
This icy dessert is made from shaved ice and can have a range of different toppings, such as espresso, ice cream or frozen yoghurt, fruit, nuts, rice cake, cereal and red beans – (these are maybe the reason it took me so long to try it). Before coming to Korea I only ever viewed beans as a savory food, but since living here I have encountered red bean ice blocks and rice cakes and have found them concealed in a number of other desserts. I guess I have finally gotten used to them and actually enjoyed it when I found them in my berry patbingsu. If you have an ice shaver you can assemble it at home too, here is a video on how to make it.
Comments
comments