The red flowers that are blossoming over our land
Are like hearts: full of love for the leader
Our hearts follow the young buds of Kimjongilia
Oh! The flower of our loyalty!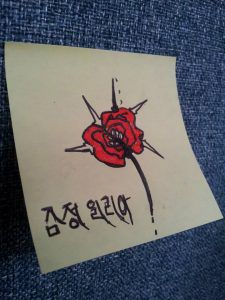 – A song by North Korean composers about the flower of Kim Jong Il named- 김정일리아/Kimjongilia. In 2009 a touching film of the same name premiered at the sundance film festival.
Kimjongilia details individual experiences about life, death, love and pain in North Korea. This Saturday NKHR is screening the film with english subtitles followed by a Q&A session with a North Korean defector (in English & Korean) to answer questions about the defection process and the abysmal human rights situation in North Korea. The guest speaker was featured in the film and is a survivor of a North Korean prison camp.
To get to the film screening –

Come out of Myeong-dong Station, exit 6:
Turn left and walk straight (you will see Nature Republic on your left)
Pass the first intersection (you will see Faceshop, Adidas, Banila Co. on your left)
Pass the second intersection (you will see another Nature Republic, Aritaum, Fubu, OST on your left)
On your right you should see M PLAZA, it is between Forever 21 and Zara
Haechi Hall is located on the 5th floor.

Entrance/입장료: FREE
start 14:00 // end: 16:00
For more information on the event – https://www.facebook.com/events/365183656944853/
Comments
comments