There is no shortage of places to go on the Costa del Sol. Whether you are a resident or a tourist there really isn't any excuse to be stuck for a great destination for a day out. now everybody has heard of Marbella, Fuengirola and Torremolinos and other similarly well known tourist havens, but what of the many smaller, lesser known towns and villages? There is so much more to the Costa del Sol than these big, bustling towns. Look past those world famous destinations and you will find a whole world of  places, which though they may be diminuitive in size they are definitely big on charm. One of these villages, which is certainly one of our family's favourites, is Castillo de la Duquesa. Perhaps not a well known place to anyone who lives outside of the area, Castillo de la Duquesa is a sweet little village that has lots of fun things to do. Last weekend we spent a fun, family morning there, Sam, Henry, Daddy and I.
As the name suggests, there is a castle in the village and it is frequently open for people to explore inside. There are further surprises to be discovered if you venture into the rooms that lead off from the central courtyard. Inside one of these rooms is a fencing museum filled with information about the history of fencing. If you feel like challenging somebody to a duel then you can do just that because there are a couple of masks and epees for visitors to try out. We decided that our lively boys and weapons might not be a harmonious combination and so we moved swiftly on to the next room hoping that it would prevent a less hazardous environment.
This wasn't completely the case. The next room is full of glass display cabinets with lots of historical artefacts including some great reconstructed pottery bowls, as well as some free standing displays of various clay objects and sculptures. Having wandered around the room declaring everything to be 'broken', Henry went up to a sizeable display of stacked tiles, put his hand on it and gave it a little push. "This doesn't move mummy!", he said. Feeling very relieved  that it didn't we quickly ushered him out deciding that we would climb up to the top of the castle walls. Surely castle walls that had stood for so many years would be Henry proof!
From the top of the castle there are some lovely views and the walls are not so high that they will bring on a case of vertigo. Sam and his daddy really don't like heights. They steadfastly refuse to climb to the top of high buildings whenever we come across them on our travels and so it is proof of the moderate height of this particular castle that we all successfully reached the top and nobody suffered any ill effects or made for a quick descent! As we wandered out of the castle we headed down to the playground that is near to the beach. You can see it below you from the top of the castle. While our boys played with some local children under Daddy's watchful eye I wandered off to take some photographs to show some of the highlights of Castillo de la Duquesa. It has a reputation for having some fantastic restaurants and while I've never actually eaten at any of these, judging by the smells emanating from them and the contented looking people sat outside on the sunny terraces I can only assume that they live up to their reputation!
The village is very scenic and there are some wonderful details to be noted. Around the playground and along the paseo there are a series of seats decorated with beautiful mosaic representations of scenes from the local area. Each one is different and they are very striking. There is an eye catching mosaic mural of the name of the village as you drive in, and even the walls of the local guarderia are decorated with mosaic pictures of children's TV characters. It really does make for a very colourful experience!
After exploring the village we went back up to the park which is next to the castle. This has an open grassy area, a playground and a little stream running from a water fountain to a well. There are also some exercise machines for adults which are so common in parks and on Passos in Spain. We often sit in the sun while the boys play on the slides and then they like to find little leaves on the surrounding grass and follow them as they float along the stream.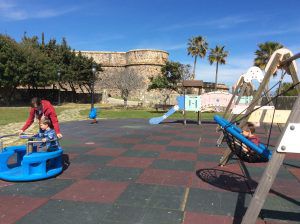 So you see, for such a small area it really is packed full of fun things to do. If you would like to visit Castillo de la Duquesa then you will find it about 10 minutes out of Estepona in the direction of Algeciras, just past Sabinillas. Why not give it a try next time you are in the area? I would be interested to hear about your visit so please let me know!
Comments
comments