Happy penultimate March mid-week folks!
Last  Wednesday you lucky lovely people could read about the first 5 Madrid places I am digging these days…Today let's continue with Places 6 to 10.
Well, I mean, HOPEFULLY you did read last week's post and already have 5 new Madrid hangouts under your food belt. If not, then hit the back button….do it….
So, ready to go again? 3, 2. 1
10 Betsy tips for you depending on what you are after. But just don't be after baos, please don't go there. Still no baos here*
Part 2
LET'S GO(URMET) SHOPPING
See what I did there eh…:D 
6. THE COOLEST MALASAÑA POP UP SPACE – VAQUERÍA
Where: C/San Joaquín 16 (the quiet but "everyone-has-walked-down-it-before" street off Fuencarral, leading to Plaza San Ildefonso) 
Why you need to go:
BECAUSE TERESA THE OWNER IS ADORABLE.
That aside, she has put a lot much passion and Spanish "ilusión" into making Vaquería a beautiful and tasteful space. You can see lovely and well thought-out decorations everywhere and a female 😉 touch in different corners. On a serious note, many foodies already know Vaquería because there are always pop up markets and shops, as well as different wine and food tastings, such as Mustache beer, in the photo below. 
As we speak though, it is once again the turn of the latest "Beer Pop Up" event, with 14 unique and special craft beer breweries displaying their hoptastic creations. Check out Freaks Brewing, La Maldita, Villa de Madrid and even Malasaña and Panda beer, if you want to have a drink in my honour.
TIP: Even though it might not appear this way from the street, there is actually a pop-up bar inside the shop as well. So choose your craft beers carefully and then enjoy trying them there and then, whilst nodding or dancing along to pumping beats, the likes of Booka Shade – oh yeah. 'Cause Teresa has great taste. 
7. ELEGANT GOURMET SHOP IN CHAMBERÍ – PESO NETO
Where: C/Alburquerque 3 (near Bilbao/Quevedo, the street that kinda sounds like the Spanish word for peach….) 
Why you need to go:
Similar to Vaquería, Pesneto is a beautifully kept and stocked gourmet shop, packed with gourmet goodies for all tastebuds. Pesoneto is a classy yet fun neighbour in Chamberi and perfect for when you need inspiration or perhaps a food-related present. In my case, I go there when I fancy a treat – special wines, best quality viring extra olive oil, appetising nibbles and the like. Artesanal products from Spanish producers, a lot of whom are family-run businesses. What I like about this kind of place is that you just feel you are supporting these smaller producers and making a difference in their lives. 
What's more, the shop is actually bigger than it may appear at first glance and downstairs there is a space especially dedicated for "catas" aka tastings, not misspelling of cats. Recently I went along to one about Virgin Extra Olive Oil with fellow bloggers. Very professional, educational, even a lot of technical information and so basically they will try and get you up to speed, in whatever food topic. Badge level: expert.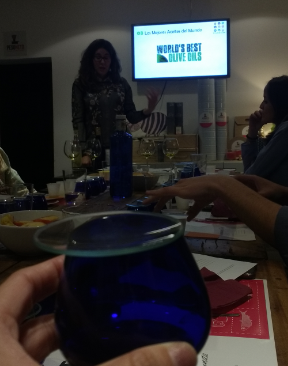 Make sure you follow their Facebook and Instagram profiles so as to see what upcoming cats, I mean "catas" are lined up. 
Simply tealightful
8. LOVELY ELEGANT TEA SALON – SUCRE SALÓN DE TÉ
WHERE: Casado del Alisal 16 (near Retiro, Prado, Huertas) 
Why you need to go:
Sucre (nickname ;)) just celebrated its second birthday so that's a great excuse to tuck into one of Alba's delicious homemade cakes, right?
Apart from birthday mode: ON, you have to go check out Sucre because here they actually care about tea!! Like tea before coffee – that's saying something in Spain right!
What else: exclusive teas, the cutest teapots, beautiful décor, yummy ever-changing cakes and cookies, serenity and tranquillity. Perfect for breakfast, brunch, lunch, lsnack, linner. You name it – and there will be something scrumptious to taste. 
You can read the full article from last month here: http://blogs.angloinfo.com/londoner-in-madrid/2017/02/16/sucre-salon-de-te/
 9. ORGANIC COLD-PRESSED JUICES AND VEGAN FOOD AT MERCADO DE ANTON MARTÍN – URBAN ORCHARD – NEW!
WHERE: Awesome juice stand located in the Mercado de Anton Martín. C/Santa Isabel 5. 
Why you need to go:
1) THE NAME – what a great name, spot on. Bringing healthy eating and living to the big city, exactly what we need, right? Elliot and Giuliana the lovely and charming owners only opened this orchard of the urban kind towards the end of 2016, but perhaps Spring 2017 is the perfect time to go and try their amazing juices!
2) Everything is tried and tested at home – and they have demanding tastebuds and gourmet standards! So what you see is what they personally have finetuned – their juices, shakes, vegan cakes, even main dishes! Must be fun perfecting avocado cake at home! MMM 
3) ORGANIC, Vegan, vegetarian, healthy and many more adjectives. Cold-pressed juices are SO good for you as the fruit and veg keep more of their properties and nutrients this way – so if you order their "Fountain of Life" (kale, celery, fennel, apple, lime) or "Glow Kiss" (beetroot, broccoli, carrot, apple, lime) they are literally packed with goodness! Kale IS your friend, repeat after me! What's more, their selection of vegan and veggie dishes prove that healthy can be exciting too.
4) Sense of humour. They have decided to call their energy balls – just that, energy balls!  Instead of going for a cutesy name, they don't beat around the bush! Oh by the way, these are delicious and packed with slow-releasing energy so that if you need a pick-me-up during the afternoon lull, get a few of these down you! 
So get yourself down to the humble yet exciting Mercado de Anton Martin, find Urban Orchard and go show Elliot and Giuliana some vegan love!
Last but not least…drumroll….
PERSONAL FAVOURITE NEW FIND
10. GASTRONOMY & CRAFTSMANSHIP – L'ARTISAN FURSANU KITCHEN 
WHERE: C/Ventura de la Vega 15 (HUERTAS). Look out for the distinct red doors, Japanese writing and the two words "JAPANESE MOJITO" 
Why you need to go this Spring:
 A wonderful place in Huertas – my old stomping ground. A simple and minimalistic restaurant offering exquisite food, that I had heard so much about but only got round to checking out thanks to the lovely Natalia Diaz from Chefugee. There are many adjectives I could use to describe L'Artisan Furansu – literally translated as The French Artisan. Some of them would be:
Refined, elegant, sophisticated, surprising, memorable, original, creative, different. What a treat. 
However, one that I wouldn't use now that I've gotten to know it is – fusion.
This is because a lot of people may well refer to L'Artisan Furansu as a fusion restaurant – because of the the French-Japanese mix and influence. But, it isn't really about fusion, but rather bringing together the best of two strong cuisines and more.
Let me explain: Stephane Shoji was born in France to a Japanese father, who taught him a lot about Japanese culture through the food culture. Food is culture, of course! In fact, at one point his father even told him to "forget about sushi" but did encourage him to travel to Japan to learn to become a chef, to learn about the fundamentals of traditional Japanese cuisine, which he did.
Yet Stephane's story doesn't end there as he has worked and spent chapters of his life in many other places around the world as well. In fact, his dishes are almost a bit like his biography – reflecting his interesting background. Perhaps for this very reason, Stephane has opted for a "daily menu" that changes every day from  Tuesday to Saturday. He never repeats it! Okay, whilst there might be some popular dishes that feature in different variations, essentially what he chooses depends on what he picks up from the market that day. Love it!
A few weeks ago I even bumped into him on Calle Echegaray on his bike, on his way back from the market. What a cool fella. Although he has oriental features (like myself :D) Stephane does have a certain sophistication and finesse to him. What's more, despite coming across as being calm and "zen", his passion, dedication and commitment when it comes to gastronomy most definitely shine through. He really does embody the best of two very striking cultures but who expresses his cooking through even more influences. 
TRY EVERYTHING! 
Okay okay, I will try and narrow it down a bit for you: His makis and ceviches are very popular indeed, as are the fish and duck dishes. I highly enjoyed the delicious quiche as well, if that happens to be on offer.
The aforementioned Japanese mojito! 
So, get yourself down to Ventura de la Vega 15, enjoy the lovely paintings and relaxing environment, take a peak downstairs at the beautiful basement sitting area with visible bricks and arches…and enjoy Stephane's culinary craftsmanship.
Well there we go. Voila. Fin.
There are a few other places I would like to give to give a food shout out too as well: cult-ish Burnout Burgers, OX Organic Experience for their amazing cold-pressed juices and detox suggestions as well, new Erre Que Erre restaurant near Quevedo and of course, the fabulous new Barceló Torre de Madrid.
Hope you have fun with these 10 "new" places!
Love Betsy x 
Remember to check out my main Spanish blog La Guiri Y La Gata over on laguiriylagata.com
*Not that I'm against baos, but I just feel that was a food trend that was W-A-Y too exploited. 
Comments
comments