Aiming high
Ever fancied renting a rooftop/terrace/balcony for a day in Madrid? Well believe it not there is a new platform called Atiko.co from Barcelona which allows you to do precisely that. But we are not talking about hotel rooftops or ones on top of gyms or markets…these are private properties, privately-owned flats. As such, it makes it all just that tad bit more exclusive/personal…and kinda cool. Sounds promising, right?
Atiko.co just landed in Madrid and so I was keen to check it out for my birthday last month. Read on if you want the lowdown…or perhaps more accurately, the highdown 😉
Think of it as "a terrace Airbnb"
This is how my friend Leah summed it up, and it's pretty much as straightforward as that.
In any case, now I will quickly run you through how Atiko works for the user:
Similar to Airbnb, you simply enter your criteria and start browsing, scrolling through the terraces for the dates you want and the number of people
Most of the terraces are in the centre and the owners write a short (or more detailed, sometimes even witty) description about what is on offer, what is included
You can check the times – some are available from 9am, so you can make it a day thing. Bbq..daytime chilling…
Whatever activity you want provided the owner agrees
It is technically possible to negotiate the price
Don't forget that on top of the price of the balcony, you will also have to pay cleaning fee and a deposit, which can be up to €100
Easy peasy.
Below you can see the founders Oscar (left) and Hilario (right) who came up with these cool idea, especially as the rooftops in Barcelona tend to be on the expensive side.
Verdict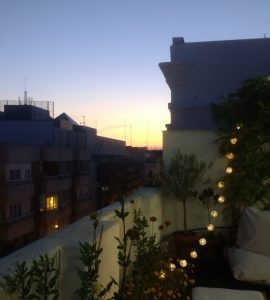 Cool things that I liked
I had a very fun and memorable birthday party, that's for sure! The following points I thought were a plus:
That sense that you actually own a flat with a cool balcony!
All the flats look pretty decent and spacious
Personal, intimate, great for just you and your friends and family
That wow factor…something a bit different
It's good value if you rent one for a day
You get to use their furniture and so forth and bring food and drink…and in our case a live band 😀
Not so cool things
These rooftops / balconies / terraces don't come cheap…prices are fairly high especially bearing in mind that many of Madrid's rooftops in the centre are not too expensive (or London expensive…ahem) for drinks
Whilst the views are nice, it's not the same as being in a rooftop on Gran Vía, or with views of Cibeles or Plaza España
Sadly the Atiko.co founders still need to work on and iron out details such as deposit and cleaning as currently the situation is a bit unclear bordering on unfair for the user. Especially as owners can use the cleaning cost part in their favour to inflate the overall price and gain for them.
Overall…
Really funky idea that has people going "oh how interesting" – and if you plan to have a cool event or party during a longer period of time, it can work out very reasonably. But just for one night I think I will stick to my personal swanky rooftop faves in and around the centre.
What do you think of this concept? Do share your feedback….cheers in the meantime!
Comments
comments