Refugee Food Festival – Madrid
19 junio – 25 junio
Your cool foodie plan and good cause for this weekend
Refugee Food Festival
What a wonderful initiative and great news that this year Madrid is one of the 13 participating cities. The festival started a few days back but don't worry as you still have time to go along to one of the restaurants taking part – before it comes to an end on Sunday.
In a nutshell – Refugee Food Festival involves restaurants opening up their kitchens (and thus menus, but also minds right) to refugee chefs, who have designed and come up with new dishes that can be tasted and enjoyed at the restaurants. These chefs come from countries including Ukraine, Syria, Cameroon and Morocco and each have an interesting story not to mention a delicious star dish.
These chefs with funky names like Wesal, Ruba or Labib await you at some wonderful and popular restaurants in and around town.
This initiative aims to change perceptions and mindsets and in addition help the labour integration process, so we are very much for that. What's more and perhaps the most important thing, it is also a celebration of different cuisines, foods, cultures and we get to experience something different and try tasty food at the same time. Perfect right!
From 2016 – 2017
Certainly a lot can change in just 1 year.
2016: The first edition Refugee Food Festival took place in June of 2016 in 2 cities in France – Paris and Strasbourg. Thanks to the work of the NGO Food Sweet Food and ACNUR, not to mention citizens, additional entities, local authories, restaurants as well as private company. It is said that some 1,000 people and foodies got to try the food cooked by refugee chefs from countries including Sri Lanka, Ivory Coast, Syria, in 11 restaurants.
2017: This year, 12 European cities have joined Paris in its quest to open up both kitchens as well as minds…and in total 50 restaurants are participating across Europe, with refugee chefs from also counries like Afghanhistan and Somalia.
Fingers crossed that this figure will continue to rise for next year's edition. We are sure it will.
The Madrid team
Here in the capital, the tea mis headed by the wonderful Natalia Diaz and her Project Chefugee team. Which also includes many wonderful volunteers with the Madrid Association for Refugees: Eyad Tomeh, Felicia Beltran, Lisa Kerr, Yurema Pallares, Alex Valle, Jaqob Pirogovksy, Paloma Aparicio, Jane Mitchell and Samiti Siv. Hats off to you all.
Chefugee is a wonderful and popular project itself here in Madrid which involves working with refugee chefs to organise culinary events on a monthly basis in Madrid – the photos always look great and the food divine, so I need to go along to one!! More info on  chefugees.wordpress.com and follow their Instagram @chefugeemadrid for more motivating and inspiring photos, images and stories.
The 9 Madrid Restaurants
As of today, Amazónico, Baniboo y Gigi have already had their events take place and special menus. But not fear because 6 more are still going strong. 2 of them we highly rate – L'Artisan for sophisticated food with French and Japanese and more influences and our happy place Keyaan's – the spirit of Dominican Republic in the Arguelles neighbourhood.
L'Artisan – 20 – 24 junio: menú del día / 22 junio: cena
Las Fuentes – 23 junio: comida
Elektra – 24 junio: brunch
Mama Campo – 25 junio: comida
Al-Aga – 19-25 junio: para llevar
Keyaan's – 20-25 junio. Tenemos una foto estupenda de las creaciones en Keyaan's gracias a la maja Diana de Madridiana.
Here you can see a photo from Keyaan's taken by fellow Madrid Blogger Diana from Madridiana.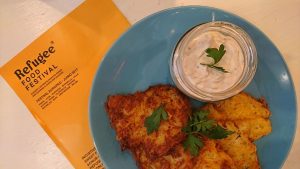 Below is a programme where you can see the plan for the the remaining few days. It is in Spanish…
More on RefuGee Food Festival
Do check out their website http://www.refugeefoodfestival.com/madrid where you can read more about the chefs and their stories and cooking. Also, if you are going to upload anything to social media you can help spread awareness by using these 2 Spanish hashtags:
#RefugeeFoodFestival
#ConLosRefugiados
Comments
comments