Unleash the painter in you
Ever fancied yourself as a bit of a Van Gogh? Or Klimt? Does Monet rock your boat? Or is it Kandinsky who ticks all your artistic boxes? Well the good news is that now you can become a painter for an afternoon in Madrid. Yep…read on.
Over the past few months I have seen many "Paint a painting and take it home with you" events in and around town. However, one really got my attention and so a few weeks ago I went along to one of their sessions. Ladies and gents, today it is all about…XpresArte. A brand new company founded by lovely people, that wants us to combine art and painting with having fun and remembering your days of being young and creative and carefree. WONDERFUL.
This is why one rainy Friday a few weeks back in the heart of Madrid, in just over 3 hours (and with wine and tea for moral support), Xpresarte taught a group of us how to paint Van Gogh's Café Terrace at Night, from 1888. Voila.
To express yourself…or not to express yourself. No-brainer! 
Why did Xpresarte make such a great first impression on me? Well here are few reasons off the top of my beret…I mean head.
I like the name. It is nice, catchy and not tacky. At the end of the day, painting is such a beautiful way to express oneself, right?
Their lovely and modern studio is based in the heart of Madrid – literally. On Calle Mayor – so a perfect location to precisely escape the hustle and bustle of Madrid
As it is their own studio, they are flexible and can accommodate special requests – kids, pets, different music. They can even make you a cuppa! Or offer you some wine…mmm.
The paintings they offer are well-known but more importantly, difficult, impressive, stunning ones. Some very most famous pieces of art – with complexity and the wow factor. I like this personally because if I am going to roll my sleeves up and get down to work, I want a real challenge. The feeling afterwards is awesome.
Everything is very professional and well-explained, well-organized. Even though painting a famous painting is not easy-peasy, the teacher will take you through it step by step and honestly, the painting process is broken down in a way that is far less daunting.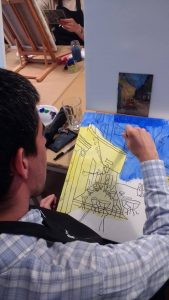 More on XpresArte 
For more information, check out their website here: https://www.xpresarte.es/. All the upcoming sessions as well as what painting it is are shown here under Reservas https://www.xpresarte.es/reservas.php 
It will make a perfect present for Mother's Day coming up…hint hint nudge nudge.
Special session for English speakers or anyone who wants to practice their English 
Because the kind folks at XpresArte think of basically everything…there is a special "Paint 'n' Sip" session tomorrow Saturday 29th April in the afternoon (5-7.30pm) with Milingual. Moreinformation here. – https://www.milingual.com/bares/xpresarte-paintnsip.  They say that a tipple can help people relax when speaking a foreign language, the same applies to painting, right?
HAVE FUN FOLKS – AND REMEMBER TO RELAX, ONE PAINT STROKE A A TIME.
Love from
Betsyinksy x
 Original article for my Spanish blog La Guiri Y La Gata can be found here.
Comments
comments