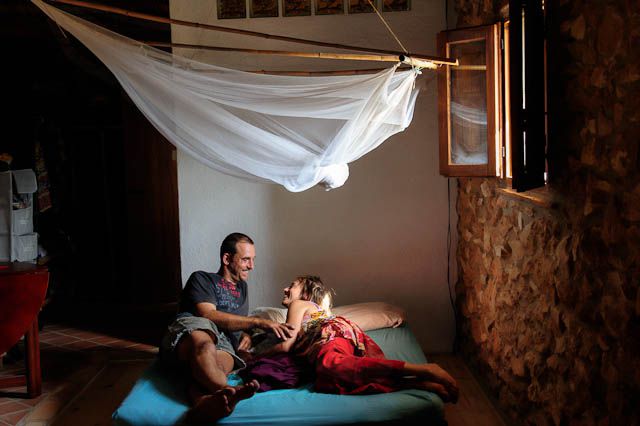 I have been hearing about the "eco finca" of German born Christian and his Spanish girlfriend, Carolina, for a few years now. After all, this is a small village and you hardly need a phone to know the ins and outs of everyone's lives. At times I bump into them at the "supermarket" (you bump into everyone there) and occasionally we have a chat in the street. Christian described some of his ecological projects in great and confusing detail once, confusing for a novice like me that is who can just about get her head around the workings of a few solar panels.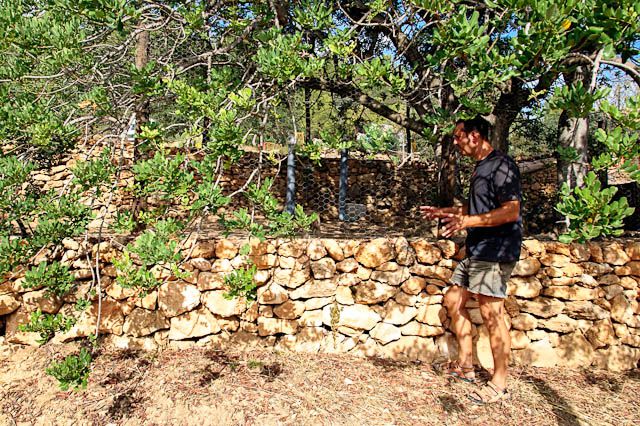 Recently I had yet another little exhibition in Casa Ramon's, and Christian and Carolina very kindly attended the opening. I was very happy because I thought no one would come. The upshot is that they invited me to their finca to take photos and we fixed a date for the following Tuesday at 9am.
On the Monday it was hot. Very, very hot.  I seriously toyed with the idea of sacking it off. Sweat was pouring down my front in torrents and it was much too much effort to even move. The thought of lugging around 4 kilos of camera did not appeal. However, in true German fashion Christian called to confirm the appointment and I thought what kind of reporter are you then Stephanie? You can't let 45 degrees of hot, dense, blinding heat get you down!
Their finca is over the mountain from Atzeneta towards the sea and is set off the main road, neatly out of sight. It is 7 acres of beautiful almond, olive and carob trees with faultless unobstructed views. This, together with the simple stone house blending seamlessly into the landscape, almost gives the impression of being in another time. I say almost for there is ample evidence of some of Christian's innovations integrated into the house and grounds.
For instance, no one a 100 years ago would have had access to the two plastic pipes that dangle in the chicken pen – pipes housing food and water in such a way that neither the food gets wet, nor the water contaminated. No, they didn't quite blend in, but neither did they not.  Furthermore the pen was nicest with the happiest chickens that I have ever seen. There is even a snare built into the walls in the event that any marauding wild dogs or foxes dare venture in. On the other side of the pen from this a hatch opens up to reveal a nest of dry straw in which the hens have been dutifully trained to lay their eggs each day – up high no less. No one has to enter into the pen and scramble around in the dirt and shit.
I was very impressed. Also with the three-tiered water cisterns that manage to create enough pressure through their height differences to enable a reasonable un-pumped shower at first floor level. Though at the moment Christian and Carolina use the same system to shower outdoors. I looked at the open-air cubicle longingly. The dog passed it by panting. I remembered spending 6 amazing months in Brazil in 1985. It was quite the custom then to offer visitors a shower rather than a cup of tea. Right now that seemed like a very good idea.
Christian clearly takes his inspiration from the Moors whose terraced irrigation reservoirs, constructed during their 700-year occupation of Spain, transformed the dry and barren land of Andalucía into a virtual oasis. But that was a long time ago, some 800 years. With the expulsion of the Moors by Queen Isabella, came the gradual decline of Spain as its lands were symbolically deforested to build the Spanish Armadas. In the meantime these precious early eco systems were allowed to fall into disrepair as the Spaniards conquered and expanded while not tending their gardens back home.
But back to the beginning of my visit. We sat on the pristine stone terrace and drank small cups of coffee while I envied the lovely grouting between the slabs. Carolina is very pale for a Spanish person but that is because she is half French and always wears a hat. She reminds me of a delicate, but romantic flower of paradise, with her fragile face and china bones. Christian is of altogether more substance as is fitting for a man and looks like his work has chiseled him.
They explained their plans. Christian is so earnest and German in his explanations that at times he almost appears to be suffering. Carolina on the other hand is the picture of quizzical serenity and leaves much of the explanations to him, though I am sure that behind the scenes she is quite a force to be reckoned with.
They appear to be very much in harmony which is fitting because Christian's sister is a Passana yoga instructor with a long list of clientele. What I mean is that harmony appears to run in the family, not lists of clientele. Next year the second half of the house will be finished (make sure says Carolina!) and in that half Christian's sister will give weekly courses for groups of 10. They will eat, sleep and yoga together with the emphasis on relaxation and letting go off the modern world. Carolina will cook and offer specialist head massage too. But never in July and August, she said. It is too hot then. Yes, I nodded, swiping the pools of sweat away from between my breasts. And there will be no meat, onions or garlic either, as they all three produce heat and anger, she added.
Oh, I reflected silently. Well, that explains me then. Very hot and often too angry. A lover of meat, onions and garlic. I wondered, could it be true?
We walked around the finca and I noted the high quality of Christian's work, simple things that would have taken ages to perfect, like the olive beam above an internal opening or the iron and glass panel by the entrance door.
From time to time I asked him questions, genuinely interested because what he said made a lot of sense. Now don't go working for anyone else, Carolina admonished quietly, you have to finish our house first. I empathized with her. Yes, Christian has to finish their house first (I am doing this to sell, he declared. – But not for at least 10 years, she replied). And it is a pity for when he talked about his plans for an eco pool with a plant-filtering reservoir, I knew that he is the kind of man I am looking for.
The clock struck the Spanish drinking hour of noon and we headed back into Atzeneta, to Casa Ramon's. A bottle of chilled white pearl wine later, we were all refreshed and amply watered, apart from a niggling headache on my part. Carolina gave me a useful demonstration of migraine pressure points, reducing me to yelps of pain each time she pushed her fingers up my arms. Eventually we all said our good byes and I returned up my mountain to practice her massage techniques. I am not sure, but I think they really work.
For information on Christian and Carolina's Passana yoga courses, please contact Christian on 0034 677176724
Comments
comments