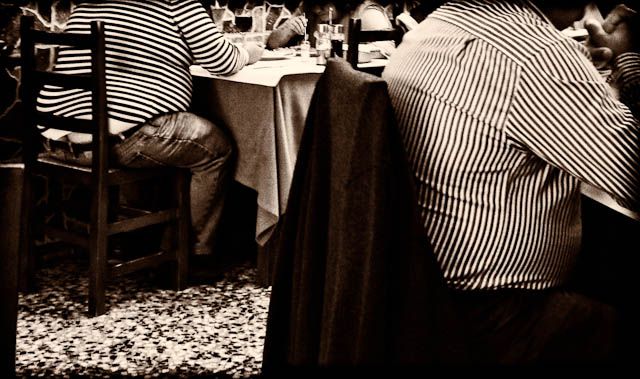 I read on the BBC health news that English women are the fattest in Europe and are swiftly catching up with the Americans.  I would agree with this, but when it comes to men, I would like to give that particular honour to the Spanish countrymen in the villages around here.
Why are they so fat?
It seems that almost every middle-aged man has a massive belly, and I mean massive of the Michelin man variety. Normal weight is the exception rather than the rule.  Yesterday the subject came up so I dared ask a man how much he actually weighed.  Though only about 5'8'', he didn't bat an eye when he said 104 kilos.  That's over 16 stone.  As I was recovering from this shock, the man next to him of roughly the same height volunteered 134 kilos (21 stone).  As long as my heart is fine, he declared, I am not going to worry about it.
Ironically it so happens we were having a business breakfast at Casa Ramon concerning the construction of a swimming pool.  My permissions have finally come through and true it was a time for celebration.  Set before us was a veritable feast – ample plates of oil-impregnated food. Grilled squid, baked garlic chicken and octopus in paprika sauce.  Also "pan con tomate', roasted peppers, aged cheeses, dried ham, tortilla and mushrooms in season.
Predominantly healthy, I admit, but less so the fact that it was washed down with white wine, followed by carajillo (coffee and brandy), desert, then various chupitos (shots), and finally, God forbid on this nippy winter's day, gin and tonics.  I mixed them the traditional English way.  Things got very merry.  On the way out to recce the finca Ramon stopped us and poured more chupitos reminiscent of Baileys Irish cream.  It added a whole new dimension to the expression "a liquid brunch".  Well, ok, its "a liquid lunch", but whatever.
Franco's generation I hasten to add, those over 70 or thereabouts, are as thin as toothpicks.  They don't drive cars and they walk to their fincas outside the village most days.  They also do not seem to drink alcohol much.  So there is your answer.  At least I think it is.  I have watched men in Atzeneta get in a car and drive 100 meters up the street to a bar where they might stay for the next few hours.  With their beers and chupitos, a few bowls of house-roasted peanuts or almonds go down a treat.  The idea that there might be calories in this abundant local resource is alien to them.  Also alien is the idea of walking home.  They prefer to stagger back to their cars and drive 100 meters to the next bar, or home for dinner, for more calories.  I have watched them do this for 5 years.  Jesus, has it been that long?
The Spanish women here on the other hand are still in the habit of walking around the village.  I seldom see them in bars, and then mostly just for a coffee and a baby natter.  That is, during the week.  On the weekends the sexes do intermingle.  I want to be accurate here. And maybe soon enough they will intermingle all week long and become fat too.
In England, with its unisex pub and bar culture and supermarket alcohol on permanent loss-leader offer, the results are clear to see.  And the wish for something different is clear in the sprouting of health clubs whose pull is evidently not strong enough in the face of home entertainment.  We are not educated in the matter of physical exercise.  With the exception of public schools, little time or facilities are dedicated to sport.  This is not a new development either, but rather a historical fact, and unfortunately it does not marry well with the trends of modern society.
But back to Spanish men.  It is said that Spain's average life expectancy is the second highest in Europe, a life expectancy that is increasing across the board and bucking the predictions of obesity experts.  True as that may be I suspect that Europe generally is steering towards a massive increase in obesity-related health problems, with English women and Spanish men taking the lead.  Where America goes, it seems, eventually the rest of the world follows. And if I eat anymore of those breakfasts, I will be no exception to the rule.  Ergo, hiccup, I had better get that pool built soon.
"The postings on this site are my own and don't necessarily represent AngloINFO's positions, strategies or opinions."
Comments
comments