I have been meaning to write about Felix for ages. I have known him almost as long as I have owned Masia Lavanda and he has worked for me a great deal of that time. You will have heard  about him here and there in my blogs.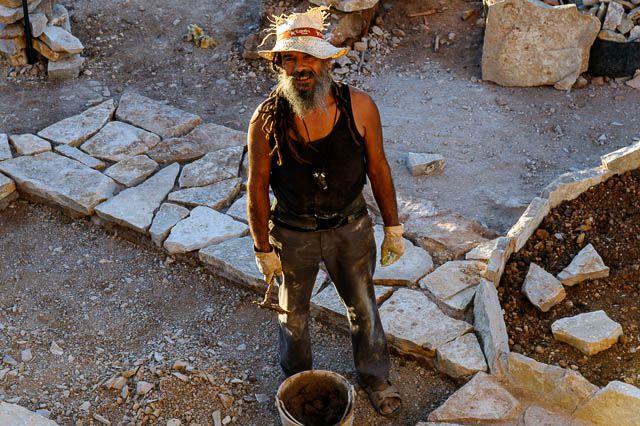 I have asked Felix several times whether he minds me taking his photo, and he always says no. I also asked him whether he minds me writing about him and the answer is just the same. You have to be sure, and so I am sure he wonders why he has never seen anything come out of all my photos of him yet. It is simple. I have taken so many that the thought of tracking them down in the quagmire of my various hard drives is daunting. 
I should be more organised but the truth is that cameras today have buckets of pixels and these take up memory quickly.  My laptop, though well specified, is nevertheless grossly underpowered and editing is a hit and miss affair.  I cannot exactly board Ryanair with a powerful desktop computer and screen. I would love to see their faces if I tried.  Nor can I carry around a plethora of external hard drives. The result is that my images are scattered around three countries in various states of readiness and I forget what is what and where and how.
Last week Felix said that he read about the recently deceased Jesus on my blogs and he looked at me with his soft brown eyes and what I took to be a questioning gaze, and I realized that I had better get on with it. Jesus has been a small part of my experiences here, but Felix is key to most of it. He is my neighbour, intelligent, and softly spoken. He is a very good bloke.
Together with his wife Merce, they make the most of their natural resources. Like me, they live off–grid, but much more so. I remember a simple, but tasty meal in their house with several of their grown children about a year ago. As it got darker, we sat in the twilight drinking red wine from his native village, with one solitary light bulb in the room that could barely illuminate the shadows cast by the stone walls. Eventually a fire was lit and Merce sat in a chair to the left of it, while Felix stretched out on a stone sofa on the other side and rolled a cigarette of homegrown tobacco. The middle daughter remained at the table massacring a series of pomegranates from the tree outside the front door. All around the room lay other scattered fruits of their labours; bags of almonds, cured olives, apples, tomatoes, walnuts and dried figs. It was an artistic mess that if I could, I would have painted it in the style of my favourite Old Dutch master Jan Steen. It was the real deal.
I have to say though that  I came across Felix at a very stressful time of my life and in some ways he played a part in that stress for he worked on Masia Lavanda under the guidance of a local conman who cheated and treated me badly. But I believed then and believe now that this was no fault of Felix's, and in fact I am very grateful to have come to know him. It is too easy to tar everyone with the same brush and I am immensely happy that I put my doubts aside and asked Felix to continue when the conman bubble burst, and that Felix agreed. 
If it were not for Felix, with whatever he thinks of me, I would not be where I am, with what I have, and with the finca I have. I would not have the beautiful restored animal pens, the terraces, or for that matter, many living trees. The casita would still be a horse stable, and the boys would not have had the joy of sleeping in the wigwam. I cannot think of anyone else who could knock up an Ibex hewn from stone in a day and just to disguise my septic tank! Felix's stonework, including the hand cut terrace outside my kitchen door, has transformed Masia Lavanda into something reminiscent of the past and quite unique. 
But more than that, without Felix as my neighbour, I would not have learnt how to harvest my olives and almonds.  He has them pressed with his alone, without those of other farms. You cannot imagine the thrill of having your very own organic, wild, uncontaminated oil that is so fruity and heady, you could almost drink it. This is not a material thing, but a spiritual moment.  
There are other moments too.  Like, I was a moron when it came to fires.  But now I know my way around a hearth and it takes me about 60 seconds to make and light one.  This feels good. With Felix and Merce living on the mountainside around the corner, I feel that I have found a place that really is different from the modern times. It is a credit to them both that they have raised their children here, and that all of them are bright and gutsy and well placed to step out in this or any other world.  I remember Merce confiding once that it was not easy as the villagers tended to look down upon the mountain folk.
So I am gushing, and that is another part of the reason why I have not got around to writing about Felix. But here I am, slightly piddled on the Rioja that he and Merce love so much, and that I have shared with him during many a mid morning "almuerzo. I don't want Felix to look at me questioningly again and so I am just getting it out. It is the beginning of December and the skies have been emptying their all on the land for the best part of three weeks and I am holed up so what else to do?
 Out comes a hard drive, and I will log in to Dropbox, and here we are. For you Felix, who more than anyone I know, seems to have the secret of a successful life on this planet.
Comments
comments