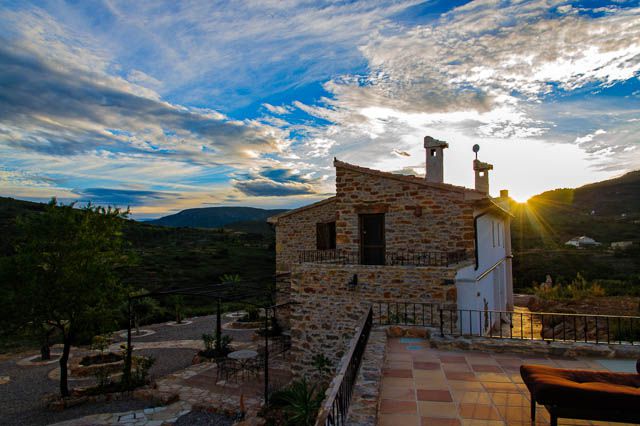 I have been thinking about all the blogs I could write and should write and want to write for many weeks, but time and events have conspired against this.  Quite simply, blogs are great, but life gets in the way. 
Anyway, the summer has passed in a flurry of England and Spain, and visitors, and sons, and mother, and her partner.  And hubbie of course.   The weather has been fantastic and I would like to say that it has all been swimmingly fantastic, but it has not. 
 Everyone has absolutely loved the house and enjoyed sun-bathing on the terrace covering the water cisterna, but whoever put the stupid idea in my head of building a totally ridiculously expensive stone house in the middle of nowhere with no mains water or electricity?  Let me think.  Yes, of course, I did.  I can only blame myself.
 And now, do I regret it, no that our bank balance has gone through the roof, and the place is still full of snags and hiccups that are hair-pullingly upsetting?  To put it mildly.
 No, I don't, but I am wracked with worry and that is why the blog has been largely shelved while I try to conjure up some schemes for making money to replace my lost income from the UK.  A career I left behind to embark on this mad adventure.
This is probably too honest and open, but what the hell. I am in that kind of mood.  Though I will not bore you with the ins and outs of what is driving me crazy and what is wrong except to say that much does not function as it should and it should for all that has been paid.  It should do what it says on the tin, as should the workmen respond to my phone calls and come up this mountain and try and help and put right what does not work.  But they won't because they want more money.  For what?  For not doing a good job in the first place?  They were handsomely paid; I have all the receipts, vat included, and that is proof that receipts mean nothing at all in the face of individual attitudes.
 But it is beautiful here, and the days, and exploring the region, mitigate a lot of these emotions, and the cold showers (where is the hot water?)  are supposedly great for the immune system.  They are certainly a shock to the senses and do not get any easier with the passage of time.  Not for me, nor for my guests. 
But the evenings have been the stuff of dreams and we have talked late into the night without even a cardi, unthinkable in Liverpool.   I have made a lot of friends, Spanish ones, who have enriched my life beyond description.  Not builders I hasten to add, well even that is not strictly true.  I guess I mean not "builders with fancy quotes and lots of VAT added".
 And hopefully there are people here who feel happy to have come to know me. 
 So I leave you with some lovely photos of September in the month of harvests and flowers. And the thought that tomorrow is another shitty day in paradise and everything will take on a more cheerful hue.  Even the hot water returns from time to time.  So you see, it is just swings and roundabouts.  Isn't it? 
Comments
comments