La Estrella is a village 24 kilometres from Mosqueruela and the same again from Vilafranca. From the first town the track is of dirt and very bumpy, largely impossible without a 4 x 4 or walking boots. From the other, it is well asphalted, but narrow, a spectacular drive that twists and turns with deep ravines at the side.
For the last 30 years only two people have lived in this village; Martin, 79, and Sinforosa, 82. For company they have 25 cats called Michurrin, 3 dogs called Pichurrines, 4 hens, a rooster, 35 bee panels, and until 8 years ago, 22 horses.
The village is very unusual.
A simple scattering of houses it is not. The buildings are indeed few, but extremely well built, petering out from a generous square presided by a magnificent church, a blue-tiled copula and all the trappings that go with such.
At one point this tiny village bustled with life, a constable prowled the bars, a residing priest took confession and two teachers ruled over the schools – one for the girls and the other for the boys, just in case there were any temptations!
Legend has it that La Estrella was constructed to house the mistresses of many wealthy and important men in its day, indeed some from the church. Surely not, but then again no Spanish has been able to give me a better explanation for la Estrella's existence, despite the fact that during the civil war it was a refuge for many of the "maquis" (Spanish guerrillas).
Its abandonment is easier to understand.
In 1883 a torrential storm sent a giant cascade of water down from the mountain above that in one single stroke wiped out half its inhabitants and 17 houses. It was as if the wrath of God had visited. IOf interest is that the square, vicarage and church remained intact.  A memorial plaque to this dreadful happeneing can be found embedded in a wall to the side of the square. After the flood La Estrella lost its shine. That is to say, it was abandoned bit by slowly bit.
Some 70 years later the couple that reside there today met each other at a dance in one of the two tavernas left. They stayed to raise a family and although their children have long since gone, they have never felt a need to follow. I felt some kinship with these people I had never met. They have no television nor phone (neither do I!), no mains electricity or water (neither do I!). An old banger to go to town once in a while (ditto).  And they are in perfect health with all their own teeth (ok, so I do not have all my own teeth).
We have plenty to do with the animals and our cherry trees, they told a reporter, and a radio is just fine. Most weekends someone visits.
I have 451 trees to water on 5 hectares by pail, I thought. And my music is all I need. Most months someone passes by.
There is little more satisfying than a day of physical work on the land followed by a vacant melodic evening.
I wanted to see this village, but had no idea where it really was.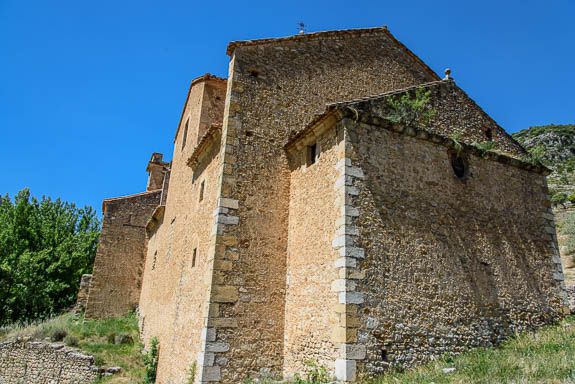 Recently a local agreed to take me there. I was really excited. We started early at 7am and he drove his 4 x 4 up and beyond. His little plucky dog sat next to me, jumping around in jubilation, rolling the windows up and down with his paws. He knew what was to come.
I saw lost forests, hidden caves and sheer drops. The beauty of El Maestrat is no stranger to me, but now it was augmented to the point that I became so landscape drunk that when we turned the corner and saw La Estrella I was unmoved. From afar yet another small enclave nestling in the shadow of a mountain. So what? I was expecting a mirage, a vision arising from the Campo, complete with virgins, statues and God knows what else.
We entered and walked around. This took exactly 3 minutes. In the centre was the famous square and church, with a vicarage of gigantic proportions, and a striking town hall. The walls were painted with frescos. On the façade of the town hall was a plaque in honour its most famous erstwhile inhabitant, Silvio Zafont Colomer, the bullfighter.
He died young in a car accident in France.
Lets go, my driver said abruptly.
No, I replied, I want to meet the old couple.
They are not here he stated, if so they would have come out to see you by now.
I was not sure. A dozen cats clustered outside the vicarage doors telling me otherwise. They had expectant looks and also a stand had been placed in front. Tomorrow would be the fiesta of La Virgin de la Estrella, the only day of the year that this town comes back to life. Besides where would the couple go?
Let's leave, he repeated. I realized that he was on council time in council car and did not want to be discovered. But I held back.
The door of the vicarage opened and a sprightly man emerged, beaming ear to ear. It was him, Martin! He agreed to photos, his wife too, although reluctantly (she does not like photos of herself, he confessed (another kinship here!).
Then he cheerfully showed me around the church and  the vicarage where they lived, its  dining halls, the kitchens, the bakery.  A multitude of small bedrooms  – for monks?
The vicarage was god smacking. Forgive the pun.  I was overawed by the quality of the wood.
We left, passing the haunting cemetery just outside the village. My guide drove us up the other track towards towards Mosqueruela. Bumpy, and difficult, but even more beautiful.
You were supposed to give a tip – the man asked for one, he said.
I felt bad. And I am surprised I was not wrestled to the ground.
However, in August I will be returning with printed photos and maybe something else.
That will be the tip, a bit delayed but better late than never.
Comments
comments