Toni is a professional beekeeper and an educator, not to mention someone with movie star presence. He promotes the awareness of bees, the important role they play in the food crops of this world and the importance of organic farming. When he is not migrating his colonies around the mountains and campos, he goes into schools, and with hands-on enthusiasm  shares his love of beekeeping with Spain's young.
Toni's father Jose Luis used to be a teacher in El Maestrat about 45 years ago. He lived in the same simple stone schoolhouse where he taught, without electricity or water. Many of the children who came to him walked 10 kilometres each way. They loved the open approach of Jose Luis who used to take them out into the campo and give them lessons they could apply to their every day mountain lives. It is clear that he passed this talent onto his son.
An ex-pupil of Jose Luis's introduced me to him and a small slice of his extended family. One Sunday they descended on my masia in a light swarm, scattering warmth, honey and goodwill: Jose Luis and his partner of 40 years, Antonia, Toni and Maria, and their two children. We had an impromptu meal, a good laugh,  and then they left. I swear a swarm of bees followed Toni.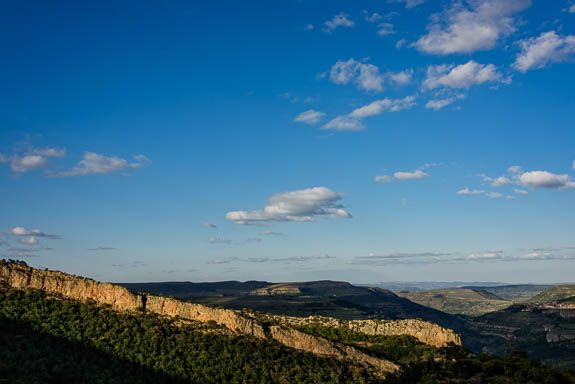 He left behind a pot of honey that cured my dry lip within hours.  I emailed him and asked if I could take some photos and thus it happened that last Saturday I rose at 6am to drive for 2 scenery salivating hours up beyond Vistabella, down the other side of Penyagolosa and through the mountain tunnel to Alcalá de la Selva in Tereul where he and Maria met me.
I was a bit nervous and had no idea what to expect. Having been told that bees are drawn to dark objects, I decided that perhaps a white iPhone might be a better tool this day. However once I was dressed from top to toe in white, including white leather gardening gloves, I realized this was not on. No way I could operate a touch operated mobile in this get up, in fact, quite hard to work any camera.
My bee outfit was very large and I looked hysterical. Maria had overestimated my height – she is petite and had me down as a giant. She wanted to make sure I was well covered! The hat in particular wobbled around, up and down, and obstructed my camera. Initially the dark mesh in front of my face made me feel dizzy, but after about 20 minutes I re-adapted.
We started off in some pine forests near the town where Toni had placed a line of boxy beehives – the resulting honey would eventually be pine and chamomile scented. Toni lit a smoky fire in a small can/bellow contraption and then shoved in a large wad of aromatic mountain herds. The smoke was to keep the bees calmer, just in case – a kind of spliff for the bees that he puffed at them. We need not have worried for although it was a lovely day, with speckled clouds, it was still slightly chilly and so the bees were quite drowsy. A gentle beginning for my experience of a modern man-made bee colony. Being a bit of a sissy, I was secretly thrilled.
Most bees cannot survive anymore without human assistance, Toni explained. The colonies have been increasingly wiped out by pests and diseases, in particular by the varroa mite, probably as a result of an immune system damaged by pesticide abuse. This is why organic farming and personal beekeepers are so important. It is as simple as that.  Without bees, we will not eat. At least 25% of the world's food production depends on pollination by bees and other insects. Including flies!
The  hives were not exactly pretty, but indeed beautifully made, composed of a series of removable vertical trays for easy maintenance and various chambers, including one where the Queen bee cannot enter – very clever! The covers keep the bees warmer and more importantly, dry. The trays held yellow plastic foundations (traditionally wax) where the honeycomb is "drawn".
Toni, gloveless like all the pros, pulled the slabs slowly out one by one, revealing the colonies clinging to their honeycombed surfaces. He examined them closely for signs of disease, a bit concerned about a number of dead bees. I took a lot of photos and darted about, trying to dodge a few hovering ones. Quite pathetic really as there was no chance they would get anywhere near me, at least if I did not stop pulling my hat back to try and operate the camera better.
After deciding that there not much action at the pines, we drove some 24 kilometres up into the mountains, a sparse place of few trees and fewer inhabitants. You could have easily filmed a Western here – and how fitting with Toni's Clint Eastwood rugged looks!  We bumped slowly along an uneven track, weaving to the left and right trying to avoid any punctures.   I held my breath, both for the sharp stones and the panoramic views. A light warm breeze blew across the hills.
We arrived to the first line of colonies. Toni was very concerned because someone had placed a large number of beehives less than 500 meters away, not good practice in the beekeeping world. It could quite literally cause "bee wars", with invading bees entering the enemies' colonies and eating up their captives. He took down the registered number of the hives to contact the offender later (obviously a beginner). Meanwhile I looked in amazement at a line of stone pillars stretching across the barren landscape.   What were they for? Had there been some never-ending temple at some point, and were these the ruins?
Toni explained that they were guidelines for walkers during the winter months when the mountains were obscured by snow. He pointed out how they stretched far across the plains, up and down the hills, every one a masterpiece of art, "darkhouses" in the seamless landscape. I could just imagine how disorienting it must be when these hills and skies are fused in a mass of misty uniform white.
We carried on to the next bee site. The sun was high and hot now and the flat plateau hummed with the scents of aromatic wild herbs. Toni pointed out the ones the bees were drawn to, in particular erizo (sea urchin) – he pinched off small amounts, rubbing the leaves between his fleshy fingers to release the scents. It was heady, not unlike thyme mixed with mint, but much more pungent.
The bees were buzzing, escaping out of the hives' exit holes and clearly ready to play. Toni and Marie selected trays to pull out – they wanted to show me a queen with her distinctive red band colour. The bees climbed over each other and the honeycomb formations, buzzing, humming, and vibrating slightly with a residual chill. Toni pointed out the honey beginning to accumulate, and also the royal jelly deposits – so sought after for their many purported properties.
I went mad with my gardening gloves on the shutter button, by now used to the action. Later when I looked at the photos I was stunned at how few were out of focus!  Marie kept on telling me to keep my hat over my head and not let it slip back. Eventually she held it higher for me so that I could get a particularly fetching photo of Toni with a number of bees on his hat. The irony of course is that Maria got stunk on her forehead while trying to protect me – right through her mesh!
And that is when I found out that she is allergic to bees. Toni had to bundle her into the car and administer an antidote. I felt bad, but not so much as to stop taking photos.  By now Toni had attracted quite a fan club and that produced the best shot of the day.
Eventually enough is enough and even I had to take flight, running across the high plateau, about 20 bees in hot pursuit, others having taken residence on my camera, inspecting the finer points of its lens and flash. Was it giving off a Queen bee pheromone? No matter what direction I ran, they followed. Well, for at least 5 minutes anyway. Then they tailed off, no doubt finding some aromatic plant to feast on – much more flavoursome than a mass of tepid metal.
We packed up and went to lunch, poor Maria sitting there with a huge red and yellow swelling in the middle of her forehead. I of course got off scot-free! Beginner's luck.
For more about Toni and his bee enterprise, or maybe just because you would like to put beehives on your own land,click here
Comments
comments