I have been back to Liverpool for two weeks, principally to attend my eldest son's graduation (a first – well done Harvey!)  and also to catch up with "things".   Along with me came two unexpected guests, the daughters of my neighbour Felix, Maya, 18 and Salvia, 21. 
They had never been outside Spain before and in fact not very far inside Spain either, but the younger one, having not learnt much English in school, decided she would and absolutely needed to go to England. " Can you help"? asked Felix  "She wants to go off to Manchester in the van of a divorced ex-pat and we just don't feel right about it". And yes, of course I could – a neighbour in need is a friend indeed.  "And can you take my elder daughter too", he asked? Yes, yes, I replied, half-expecting the two sons to materialize at the same time.  
But no, the buck stopped there and luckily Ryanair had cheap tickets to Liverpool available.  For the first time in my life, I found myself the guardian of two very pretty senoritas with absolutely no experience of the world.  As I helped them with their seatbelts and explained the workings of an airplane, I cast my memory back to my youth and all the adventures I had already had by their age.    
For instance, I was barely 10 when my parents packed me off alone by boat to Holland towing a heavy unwieldy Samsonite suitcase with a broken handle.  For 28 days I got on and off trains and made the rounds of all my relatives, of which there were many.  One Sunday I traveled to my least favourite grandma who lived in a huge ancient house with creaking floorboards and bouncing furniture.  Its bath day she, informed me at the door – I will go first, and then you, but hurry because by then the water will be getting cold.  Obediently I lowered myself shivering into her massive cast iron tub which did nothing to keep the second-use water warm.  It was not a pleasant experience.
 My senoritas had their own bedrooms with giant beds, flat screen TVs and high-speed WIFI.  How times have changed.  They looked around the house in wonderment, not surprising as they were born and raised in the mountains with no mains anything. They never said they liked it and I never asked.  For the first week the weather was appalling!  It rained incessantly and blew a chilling sea wind while the skies were a nasty shade of gloom.  It is not always like this, I kept on explaining to them, but they did not look convinced.  We spent three days touring Liverpool city centre, umbrellas up against the drizzly grey sky.   Maya wore a borrowed jacket – it was far too big, and she looked somewhat drowned.
 This is why I live in Spain, I thought more than once, and also I wondered whether they were already homesick.  I spent more time walking the city than I normally do, using public transportation instead of a car in order to familiarize my girls with the system and thus hopefully give them independence.  There is nothing like being on foot to learn more about your environment and I could not help but notice how dirty Liverpool was.  The pavements were strewn with empty crisp packets and aluminium cans.  Chewing gum was stuck to the paving slabs, speckled black blobs of ugliness highlighted by weeds growing out of the many cracks and detritus.
The second week brought improving weather, and a lifting of spirits when I enrolled the girls in an English language course which gave them a focus for every day.  It also allowed me to get my work done.  By the time we were ready to return to Spain, the days were sunny and balmy and even the chewing gum did not look too bad. The thermometer hit an outstounding 24 degrees!  I hoped Maya and Salvia were gaining something out of their stay and improving their language skills a bit. 
Besides an extremely successful  fish and chips with vinegar, they managed to pack in quite a lot more, including an exhilarating spin on the big wheel at Albert Dock.   My son took them on a whirlwind tour of Liverpool's cool bars, though he failed to inspire them on a round of the Liverpool's ubiquitous museums.  
More enticing were walks on the beaches, a visit to Bohemian Lark Lane, followed by Sefton Park and an outdoor concert at  a muddy horse sanctuary.   Here Salvia had her photo taken with every potential rock star. Near the end of their stay, when the weather became bearable, the girls rounded off their trip on the Mersey ferry, and then returned to what had now become  nightly entertainment in the form of my husband, the joking locum tenes chef.  He even allowed them to  model his barrister's wig ad gown. 
 When the girls arrived safe and sound back in Atzeneta, it was 34 in the shade.  I could not help but notice that for the first time in two weeks, they were really smiling from the heart.  As Frank Sinatra sang,  "It's very nice to go trav'ling, but it's oh so nice to come home."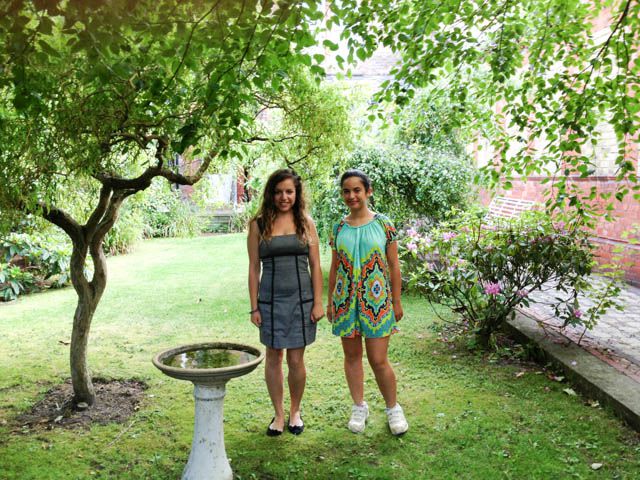 Comments
comments