You are rubbing your eyes. You cannot believe what you are reading. Somebody who has publicly criticized Ryanair for years is saying she "was ready to love Ryanair"?
Yes, this is true because like anyone else I have my own best interests at heart. And my own best interests are being able to get to my beloved Masia Lavanda without too much hassle – which it has been an on and off nightmare during the10 years that I have been coming to El Maestrazgo.
10 years? Bloody hell, I should be FLUENT in Spanish.
But it is not just in my interests, it is in the interests of the wonderful people here, and this week their prayers were answered when Ryanair announced that they are going to take on Castellon airport which not one commercial plane has ever graced since its inauguration in 2011. The laughing stock of airports that cost 150 million euros to build. What philanthropists, don't you think?
 Do you detect a bit of sarcasm? Yes, of course, because it is well known that Ryanair steps in where it can get a bargain. They are not stupid either. Ace team of lawyers pen contracts with massive get out clauses, and basically they have nothing to lose.
Ryanair seems to be able to move its base from one airport to another at the drop of a duty free bag.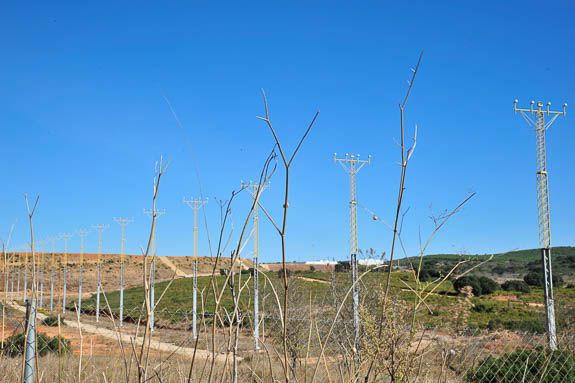 But let's be fair – Castellon can gain a lot too. Take Carcassonne, a small provincial airport that Ryanair similarly adopted. Years later it is still going and even expanding. Streams of people have passed through it to view the "Cité" of Carcassonne. Many have also bought around there. Wherever else they go, I have no idea. Maybe the Black Mountains, or further on to the vineyard-rich lands of the Langue d'Oc.
It is not near the sea, nor any theme parks. Yet it works.
Which brings me back to Castellon Airport which people have scratched theirs heads over, questioning the need or demand for its creation. So let's dissect the area "poco a poco".
Let's compare like to like.
Main attraction:
Carcassonne – its medieval "cite" restored à la Disneyland and crammed with souvenir shops, including for some bizarre reason an abundance of confectionaries at highly inflated prices. However its museum in the old ramparts is somewhat interesting.
Castellon – Peniscola, after the Alhambra, the most visited place in Spain (Cité de Carcassonne is not even in the top ten of France). Crowned by an old spiralling town, on top of which there is an amazing castle where the antipope, Pope Luna, lived for five years until his death in 1423. It is also crammed with the proverbial souvenir shops and a proliferation of restaurants, some very good, and there lots of free concerts all summer long. Excellent beaches.
Climate:
Carcassonne – near to the Black Mountains and bitterly cold in the winter due to the winds. Hot summers.
Castellon – agreeable breezes that mitigate the year round sun – winds can be quite fierce in the winter too. Hotter than Carcassonne, but does not feel as such.
Patrimony:
Interesting. Both areas are rich in Cathar history. Both have enchanting bastide towns. Generally the French ones are better preserved, but the Spanish ones are livelier. The old ways of life and customs still continue in both – for the moment.
Nightlife:
Are you kidding? All French towns (not cities) are dead at night. This is MY personal experience over the course of 20 years. In contrast even the bars in my local village are open all through the year until the midnight hour at least. In the summers everywhere is hopping and don't forget the internationally famous pop festival in Benicassim.
Food:
Spanish cuisine is on the up and up and Castellon is gaining quite a reputation in its own right. French cuisine on the other hand is not what it used to be. Finding a really good restaurant is becoming increasingly difficult. Mediocrity seems to be the dish of most days. If you think I am biased then you only have to see how many of the top ten restaurants in the world are to be found in Spain every year. And how few in France.
Coffee:
Pretty hard to get a bad one in Spain, and pretty hard to find a good one in France. Really.
Alcohol – to be crude:
There are a fair number of vineyards around Carcassonne, even a few quite good. Bodegas are fewer in the province of Castellon, but that is changing by the year, and those such as clos d'esgorracordes are edging towards the really good.
Proximity to the coast:
Castellon airport is 10 minutes by car. I am sure a bus will be laid on in due course. Carcassonne is one hour to various swampy areas. 1 hour 10 to Agde, a nudists' haven. So for nudists, Carcassonne is the winner, except, wait, there are a quite a few nudists beaches about 30 minutes away from Castellon airport. They are just not commercialised like Cap d'Agde.
Both areas are beautiful, with different pluses and minuses, but from where I am looking at it, Castellon wins hands down. Why? Because apart from the above, as soon as you get away from the coast, it is raw, authentic, less built-up, and therefore ultimately more satisfying for the discerning traveller. Not that anywhere outside Carcassonne is touristy – that is the catch. In many places you wonder whether everyone just wants you to disappear as quickly as possible. In Spain you are always welcomed.
As you can see, I am at odds with the press. I think that Ryanair going into Castellon airport is a very clever move. As disagreeable as the airline has been over the years, and I can personally attest to this, they are clearly cunning. They do not go into a place without good reason.
But the truth is I am gutted – a flight to the North of England continues to be absent. From Liverpool the journey to Stansted or Bristol is a nightmare – easier to fly to Barcelona El Prat, then drive quite frankly, and that is quite a statement. Public transport? Look at the screenshots of ONE WAY fares – how do you get Stansted from Liverpool for a 7.10 am flight and not spend a fortune on a 4 hour train,  8 hours in a bus, and then a hotel the night before to boot. I rest my case. It's a non-starter.
As 4 out of 5 expats here appear to come from the north, I wonder about the validity of the market research. Or maybe Ryanair doesn't care about seats, just a cheap base to park its planes? At times I have suspected that to be the case. There is no knowing the way it works as an outsider, but I have my theories.
In the meantime, my journey to Masia Lavanda has ironically just become more difficult. Not a plane in sight from Liverpool or Manchester to Reus anymore, and I have been scanning the website since December. Maybe, please Ryanair, put my hometown on your itinerary as well?
But of course your researchers do not read my blog…
Comments
comments