Ceilidh Dance with Over the Border & Friends
from Jan 20th 2017 to Jan 20th 2017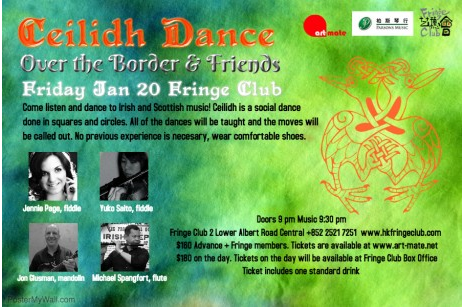 Come and dance to Irish and Scottish tunes with Over the Border & Friends! A ceilidh (pronounced KAY-lee) is a Scottish social dance, a bit like a square dance or a barn dance. The dances are done in lines or circles, and all the moves will be called out so you'll learn them easily. No previous experience is necessary and beginners are welcome. Be sure to wear comfortable shoes!
Over the Border wants to spread their love of Scottish and Irish music across Hong Kong! We have been performing traditional and contemporary tunes for shows and dances in Hong Kong since 2013. We are joined by our friends Jon Glusman on the mandolin and Michael Spangfort on flute and bodhran.
Jennie Page (fiddle), Yuko Saito (fiddle), Jon Glusman (mandolin, guest player), Michael Spangfort (flute, guest player)
Venue: Fringe Club, 2 Lower Albert Road, Central, Hong Kong.
20th January from 21:30
$180/$160 (in advance, Fringe members).
Tickets available via the website.