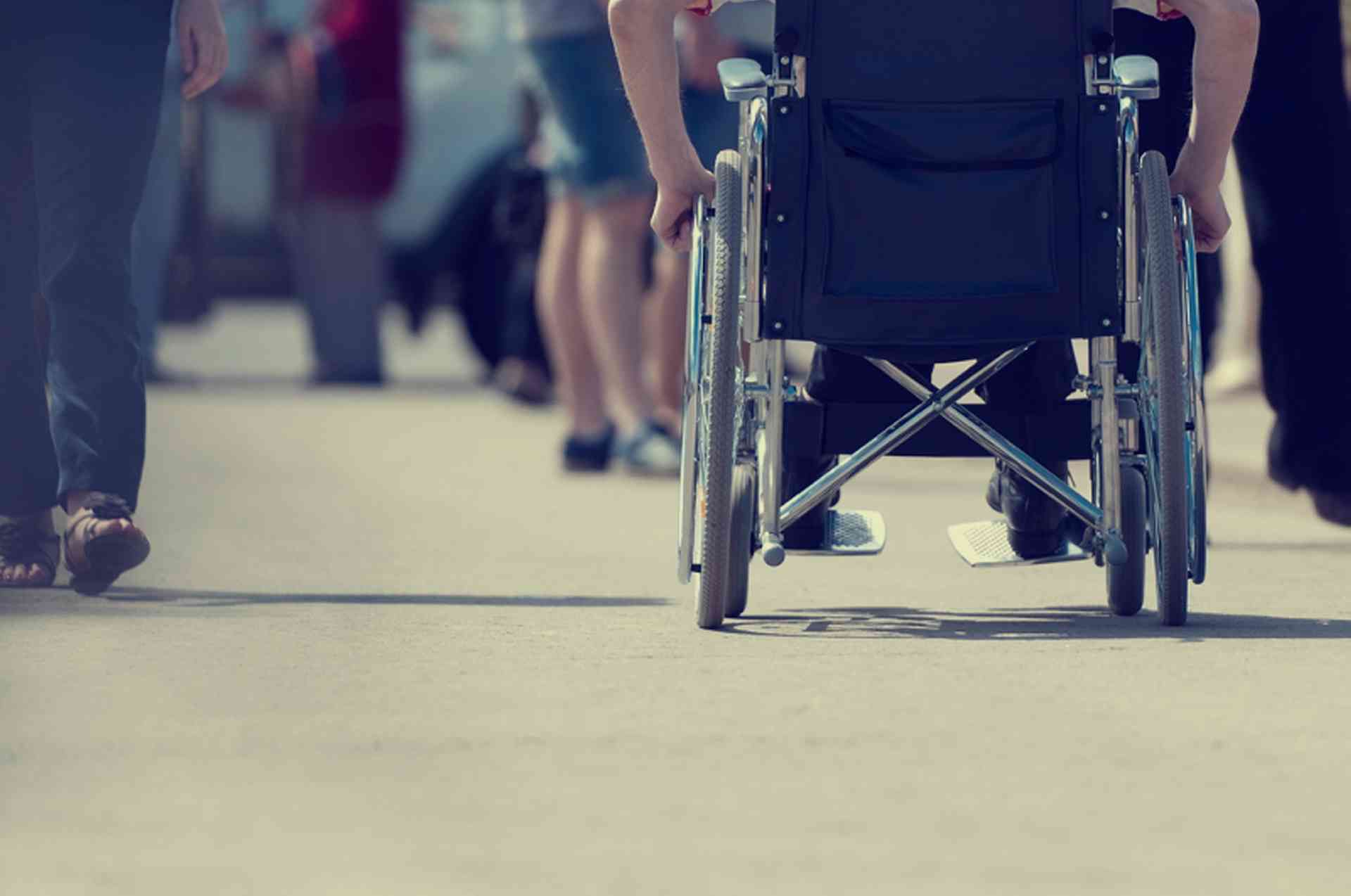 Overview of the facilities, organisations and support available for people with mobility, sight or hearing impairments in Hong Kong...
Hong Kong has its own Equal Opportunities Commission (EOC) set up in 1996 and legislation in place to prevent discrimination – the Disability Discrimination Ordinance.
The Government's preferred approach towards those of all ages with mild and severe disabilities is to encourage as much integration as possible. There is support for parents with disabled children via Government departments and all children are regularly assessed in their early years. Adults are helped with regard to employment and integration via various Government initiatives. Details of who to contact are given below.
Support for the Disabled in Hong Kong
The Equal Opportunities Commission provides information on the specifics of legislation. This legislation protects the rights of the disabled in education, employment, provision of goods and services, participation in clubs and associations and access to premises. In short, disabled people should, in theory, find that they are able to participate fully in all areas of society in Hong Kong.
The EOC offers legal assistance, handles complaints and can provide training and consultancy service to companies and organisations.
The Social Welfare Department (SWD) is responsible for implementing government policy on social issues. It works with the disabled to provide services such as rehabilitation for people with disabilities and services for young people as they move from education into the workplace. The rehabilitation services are available to those with physical and mental disabilities. They include specialist childcare centres and kindergartens, activity centres, supported employment and on-the-job training for those with disabilities.
For more information about the SWD's services: Click here
Parents may find the FAQs section on their website useful for more background: Click here
The SWD is supported by various non-government organisations in its work and provides links to some of these organisations on its website.
The Department of Health via its Child Assessment Service (CAS) identifies those with special needs and/or disabilities and provides the necessary medical evidence to ensure that children are properly catered for with regard to their education.
Getting Around
The public transport system has made efforts to encourage and accommodate disabled travellers with initiatives such as Rehabus and Easy Access Bus. Information about travelling around Hong Kong for the disabled is available from a number of sources:
The Hong Kong Red Cross has a mobility equipment loan service and can provide temporarily disabled or sick people with the necessary mobility equipment.
Disabled parking permits are issued by the Hong Kong Transport Department. Valid for three years, the permit allows reduced parking charges in car parks and free parking at parking meters.
Major attractions (such as Disney) have been encouraged to make Hong Kong accessible to everyone. Wheelchair users should find that their needs have been considered at most venues.
The main tourist website has a search facility which allows users to find details of accommodation and attractions with disabled access and specialist services. Information about access to hotels, shops and other facilities is available from the Hong Kong Access Guide for Disabled Visitors.
Employment
Employers are obligated to ensure that disabled employees have equal access to premises and facilities. The EOC website is a useful source of information regarding employer obligations to adapt hours and facilities in the workplace to enable disabled persons to work for them.
For information for those with physical disabilities: Click here
The Labour Department is the Government body responsible for providing employers and prospective employees with placement services. It has a dedicated division, the Selective Placement Division, which provides free help to those with disabilities looking for work. It caters to people with visual and hearing problems as well as the physically and mentally disabled, chronically ill and those with a history of mental illness.
To find out more about the Selective Placement Division's services: Click here
The SWD runs and oversees a number of programmes to help the disabled into work.
Included in these initiatives are special educational programmes run by the Vocational Training Council (VTC) for those with disabilities. The VTC operates three skills centres and monitors two further centres run by non-governmental organisations. Between them, these centres provide more than 600 full-time training positions (including some with residential facilities). Services are free of charge.
For details of these centres and how to access these: Click here
Benefits and Disability Allowances
Obtaining benefits of any kind in Hong Kong is not easy. Eligibility for newcomers to Hong Kong may prove difficult. Under normal circumstances a period of seven years' residency is required before benefits are paid.
The Social Welfare Department (SWD) is responsible for all Social Security benefits including those paid to disabled people. State benefits in Hong Kong are not particularly generous and income is usually taken into consideration. Disabled adults and parents with disabled children can inquire about benefits at the SWD website.
For specific details of disability allowances and how to qualify: Click here
Adults with disabilities are catered for under the Social Security Allowance Scheme. The Disability Allowance provides a flat-rate payment and is designed for those who suffer a severe disability which essentially means a total loss of earning capacity.
Children with disabilities may receive benefits under the Comprehensive Social Security Assistance Scheme (CSSA). The usual residency requirement of seven years is waived for under 18s. However, benefits are usually only paid following income and asset assessments of the household and in cases in which the individual is severely disabled.
For further information from the Social Welfare Department: Click here
Children with Disabilities
The Department of Health via its Child Assessment Service (CAS) identifies and assesses children with special needs and/or disabilities. Any parent who needs help for a disabled child should contact them for help arranging an assessment and medical evidence of special needs. Children will not be given access to specialist education without their help.
Disabled children are educated within mainstream schools whenever possible. However Hong Kong does have a number of specialist educational establishments which cater for those with more severe disabilities.
The SWD website details the facilities available to children with disabilities: Click here
Once children reach school age, the Education Bureau (EDB) largely takes over responsibility for educational services. Admission to special schools begins at age six, and children are currently provided with nine years education. Some students may be allowed to attend for more than nine years at school based on disability and individual needs. If at all possible, students are transferred from special schools to ordinary schools as soon as they no longer require the special facilities and resources. After planned secondary education reforms take effect in 2009, students with disabilities will be provided with 12 years of education and the curriculum will be adapted and revised to suit the needs of individual students.
Places are provided in special schools for those with visual and hearing impairment, physical disabilities, adjustment and behavioural problems. Parents who wish to apply for a place in one of these schools should visit the Education Bureau (EDB) website to find out more about individual schools and their facilities:
The English Schools Foundation (ESF) has its own facilities for those with disabilities; this means a child will stay in an English-speaking environment. The ESF is supported by the Government and charges lower fees than normal private sector schools. Essentially they aim to keep as many children as possible within their mainstream schools. Applicants are assessed by a review panel.
There are private schools with some facilities for those with disabilities. These are all fee-paying. Links to and reviews of many of these schools can be found at:
The International Schools Worldwide website: Click here
The International Education Media website: Click here
Disabled Travellers
The Hong Kong Council for Social Services has a guide for disabled travellers with information on facilities and accessibility of hotels, museums, country and marine parks, shopping malls, theatre and concert venues, restaurants and Consulates. It is the Hong Kong Access Guide for Disabled Visitors. Further tourist information is available from the HKTB.
Further Information